Diversity Project Grants Program
The maximum award is $1,500.
Individual students as well as student groups are eligible to apply for funding; students must be actively enrolled in a graduate degree program in the Arts and Sciences, and groups must be organizations recognized by the Arts and Sciences Graduate Council (ASGC). Student groups must designate at least one individual as the primary contact and project lead on the application.
Faculty and administrators applying for funding must designate an eligible student as an officially recognized partner on the project.
Proposals for personal research or tied to a departmental program of study will not be considered. Sample grant activities may include (but are not limited to):
Social event or mixer
Hosting a guest speaker
Student panel discussion
Travel to a cultural event
Diversity/equity/inclusion training
This list is not exhaustive; we strongly encourage applicants to think expansively about what programs and events will further the mission of the GSAS Office of Academic Diversity and Inclusion as well as enrich student experience and scholarship at Columbia. Please feel free to write to [email protected] with questions or to request feedback on a proposal idea.
All proposals will be reviewed by GSAS Associate Dean for Academic Diversity and Inclusion and the Finance Manager as they are received, on a rolling basis throughout the academic year. Applications must be submitted at least four weeks prior to the event date or project start date.
Youth Activism in Action: A Conversation with Youth Climate Activist about Getting Involved     
Four young climate activists -- Genesis Butler, Isra Hirsi, Hannah Testa, and Helena Gualinga -- joined moderator and Sustainable Development undergraduate student, Lauren Ritchie, for Columbia Climate Conversations' second panel event, Youth Activism In Action. This panel was an engaging hour-long event hosted on Zoom attended by approximately 90 diverse participants, including undergraduate students, Columbia University faculty, sustainability enthusiasts, and social justice advocates from all corners of the globe.
 
The panelists shared their introductions to environmental justice, the greatest rewards and challenges of being young women of color in climate activism, and their advice for others to get involved. The panelists also highlighted the importance of diversity and representation in environmental and advocacy spaces, especially the need to place marginalized voices at the forefront of the climate movement. They also cautioned against sacrificing one's mental health and wellbeing to champion a cause. The Youth Activism In Action panel concluded with a dynamic 10-minute Q&A session where the panelists detailed their hopes and plans for the future, and attendees were able to gain specific, novel insight into each environmentalist's activism work.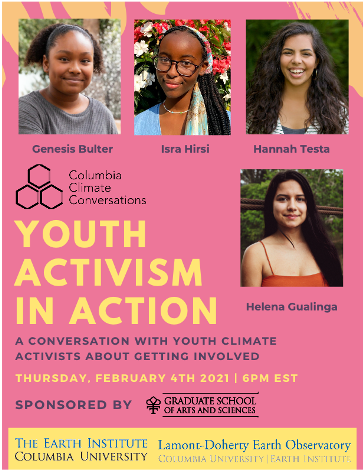 Zora's Daughter      
Zora's Daughters is a biweekly society and cultural podcast that uses Black feminist anthropology to think about race, politics, and popular culture. The co-hosts, Alyssa and Brendane, are two Black women anthropologies-in-training who honor Zora Neale Hurston's legacy and other Black women ethnographers. In three segments What's the Word?, What We're Reading, and What in the World!?, the hosts dig deeper into social issues in a way that is accessible and entertaining by prioritizing the issues of Black women and other marginalized groups; the podcast empowers listeners to develop the tools and language that starts conversations and sparks change. You can find this episode and others on zorasdaughters.com and all major podcast platforms.