Alumni Profile: Oonagh Stransky ('02MA, Italian Literature)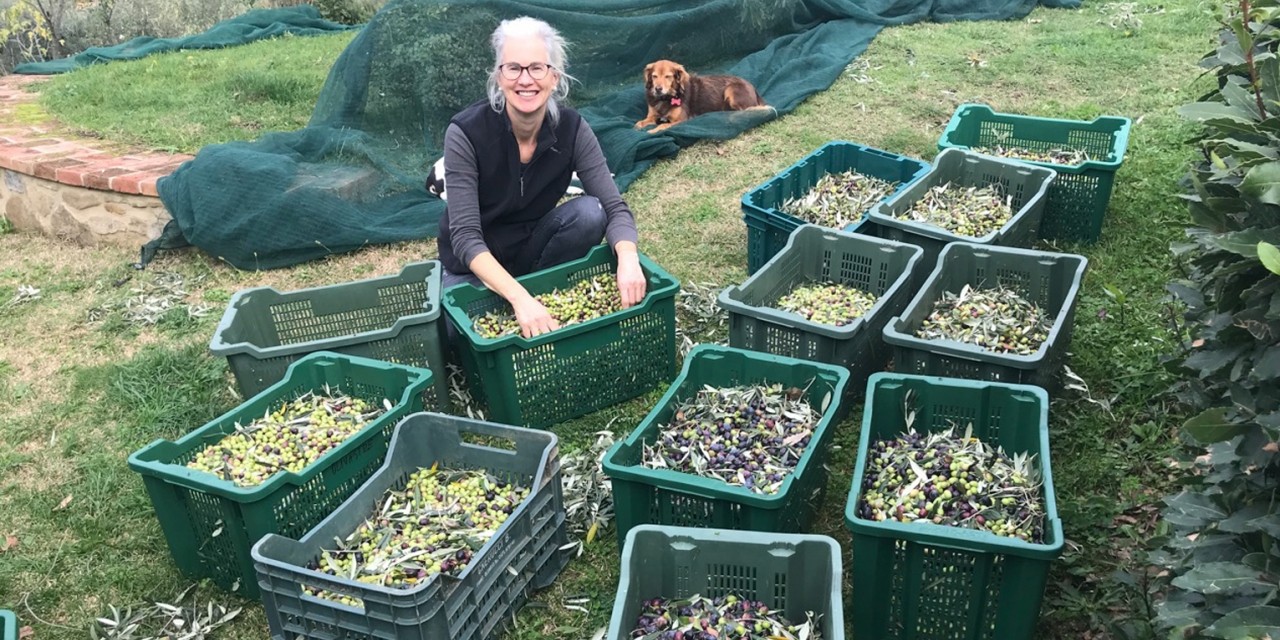 What is your current role/job title?
Translator of Italian literature and extra virgin olive oil producer. (You can learn more about my work on my website.)
What are you working on now?
In terms of writing, I've just finished editing a speech by the economist Esther Duflo for her Italian publisher, I'm translating some short stories for a writer in London, and I'm waiting for a reply from an editor in New York City about a very exciting hush-hush project. I'm also looking for a publisher for a novel about Eritrean-Italian women during and after WWII. In terms of my olive trees, I just finished harvesting and milling, and have sent out the olive oil to all the people who have adopted a tree. Now it's time to enjoy it!
What drew you to your field?
I always knew I wanted to work with books—my faithful companions as I was growing up, relocating from Paris to Beirut to Jeddah to London for my father's work—and languages, which continue to fascinate me. Losing myself in well-crafted writing and finding my way out by retelling it in English is, for me, a thrilling intellectual pursuit and esoteric pleasure. I started in 1999 by translating a short novel from Italian into English, which never saw the light of day but which led to my first published translation with City Lights. Since then, I have translated novels for large and small publishers in both the US and the UK.
What lessons from graduate school have you found useful in your professional life?
I often find myself thinking back to my classes with Professors Luciano Rebay and Flora Ghezzo, and the hours of close reading and literary analysis we did together. While I was a student at Columbia, I was also raising two kids, so I learned how to organize my time, focus intently, persist in the face of adversity, and get things done!
What skill has unexpectedly helped you in your career?
My love of acting helps me "hear" the voices of the characters and the flow of language in order to capture/transmit/relay the sentiment the author seems to be expressing. I read my drafts aloud until I get the language just right. I enjoy giving readings from my work, but lectures not as much.
What is your favorite memory from your graduate years?
I have so many memories from that era because, in addition to attending Columbia as a graduate student, I also lived in Morningside Heights for fifteen years and worked at Columbia (at the Italian Academy and at the Center for Biomedical Engineering). My daughters swam on the Columbia Kraken (kids) swim team. We used to play on campus in all weather. But for me, personally, some of the best hours and days were spent in Butler Library, looking for and reading books and discovering and shaping my ideas.
What are your passions outside of your work?
Olive oil! I live on a small farm—Cuculaia Farm, in Tuscany—with lots of olive trees, and I care for the orchard myself (as much as I can): pruning, harvesting, milling, storing, selling, promoting this exquisite superfood. I see it as a kind of cultural-culinary heritage that I enjoy sharing with people through tree adoptions, much in the same way I try to share Italian literature with English language readers.
What is your advice for current GSAS students?
Find out what you are passionate about, but be aware that it might be hard to earn money from that. So be sure to also spend some time acquiring a skill that will take care of your financial needs throughout life.
What is next for you professionally?
I will continue to translate and make olive oil into my dotage. Before then, I'd like to write some short stories.
What motivates you to give to Columbia?
Columbia is not just a college or graduate school—it's the community of Morningside Heights, and it's a network for both families and individuals. The years I spent in and around Columbia University were some of the most gratifying and enriching I have ever had.