2022 Alumni Award Winners

Established in 1933, the Columbia University Alumni Medal is the highest honor bestowed by the Columbia Alumni Association for distinguished service to the University. The caliber of the candidate's service should be such that its effects are substantial and enduring. Such service may be to the University, its Schools, its various alumni organizations, the regional Columbia Clubs, or Shared Interest Groups, and must have been sustained for a period of at least ten years.
Jillisa Brittan ('86MA, English and Comparative Literature) is a Mediator in the United States Court of Appeals for the Seventh Circuit in Chicago, where she has conducted over 2,000 mediations in civil cases. She mediates civil rights, discrimination, corporate and securities, antitrust, environmental, bankruptcy, copyright, and trademark cases. Before her appointment at the Seventh Circuit, Jillisa was a Partner in the Trial Group at McDermott Will & Emery. She received her JD from the University of Chicago Law School, where she was a member of the University of Chicago Law Review and President of the Law Women's Caucus. Before law school, Jillisa received an MA in English Literature from Columbia in 1986 and was a President's Fellow in the PhD program for two years following the MA. She received a BA with honors in English from Northwestern University. Jillisa is currently a Director on the board of Columbia's Alumni Association (CAA) and a former Chair of the GSAS Alumni Board of Directors. She was chair of the CAA's 2021 Alumni Leaders' Weekend and co-chair of the 2020 Alumni Leaders' Experience. She is one of the founding donors to the CAA Scholarship created in 2021, and she and her family endowed the GSAS Brittan Family Fellowship for graduate students whose work involves interdisciplinary study. Jillisa is the 2017 recipient of Columbia's Richard E. Witten Award for Volunteer Leadership. She is also a Senior Trustee at the Latin School of Chicago and a member of the Steering Committee of the University of Chicago Women's Board.

To celebrate all who build Columbia University's spirit, the University Trustees and the Board of the Columbia Alumni Association (CAA) have established The Campbell Award, presented by the CAA to a graduating student at each School who shows exceptional leadership and Columbia spirit as exemplified by the late Bill Campbell, '62CC, '64TC; Chair Emeritus, University Trustees; and CAA co-founder. Nominees must demonstrate a willingness and ability to work across schools and organizations.
2022
Ashley Wells ('22MA, American Studies) received an MA in American Studies from Columbia in 2022. She also holds an MA in creative writing from Dartmouth, and a BA in English Literature with a creative writing concentration from Binghamton University. Ashley'sresearch interests center on Black American women, the mental health crisis, and the Black Church. During her time at Columbia, Ashley was President of the Arts and Sciences Graduate Council, a Diversity Research Collective member at the GSAS Office of Academic Diversity and Inclusion, and a research assistant in the History department. Ashley was also honored as a 2021-2022 Columbia Alumni Association Scholar. Outside of work at Columbia, she co-founded and is the current COO of a non-profit organization called The Prosp(a)rity Project. This August, she will begin a PhD program in American Studies and Culture at Washington State University.
2021
Elise McKenna Myers ('22PhD, Earth and Environmental Sciences) is a water quality and environmental justice scientist. She earned her PhD in Earth and Environmental Sciences at Columbia in 2022, and also has an MA in Ecology and Evolutionary Biology from Princeton and both an SM and SB in Earth, Atmospheric, and Planetary Sciences from the Massachusetts Institute of Technology. At Columbia Elise served as co-chair of the Students of Color Alliance and was a NASA future investigator in Earth and Space Science and Technology. Her doctoral research on methods to model water quality; her teaching and mentorship through the Summer Research Program; and a side project on increased COVID-19 severity due to race, ethnicity, and socioeconomic status all demonstrate Dr. Myers's deep commitment to environmental and social justice issues. Last, she works tirelessly to make scientific information accessible to the public through workshops, public talks, videos, and media appearances.
2020
Viviana Rivera-Burgos ('20PhD, Political Science) received a PhD in political science from Columbia in 2020 and a BA from the University of Puerto Rico Mayagüez. She specializes in American public opinion and political behavior, particularly as they relate to ethnoracial minorities. She has served as co-chair of the Students of Color Alliance, a graduate student mentor to undergraduate students from underrepresented backgrounds in the Leadership Alliance Summer Research Program, and a graduate student representative in the Political Science Diversity and Equity Committee. Rivera-Burgos is currently an assistant professor in the Political Science Department at Baruch College in the City University of New York.

The Dean's Award for Distinguished Achievement recognizes accomplished recipients for their profound impact not only on academia, but on the world at large. This award has been presented annually since 1997, and in each year since 1998, it has been presented to one doctoral graduate and one Master's graduate.
2022
Tongo Eisen-Martin ('05MA, African-American Studies) is a poet and the current poet laureate of San Francisco. He earned both an MA, in 2005, and a BA in African-American Studies from Columbia. He is the author of someone's dead already, which was nominated for a California Book Award, and Heaven Is All Goodbyes, which received a 2018 American Book Award and California Book Award; was named a 2018 National California Booksellers Association Poetry Book of the Year; and was shortlisted for the 2018 Griffin International Poetry Prize. In their citation the judges for the Griffin Prize wrote that Eisen-Martin's work "moves between trenchant political critique and dreamlike association, demonstrating how, in the right hands, one mode might energize the other—keeping alternative orders of meaning alive in the face of radical injustice... His poems are places where discourses and vernaculars collide and recombine into new configurations capable of expressing outrage and sorrow and love." Eisen-Martin is also an educator and organizer whose work centers on issues of mass incarceration, extrajudicial killings of Black people, and human rights. He has taught at detention centers around the country and at the Institute for Research in African-American Studies at Columbia University.
2021
Serge Schmemann ('71MA, Slavic Languages) is a member of the editorial board of the New York Times, focusing on international issues. Before that he was for ten years the editorial page editor of the International Herald Tribune in Paris, to which he was assigned shortly after the New York Times assumed full possession of the IHT. Schmemann joined the Times in December 1980 after eight years with the Associated Press, and worked for many years as a correspondent and bureau chief in Johannesburg, Moscow, Bonn, Jerusalem, and the United Nations. He was the deputy foreign editor of the New York Times from 1999 to 2001. Schmemann was awarded the Pulitzer Prize in 1991 for coverage of the reunification of Germany, and an Emmy in 2003 for his work on a television documentary about the Israeli-Palestinian conflict. He was awarded an honorary doctorate by Middlebury College. Schmemann is the author of a book about Russia, Echoes of a Native Land: Two Centuries of a Russian Village, and a book intended for high-school students about the fall of Communism, When the Wall Came Down: The Berlin Wall and the Fall of Communism. Schmemann earned an MA in Slavic Languages from Columbia with a Certificate from the Russian Institute in 1971, and holds a BA from Harvard.
2020
Camilo José Vergara ('77MA, Sociology) earned an MA in from Columbia and a BA from the University of Notre Dame, both in Sociology. He is a NY-based writer, photographer, and documentarian, and he cites his sociology training as critical to the development of his approach to photographing urban landscapes. He uses photography to "track time" and makes us look closely at how the urban decay of America's inner cities changes in small and large ways. He also documents the creativity of the people who reside in ruined neighborhoods as they indicate what matters to them by creating powerful murals and by adapting old buildings to new purposes. Other special themes include the presence of churches and religion and the dramatic desolation and beauty of an almost-empty city at night. He is a MacArthur Fellowship winner and has also won a Berlin Prize fellowship and a National Humanities Medal. Vergara was awarded an honorary degree from The New School in 2018. He has written eight books, the most recent of which is Harlem: the Unmaking of a Ghetto. The Library of Congress in Washington, DC, is the permanent home for his photographic archive.

The Dean's Award for Distinguished Achievement recognizes accomplished recipients for their profound impact not only on academia, but on the world at large. This award has been presented annually since 1997, and in each year since 1998, it has been presented to one doctoral graduate and one Master's graduate.
2022
Carmen M. Reinhart ('88PhD, Economics) is the Senior Vice President and Chief Economist of the World Bank Group, on public service leave through June 2022 from the Harvard Kennedy School where she is the Minos A. Zombanakis Professor of the International Financial System. Reinhart provides thought leadership for the Bank at an unprecedented time of crisis and also manages the Bank's Development Economics Department. Previously, she was the Dennis Weatherstone Senior Fellow at the Peterson Institute for International Economics and Professor of Economics and Director of the Center for International Economics at the University of Maryland. Reinhart's areas of expertise are in international finance and macroeconomics. Her work has helped to inform the understanding of financial crises in both advanced economies and emerging markets. She serves on the Advisory Panels of the Federal Reserve Bank of New York and the International Monetary Fund. Previously, she was the Senior Policy Advisor and Deputy Director of the Research Department at the International Monetary Fund and held positions as Chief Economist and Vice President at the investment bank Bear Stearns. Ranked among the top economists worldwide based on publications and scholarly citations, Reinhart has been listed among Bloomberg Markets Most Influential 50 in Finance, Foreign Policy's Top 100 Global Thinkers, and Thomson Reuters' The World's Most Influential Scientific Minds. In 2018 she was awarded the King Juan Carlos Prize in Economics and NABE's Adam Smith Award. She has published extensively on capital flows, exchange rate policy, banking and sovereign debt crises, and contagion. Her book (with Kenneth S. Rogoff), entitled This Time is Different: Eight Centuries of Financial Folly, has been translated into over 20 languages and won the Paul A. Samuelson Award. She earned a PhD in economics from Columbia in 1988 and a BA in economics summa cum laude from Florida International University.
2021
Martha S. Jones ('01PhD, History) is the Society of Black Alumni Presidential Professor, Professor of History, and a professor at the SNF Agora Institute at The Johns Hopkins University. She earned a BA from Hunter College and a JD and the degree Doctor of Laws honoris causa from the CUNY School of Law. She was a public interest litigator in New York City, recognized for her work as a Charles H. Revson Fellow on the Future of the City of New York at Columbia, before earning a PhD in history from Columbia in 2001. She is a public legal and cultural historian whose work examines how Black Americans have shaped the story of American democracy, writing for broader audiences at the New York Times, the Washington Post, The Atlantic, USA Today, Public Books, Talking Points Memo, Politico, the Chronicle of Higher Education, and Time. Her book Vanguard: How Black Women Broke Barriers, Won the Vote, and Insisted on Equality for All was winner of the 2021 L.A. Times Book Prize for History, the finalist for the 2021 Mark Lynton History Prize, a 2021 MAAH Stone Book Award shortlist selection, a 2021 Cundill History Prize shortlist selection, and a best book for 2020 by Ms., Time, Foreign Affairs, Black Perspectives, the Undefeated and Smithsonian. Birthright Citizens: A History of Race and Rights in Antebellum America was winner of the Organization of American Historians Liberty Legacy Award, the American Historical Association Littleton-Griswold Prize, the American Society for Legal History John Phillip Reid book award, and a Baltimore City Historical Society Scholars honor for 2020. She is also the author of All Bound Up Together: The Woman Question in African American Public Culture 1830-1900 and a co-editor of Toward an Intellectual History of Black Women, as well as many articles and essays. She was the curator of the exhibitions "Reframing the Color Line: Race and the Visual Culture of the Atlantic World" and "Proclaiming Emancipation" at the William L. Clements Library, and an expert consultant for museum, film, and video productions with the Smithsonian's National Portrait Gallery, the Charles Wright Museum of African American History, PBS American Experience, the Southern Poverty Law Center, Netflix, and Arte (France). She has been co-president of the Berkshire Conference of Women Historians and serves on the boards and committees of the Society of American Historians, the Library of Congress, the National Women's History Museum, the US Capitol Historical Society, the Johns Hopkins University Press, the CUNY Law School Foundation, the Journal of African American History, and Slavery & Abolition.
2020
Caroline Alexander ('91PhD, Classics) is a writer, classicist, and filmmaker. She attended Somerville College, Oxford, as a member of the first class of female Rhodes Scholars and subsequently established a small department of classics at the University of Malawi. She then obtained a PhD in Classics at Columbia in 1991 as a Mellon Fellow in the Humanities. In 2015 she became the first woman to publish a full-length English translation of a Homeric epic, the Iliad. She is the author of the bestselling books The Endurance: Shackleton's Legendary Antarctic Expedition, and The Bounty. Alexander was a Contributing Writer for National Geographic Magazine for many years and has also written for the New Yorker, Outside, and Smithsonian, among other publications; her work has appeared in a number of anthologies of literary non-fiction. Her National Geographic Magazine cover story, "The Invisible War on The Brain," was praised for exploring the effects of blast-induced trauma on modern soldiers and was nominated for a Kavli Science Journalism Award. Alexander is a member of the American Philological Association, the Royal Geographical Society, the Explorer's Club, and the Directors Guild of America. Tiger Tiger, an IMAX conservation movie on which she is writer and producer, will be released this fall.

The Dean's Award for Lifetime Achievement was presented in 2020 to Brent Scowcroft ('67PhD, International Relations) (1925-2020). Scowcroft earned a PhD in International Relations at Columbia in 1967 after graduating from West Point. He was a former national security adviser who set the gold standard for running the National Security Council and U.S. national security policy, helping to end the Cold War, reunify Germany, coordinate Operation Desert Storm, and manage major crises, including the attempted coup against Mikhail Gorbachev. Scowcroft served as national security adviser under both Presidents Gerald Ford and George H.W. Bush, the only person in U.S. history appointed to the position under two different presidents. He had an exceptional 29-year military career, starting at West Point and ending at the rank of lieutenant general. His U.S. Air Force service included serving as: professor of Russian history at West Point; assistant air attaché in Belgrade, Yugoslavia; head of the Political Science Department at the Air Force Academy; Air Force Long Range Plans; Office of the Secretary of Defense, International Security Assistance; special assistant to the director of the Joint Chiefs of Staff; and military assistant to President Richard Nixon. In 1991, he won the Presidential Medal of Freedom, and in 1993, he was awarded an honorary U.K. knighthood. Scowcroft passed away on August 6, 2020, at the age of ninety-five, shortly after he was selected to receive the Dean's Award for Lifetime Achievement.

The Dr. Devon T. Wade Mentorship, Service, and Advocacy Award is presented annually to a Master's or doctoral student in any Arts and Sciences discipline who most exemplifies a commitment to community-building and mentoring as demonstrated by the late Dr. Devon T. Wade. Recipients receive a $1,500 prize in recognition of their achievements.
About Dr. Wade
The award was established in 2018 in honor of the life and work of Dr. Devon T. Wade. Wade enrolled in the PhD program in sociology at Columbia University in 2011 and came to be recognized as being among the University's most gifted doctoral students. Wade's dissertation research focused on stigma, trauma, and discipline in the school setting. He received multiple awards for his promising scholarship, including the Harry S. Truman Scholarship, the Ford Foundation Predoctoral Fellowship, and the National Science Foundation Graduate Research Fellowship. 
Columbia University's Graduate School of Arts of Sciences awarded the doctoral degree to Devon Wade posthumously, in recognition of his scholarly achievements and of the impact he made on others through his research, mentorship, service, and advocacy. Dr. Wade was passionate about teaching and creating inclusive learning environments, and advocating for those who experience marginalization in society. In his work he was particularly focused on the collateral consequences of incarceration on individuals and communities.  Dr. Wade was also deeply devoted to building networks of support and mentorship for students from groups that historically have been underrepresented in the academy. He was a founding member of the Columbia University Graduate Students of Color Alliance (SoCA). 
Award Recipients: 
2022
Alexandra Zoë Dostal ('20MPhil, Art History and Archaeology) is a PhD candidate in the Department of Art History and Archaeology who specializes in eighteenth- and nineteenth-century European art and visual culture with a focus on institutions and gender. She earned an MA with distinction from The Courtauld Institute of Art in 2016 and a BA with honors from Vassar College in 2013. While at Columbia, Dostal founded the Art History and Archaeology Graduate Association and the Art X Social Justice (AXSJ) graduate initiative. As an AXSJ co-organizer, she has facilitated art-making workshops and a college-credit art history class at Rikers Island. Dostal has also served on the Arts and Sciences Graduate Council, was a Lead Teaching Fellow with the Center for Teaching and Learning, and completed a graduate certificate with the Institute for the Study of Sexuality and Gender. Her dissertation about gender, labor, and the textile industry in eighteenth-century British art has been supported by the Huntington Library; the Dr. Lee MacCormick Edwards Charitable Foundation; the Paul Mellon Centre for Studies in British Art; and the Winterthur Museum, Garden & Library. From 2022 to 2024, she will be the Kress Institutional Fellow at the Courtauld Institute of Art and Warburg Institute, London.
2021
Christopher Medina-Kirchner ('21MPhil, Psychology) will receive a PhD in psychology from Columbia in October 2022, and was not your traditional Ivy League student. At 18 years old, he received a six-year prison sentence for selling 3,4-Methylenedioxymethamphetamine (MDMA). Upon release from prison, he enrolled at the University of Wisconsin-Milwaukee. There, he joined Dr. Krista Lisdahl's Brain Imaging and Neuropsychology Laboratory and began to study the behavioral and pharmacological effects of recreational drugs, and received a bachelor's degree in 2014. After reading High Price by Dr. Carl L. Hart, Chris became interested in human drug administration studies and how they can be used as a tool to prevent the spread of drug-related misinformation. At Columbia he worked under Hart's mentorship in the Neuropsychopharmacology Laboratory, researching the acute, repeated-dose, and residual effects of recreational drug combinations in humans. He hopes to use the information gained from his studies to ensure that our drug education, treatment, and policies are based on science and not misinformation. Chris also served as chair of the Columbia Students of Color Alliance.
2020
Anayvelyse Allen-Mossman ('21PhD, Latin-American and Iberian Cultures) is a freelance writer, translator, and editor. She received the BA in Comparative Literature from Barnard College and the PhD in Latin American and Iberian Cultures from Columbia in 2021. In her dissertation she examined photography of the late nineteenth- and early twentieth-century export boom in Argentina in order to understand the relationship between labor, race and state-building in the context of transnational capitalism. Allen-Mossman has been a Fulbright-Hays Doctoral Dissertation Research Abroad fellow and a GSAS Teaching Scholar.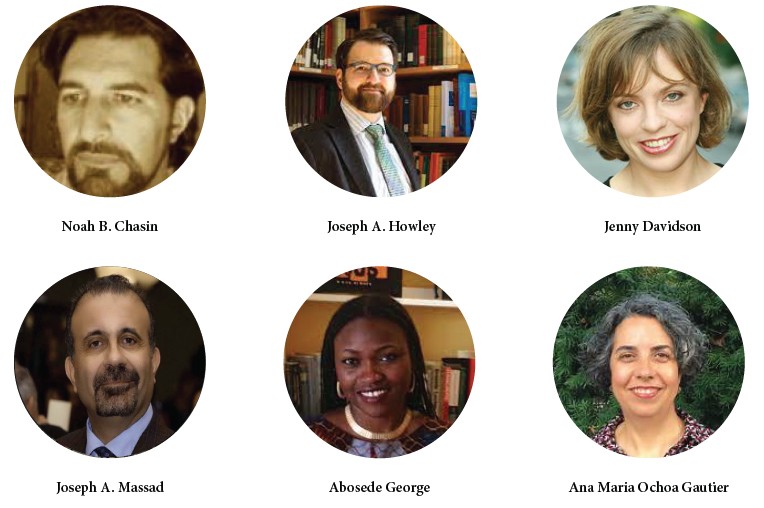 The Faculty Mentoring Award recognizes senior faculty who have demonstrated an exceptional commitment to faculty mentoring through their work with tenure-track and mid-career faculty in developing their careers. Exceptional mentoring can include offering advice, feedback and guidance on research activities, coaching on work-life balance issues, providing professional opportunities for mentees, and/or assisting in development of teaching skills. The Faculty Mentoring Award honors the outstanding mentoring legacy of Columbia Business School Professor Katherine W. Phillips.
2022
Noah B. Chasin is Adjunct Associate Professor of Architecture in the Urban Design program at the Columbia Graduate School of Architecture, Planning and Preservation, and is affiliated faculty at the Institute for the Study of Human Rights at Columbia. He received a PhD in Architectural and Urban History from the CUNY Graduate Center and is a historian, critic, and theorist with a specific emphasis on the relationship between urbanism and human rights. His research centers on zones of urban conflict with a specific focus on the exacerbating effects of the climate crisis. Professor Chasin has taught at Bard; Cornell; Barnard; Rhode Island School of Design; and the School of Constructed Environments at Parsons, The New School. His critical writing has appeared in the Journal of the Society of Architectural Historians, ArtForum, and the Journal of Architectural Education, among many others. He was formerly the architecture critic for Time Out New York and was featured in the urban design documentary Urbanized, directed by Gary Hustwit. His essay on the architecture and urbanism of Theaster Gates will appear in a forthcoming monograph on Gates.
Joseph A. Howley earned a PhD in Classics in 2011 and an M Litt in Ancient History in 2007 from the University of St Andrews, Scotland, and a BA in Ancient Studies from the University of Maryland Baltimore County. He teaches Latin, the history of the book, and Literature Humanities in Columbia's Core Curriculum. He was founding Secretary, and is now a Senior Fellow, of the Andrew W. Mellon Society of Fellows in Critical Bibliography at the Rare Book School in Charlottesville, VA. Howley has published on the Noctes Atticae of Aulus Gellius and its intersections with Roman intellectual and reading cultures, including Roman study abroad and juristic writing. His first book, Aulus Gellius and Roman Reading Culture: Text, Presence and Imperial Knowledge in the Noctes Atticae, was published in 2018 by Cambridge University Press. Howley's current projects focus on the history of the book, including the early modern printing of classical literature and the fate of classical paratext in medieval and early modern transmission and remediation; early phonographic recordings of Greek and Latin literature; imperial-era retellings of classical myths about books and writing; and the poetics of textual materiality in Roman imperial literature. His current book project, Slavery and the Roman Book, is a history of the Roman book seen through the lens of the enslaved labor on which it depended for the composition of literature, the reading of books, and the production of new copies. He is also the co-organizer of the workshop series MATERIA: New Approaches to Material Text in the Roman World and founding co-chair of the Columbia University Seminar on Material Texts.
2021
Jenny Davidson is the Chair of the Department of English and Comparative Literature and Professor of English and Comparative Literature. She writes about eighteenth-century literature and culture; other interests include British cultural and intellectual history and the contemporary novel in English. She has published two books about eighteenth-century literature, Hypocrisy and the Politics of Politeness: Manners and Morals from Locke to Austen (Cambridge, 2004) and Breeding: A Partial History of the Eighteenth Century (Columbia, 2009). Reading Style: A Life in Sentences was published in 2014 and Reading Jane Austen in 2017. Her edition of an unpublished novel, The Duchess of Angus, written by Margaret Brown Kilik in the 1950s and set in 1940s San Antonio, was published in 2020. She is also the author of four novels, Heredity (2003), The Explosionist (2008), Invisible Things (2010), and The Magic Circle (2013). Forthcoming is a book with the working title Broken Things: My Father, Edward Gibbon and the Ruins of Rome. Honors include a Lenfest Distinguished Teaching Award (2005), a Guggenheim Fellowship (2005-2006), the Mark Van Doren Teaching Award (2010), and a fellowship at Columbia's Institute for Ideas and Imagination in Paris (2018-2019). Professor Davidson earned a PhD in English Language and Literature from Yale in 1999 and a BA in Literature from Harvard.
Joseph A. Massad ('98PhD, Political Science) earned a PhD in Political Science from Columbia in 1998. He teaches and writes about modern Arab politics and intellectual history. He has a particular interest in theories of identity and culture, including theories of nationalism, sexuality, race and religion. He is the author of Islam in Liberalism (2015); Desiring Arabs (2007), which was awarded the Lionel Trilling Book Award; The Persistence of the Palestinian Question: Essays on Zionism and the Palestinian Question (2006); and Colonial Effects: The Making of National Identity in Jordan (2001). His books have also been published in Arabic, French, and Turkish. His articles have appeared in many journals, including HUMANITY, Public Culture, Interventions, Social Text, Middle East Journal, Psychoanalysis and History, Critique, Umbr(a), Cultural Critique, and the Journal of Palestine Studies, and he writes frequently for Middle East Eye, Al-Ahram Weekly, Al-Akhbar, Al-Jazeera English, and Electronic Intifada. Professor Massad teaches courses on modern Arab culture, psychoanalysis in relation to civilization and identity, gender and sexuality in the Arab world, and Palestinian-Israeli politics and society, with seminars on Nationalism in the Middle East as Idea and Practice as well as Orientalism and Islam.
2020
Abosede George is Associate Professor of History and Africana Studies at Barnard College and Columbia University. Her research and teaching interests have been focused on urban history of Africa, the history of childhood and youth in Africa, and the study of women, gender, and sexuality in African history. Increasingly her research interests have turned to 19th-century Lagos; issues of gender, ethnicity, migration; and the records of reverse diaspora communities from the Americas, the Caribbean, and other regions of West Africa. Professor George is currently at work on The Ekopolitan Project, a digital archive of family history sources on migrant communities in nineteenth- and twentieth-century Lagos. She maintains faculty affiliations with the Africana Studies Program at Barnard, the Institute for African Studies at Columbia, the Barnard Center for Research on Women, and the Center for the Critical Analysis of Social Difference. Professor George received her BA from Rutgers University in 1999 and her PhD in history from Stanford in 2006. Her articles have appeared in the Journal of Social History, Women's Studies Quarterly, and the Scholar and Feminist Online. Her book Making Modern Girls: A History of Girlhood, Labor, and Social Development was published in 2014 by Ohio University Press in their New African Histories series.
Ana M. Ochoa Gautier is a Professor in the Department of Music and faculty member in the Center for the Study of Ethnicity and Race at Columbia. Her book, Aurality, Listening and Knowledge in Nineteenth-Century Colombia (Duke University Press, 2014) was awarded the Alan Merriam Prize by the Society for Ethnomusicology. She is also the author of Músicas locales en tiempos de globalización (Buenos Aires: Norma 2003) and Entre los Deseos y los Derechos: Un Ensayo Crítico sobre Políticas Culturales (Bogotá: Ministerio de Cultura, 2003). She writes on music and cultural policy, forced silence and armed conflict, and genealogies of listening and sound in Latin America and the Caribbean. Professor Ochoa's current projects explore the bioacoustics of life and death in colonial histories of the Americas. She has been a Distinguished Greenleaf Scholar in Residence at Tulane University (2016) and a Guggenheim Fellow (2007-2008). She has served on the advisory boards of the Society for Cultural Anthropology, the Démos project at the Cité de la Musique - Philharmonie de Paris, and the Smithsonian Center for Folklife and Cultural Heritage. Ochoa Gautier earned a PhD in music from Indiana University in 1996 and a BM from the University of British Columbia.

The Outstanding Recent Alumni Award honors individuals who have graduated within the past fifteen years and have excelled in the early stages of their careers, exemplifying what GSAS alumni can achieve. Since 2015, this award has been presented annually to one doctoral graduate and one Master's graduate.
2022
Julie Ciccolini ('18MA, Human Rights Studies) earned an MA in Human Rights Studies from Columbia in 2018 and holds a BS from New York University. She is Director of Law Enforcement Accountability at the National Association of Criminal Defense Lawyers (NACDL), where she recruits, trains, and supports public defenders across the nation as they implement and manage databases to track law enforcement misconduct. She also works at the local and national levels to change police secrecy laws and promote greater police accountability. In her previous role at The Legal Aid Society, Ciccolini was integral to launching The Legal Aid Society's Cop Accountability Project and designed and managed their database, which tracks police misconduct and identifies patterns of police abuse within the NYPD. She expanded the database to accommodate use by defense and civil rights organizations across New York City and also initiated a public version of the database. NACDL now implements the Cop Accountability Project database in other offices. Additionally, Ciccolini worked with The Legal Aid Society's Special Litigation Unit to conduct strategic research endeavors, data analysis projects, and advocacy campaigns in support of various criminal justice reform efforts. For example, her research and analyses helped repeal the unconstitutionally vague gravity knife law in New York and expose racial bias in crime prediction tools, such as predictive policing and risk assessment instruments. Most recently, Ciccolini was a Research Technologist in the Digital Investigations Lab at Human Rights Watch. Using a range of technical skills, she supported remote and digital investigations into human rights abuses across the globe.
2021
Brian L. Kahn ('09MA, Climate and Society) earned an MA in Climate and Society at Columbia in 2009. He received a BA from Hampshire College and subsequently served in the National Park Service as a Park Ranger and the US Fish and Wildlife Service as a Naturalist. Brian's career since Columbia has focused on bringing attention to what he has described as the apocalypse of climate change. He is currently the founding climate editor at Protocol, Politico's tech site. He was previously the founding senior writer at Earther, a senior writer at Climate Central, and a writer for the Wall Street Journal. Kahn has appeared as an expert guest on MSNBC, CBC, NPR, Sirius XM, and Al Jazeera. Throughout most of this time, Brian has been a lecturer in Climate and Society at Columbia, where he has also worked on communications for Columbia's International Research Institute for Climate and Society.
2020
Andrew Freedman ('09MA, Climate and Society) earned an MA in Climate and Society at Columbia in 2009, an MA from the Tufts University Fletcher School of Law and Diplomacy and a BA from Tufts University. Freedman is a climate and energy reporter for Axios, where he co-writes their popular "Generate" newsletter. Previously he was an editor for the Capital Weather Gang at the Washington Post. He has long covered science research and policy, with a focus on climate change, extreme weather, and the environment, and was among the first reporters to popularize the term "polar vortex" during the frigid East Coast winter of 2013 to 2014. Freedman  has worked as an editor and reporter for Mashable and Climate Central. He was part of a team that won the 2021 Innovative Storytelling Award from the National Press Foundation, and in 2018, he was awarded the Society of Environmental Journalists's award for Outstanding Explanatory Reporting.

The Outstanding Recent Alumni Award honors individuals who have graduated within the past fifteen years and have excelled in the early stages of their careers, exemplifying what GSAS alumni can achieve. Since 2015, this award has been presented annually to one doctoral graduate and one Master's graduate.
2022
Jamil Zaki ('10PhD, Psychology) received a PhD in psychology from Columbia in 2010, an MA from the Universitat de Barcelona, and a BA in cognitive neuroscience from Boston University, and conducted postdoctoral research at the Harvard Center for Brain Science. He is a tenured associate professor of psychology at Stanford University. His research spans a number of domains, including social influence, prosocial behavior, and especially empathy. Professor Zaki has published over 90 peer-reviewed articles and received research and teaching awards from the Social and Affective Neuroscience Society, the Society for Personality and Social Psychology, the Cognitive Neuroscience Society, the Society for Neuroscience, the American Psychological Association, the Association for Psychological Science, Harvard University, and Stanford University. In 2019 he was awarded the Presidential Early Career Award for Scientists and Engineers, the U.S. government's highest honor for researchers at his career stage. In addition to his academic work, Zaki is active in outreach and public communication of science. He has written about the psychology of empathy and kindness for the New York Times, the Washington Post, The Atlantic, the Wall Street Journal, and the New Yorker. In 2019, he published his first book, The War for Kindness, which NPR called a "wide-ranging, practical guide to making the world better."
2021
Sirine Shebaya ('07PhD, Philosophy) is the Executive Director of the National Immigration Project of the National Lawyers Guild. She earned a PhD in Philosophy from Columbia in 2007 and a BA from the American University of Beirut. She also holds a JD from Yale. Shebaya is a longtime immigrant rights advocate who focuses on combining litigation and public campaign strategies to defend and advance the rights of immigrant communities of color. She has litigated several high-profile cases alongside and on behalf of communities impacted by the Muslim Ban, family separation, discriminatory police practices, and immigration detention and enforcement. In partnership with local community groups, she led a campaign that resulted in eliminating ICE holds in most jurisdictions in Maryland. Shebaya previously was Program Director of the Virginia Justice Program at the Capital Area Immigrants' Rights Coalition, where she supervised and litigated criminal-immigration cases before the immigration and federal courts and advised criminal defense attorneys on immigration-related matters. She also litigated habeas petitions for immigrants in prolonged detention. She has also been Interim Legal Director for Muslim Advocates and a civil rights attorney with the American Civil Liberties Union of Maryland, where she developed a full docket of litigation, advocacy, and public education on immigration detention and enforcement matters. Shebaya was one of the founding organizers of the Dulles Justice Coalition, a group of lawyers, organizers, translators, and community volunteers created to assist travelers to Dulles Airport affected by the Muslim Ban. She has been honored with the Capital Area Muslim Bar Association Award for Outstanding Pro Bono Service and Commitment to Advancing Justice; the Americans for Democratic Action Winn Newman Equality Award; and the NIPNLG Daniel Levy Award (for the Dulles Justice Coalition). She is a member of three state bars and is admitted to practice in ten federal courts.
2020
Nina Ansary ('13PhD, History) earned a PhD in History from Columbia in 2013 as well as an MA in Middle Eastern, South Asian, and African Studies in 1991. Ansary received a BA from Barnard, which honored her with The Joan Rivers '54 Trailblazer Award in 2018, and has served as a member of the Barnard Board of Trustees. She is an Iranian–American historian and author best known for her work on women's equity in Iran. She is also a UN Women Global Champion for Innovation, Director of the World Affairs Councils of America Global Women's Lecture Series, Director of the Cambridge Middle East and North Africa Forum's Women's Leadership Initiative, and the President of The Ansary Foundation, which dedicates its services to the cause of education, healthcare, child care, youth-related problems, adult literacy, and other public welfare issues. She serves on the International Advisory Board of the Cambridge Middle East and North Africa Forum, the Board of Trustees of the Iranian American Women Foundation, and the Board of Directors of My Stealthy Freedom. Her most recent book, Anonymous Is a Woman: A Global Chronicle of Gender Inequality, received numerous awards, including the 2021 Benjamin Franklin Book Award in "Interior Design" and "History" and 2021 Next Generation Indie Book Awards in the categories "Non-Fiction," "Women's Issues Non-Fiction," "General Non-Fiction," and "Education/Academic." Her prior book, Jewels of Allah: The Untold Story of Women in Iran, received a 2016 International Book Award in "Women's Issues" and was honored at the Eric Hoffer Awards, the Indie Book Awards, and the ForeWord INDIEFAB Awards. Ansary has appeared on CNN International, Fox News, Larry King, the BBC, and Sky News, and been featured in Time, Newsweek, the Los Angeles Times, CNN.com, Teen Vogue, and the Yale Journal of International Affairs. In 2019, Ansary received the Ellis Island Medal of Honor and the Women of Influence Award from the Iranian American Women Foundation. She was named one of 21 Leaders of the 21st Century by Women's ENews in 2015 and has been recognized as one of "10 Inspirational Women [who] Should be Household Names" by The Hill and one of "Five Iranian Visionaries You Need to Know" by the New York Times.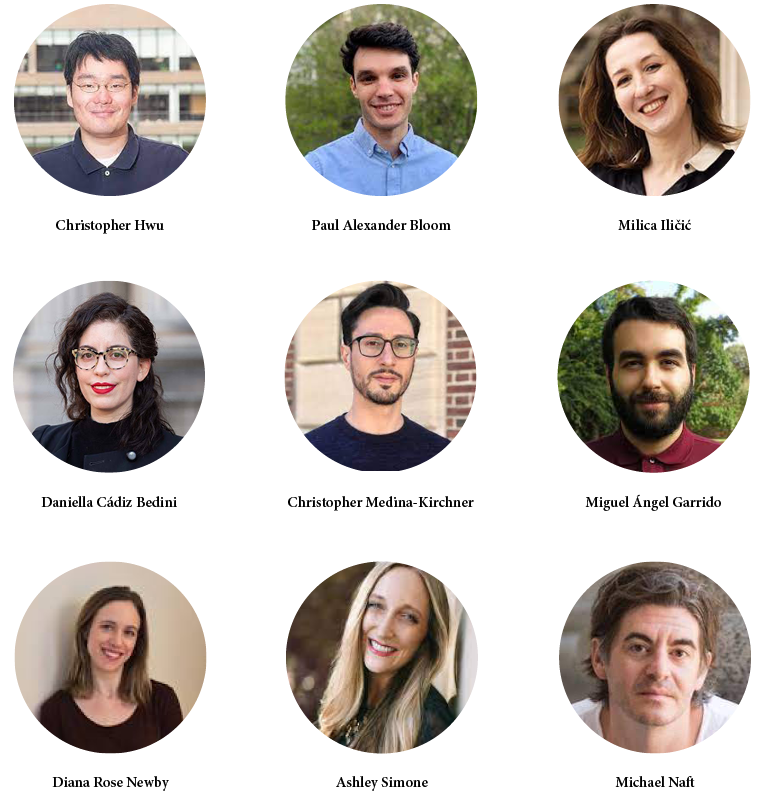 The Presidential Award for Outstanding Teaching by a Graduate Student was established in 1996 to recognize and celebrate graduate students who exemplify excellence in teaching. To receive this award is a great honor, as it demonstrates commitment to excellent and often innovative teaching as recognized by the entire Columbia community. Prospective recipients are nominated by their students and peers. From that pool, the faculty members on the Teaching Awards Committee select the final awardees.
2022
Christopher Hwu ('21MA, Chemistry) is currently a graduate research assistant and a PhD candidate in the Department of Chemistry. His medicinal chemistry research interests encompass the development of both monoaminergic substrates and inhibitors. The former goal focuses on the characterization of novel fluorescent false neurotransmitters (FFNs) that optically trace the uptake, packaging (in vesicles), and release of neurotransmitters from individual monoaminergic neurons. The latter objective is pharmacologically focused on the development of novel and safe small molecule derivatives based on naturally occurring substances that serve as selective potent monoaminergic inhibitors and most importantly, are useful as potential therapeutics for substance use and psychiatric disorders. Hwu received an  MA in Biotechnology from Columbia in 2016 and a BA from Cornell.
Paul Alexander Bloom ('22PhD, Psychology) earned a PhD in Psychology in 2022 and a BA in Neuroscience and Behavior from Columbia College in 2017. Under the mentorship of Dr. Nim Tottenham in the Developmental Affective Neuroscience Lab, Bloom focused his graduate research on data analysis methods for developmental neuroscience. His dissertation seeks to contribute tools for studies of brain imaging, emotion, and learning in children and adolescents. As a technical instructor with Justice Through Code, a free web development intensive for formerly incarcerated individuals, Bloom works to design curricula and teach computer programming tools to prepare students for careers in the technology sector. He also leads workshops through Columbia Foundations for Research Computing, Columbia Psychology Scientific Computing, and the Columbia Summer Internship Program in Psychological Science, as well as mentoring students in the lab. Across settings, Paul strives to increase the accessibility of STEM resources and structure learning environments to meet student goals.
Milica Iličić ('19MPhil, Slavic Languages) is a doctoral candidate at the Department of Slavic Languages at Columbia, affiliated with the Institute for Comparative Literature and Society. She is an interdisciplinary scholar and educator whose pedagogy focuses on community-building, integrative learning, and inclusivity. Her doctoral dissertation explores the power of art in fostering generous and ethical communication. As a GSAS Teaching Scholar, Iličić taught an undergraduate seminar of her own design, Thinking Bodies: Literature, Film, Performance At Columbia, she also taught Russian and Bosnian/Croatian/Serbian languages. From 2018 to 2022, Iličić worked with Columbia's Language Resource Center to develop a comprehensive digital curriculum for Elementary Bosnian/Croatian/Serbian, currently used for hybrid instruction at Columbia, Yale, Cornell, and the University of Chicago. From 2013 to 2016, Iličić served as Editor-at-Large for the Belgrade-based cultural publication Kultur!Kokoška. She is the co-founder of NGO Kultur Kolektiv, dedicated to organizing events and general audience educational content in her native Serbia. She cultivates a lifelong commitment to making the liberal arts meaningful and accessible to all.
2021
Daniella Cádiz Bedini ('19MPhil, English and Comparative Literature) is a PhD candidate in the Department of English and Comparative Literature and holds a Certificate in Latin American Studies from the Institute of Latin American Studies at Columbia. Her dissertation examines transnational and transimperial literary relations in the Americas in the nineteenth and early twentieth centuries. Her research focuses on writing published in Argentina, Brazil, Cuba, Mexico, and the United States, and examines translation as a practice in the establishment of anti-colonial literary print networks. Her essay "Reading Across the Water" is forthcoming in American Quarterly. Bedini earned an MA and a BA from the University of Capetown.
Christopher Medina-Kirchner ('21MPhil, Psychology) will receive a PhD in psychology from Columbia in October 2022, and was not your traditional Ivy League student. At 18 years old, he received a six-year prison sentence for selling 3,4-Methylenedioxymethamphetamine (MDMA). Upon release from prison, he enrolled at the University of Wisconsin-Milwaukee. There, he joined Dr. Krista Lisdahl's Brain Imaging and Neuropsychology Laboratory and began to study the behavioral and pharmacological effects of recreational drugs, and received a bachelor's degree in 2014. After reading High Price by Dr. Carl L. Hart, Chris became interested in human drug administration studies and how they can be used as a tool to prevent the spread of drug-related misinformation. At Columbia he worked under Hart's mentorship in the Neuropsychopharmacology Laboratory, researching the acute, repeated-dose, and residual effects of recreational drug combinations in humans. He hopes to use the information gained from his studies to ensure that our drug education, treatment, and policies are based on science and not misinformation. Chris also served as chair of the Columbia Students of Color Alliance.
Miguel Ángel Garrido ('21PhD, Statistics) was born and raised in Spain, and he considers himself "a proud Madrileño." He completed his undergraduate studies in mathematics at the Universidad Autónoma de Madrid and Boston University, and he received an MA from both University of Cambridge and The London School of Economics and Political Science. After two years in the UK, he joined Columbia University in 2016 and received his PhD in statistics at Columbia in 2021. While pursuing his doctorate, Garrido actively engaged with the Columbia community, collaborating with the Center for Teaching and Learning and participating in the International Fellows Program at the School of International and Public Affairs. Currently, Garrido has his own company and works as a consultant for higher education institutions. In July 2022, Garrido will join YouTube as a data scientist in its San Francisco office.
2020
Diana Rose Newby ('19MPhil, English and Comparative Literature) is a PhD candidate in English and Comparative Literature at Columbia University. Next week she will defend her dissertation, Passive Life: Vitalism and British Fiction, 1820-1880, which she has completed under the supervision of Nicholas Dames, Sharon Marcus, and Branka Arsic. In fall 2022, she will begin a three-year term as a Postdoctoral Lecturer in Writing at Princeton University. During her time at Columbia, she has completed multiple fellowships at the Center for Teaching and Learning, was a GSAS Teaching Scholar, and served as a writing consultant at the Undergraduate Writing Center and the GSAS Writing Studio. She is a co-founder and editor of the open-access journal Teaching Citational Practice: Critical Feminist Approaches and is featured in the pedagogy handbook Teaching Gradually: Practical Pedagogy for Graduate Students, By Graduate Students. Her scholarship has also been featured or is forthcoming in English Literary History, Texas Studies in Literature and Language, Lit Hub, Politics/Letters, Synapsis: A Health Humanities Journal, and the edited collection Culture and Medicine: Critical Readings in the Health and Medical Humanities. She earned an MA from Mills College and a BA from the University of California, Berkeley.
Ashley A. Simone ('20PhD, Classics) (1988-2021) earned a PhD in Classics from Columbia in 2020 after earning a BA at Baylor University and spending a semester as a visiting student at the University of St Andrews, Scotland. A Latinist with a strong interest in philosophy, Simone found herself drawn to topics of ancient cosmology and was particularly fascinated by Greco-Roman discussions of the stars, those symbols of cosmic order and beauty. She explored these topics in her dissertation, "Cicero among the Stars: Astral Literature and Natural Philosophy in the Late Republic," in which she traced Cicero's lifelong interest in the heavens, from his youthful translation of Aratus to the Somnium Scipionis and on to the philosophical treatises of the author's last years. Simone presented her work in numerous venues in the U.S. and Europe and served on committees of the Society for Classical Studies and the Classical Association of the Middle West and South. In addition to her Ciceronian research, she had a strong interest in Augustan poetry and its reception: she published a note on Horace's Cleopatra Ode (CP 114, 2019) and a book chapter on the Ovide moralisé (Receptions of Antiquity, Brill 2015), and in 2019 co-organized a panel on "Time in Augustan Literature" for the CAMWS Annual Meeting in Lincoln, NE. Simone founded the Aequora Site at Corpus Christi School, New York, devoted to making Classics more accessible to young people from all parts of Upper Manhattan, and after receiving the PhD, was the Head Latin and Philosophy Teacher at St. Mary's Catholic School in Taylor, TX, where she designed the Latin program. Simone unexpectedly passed away on 16 September 2021 at the age of thirty-three.
Michael Naft ('21PhD, Psychology) received a PhD in psychology in 2021 from Columbia, where his research and teaching focused on structural stigma, institutional equity, and the U.S. legal system. Prior to coming to Columbia, he worked as general counsel at Treesdale Partners, LLC, and as an associate at Covington & Burling LLP. Naft has worked at the private equity firm AGI Partners, LLC, and as a management consultant on matters related to organizational design and dynamics, decision making and governance, leadership, and diversity and inclusion. He is currently an Adjunct Assistant Professor in the Department of Psychology at Columbia, where he teaches Stigma and Belonging in a Diverse Society. He received a JD cum laude from Harvard Law School and a BA summa cum laude from Emory University. Professor Naft clerked for Judge Constance Baker Motley of the U.S. District Court for the Southern District of New York.