GSAS at a Glance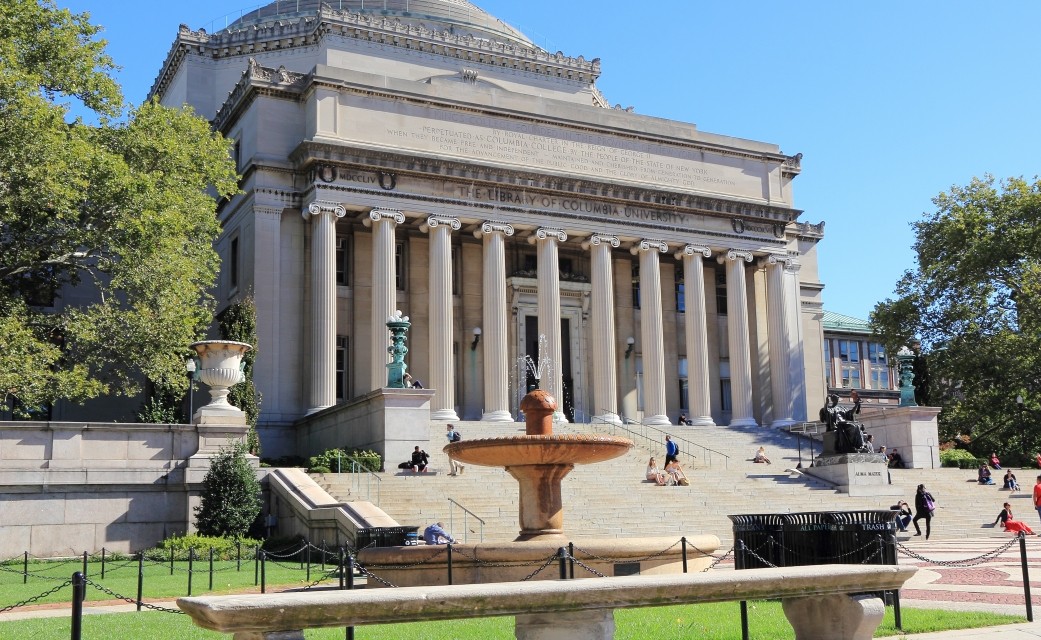 One of the oldest and most distinguished graduate schools in the United States, the Graduate School of Arts and Sciences administers the education of graduate students in the humanities, natural sciences, and social sciences, and grants the PhD for all divisions of Columbia University.
Some GSAS master's programs offer a high-level introduction to study within traditional academic disciplines, while others allow students to pursue new fields of inquiry through an interdisciplinary course of study or to cultivate or enhance professional skills.
Study in GSAS doctoral programs begins with several years of rigorous coursework and culminates in the writing of the dissertation, a substantial piece of independent research (or, in the case of DMA students, original compositions). The doctoral degree can be pursued in traditional disciplines as well as interdisciplinary research areas.
Partnerships with research and cultural institutions in New York enhance Columbia's educational offerings, while the vast array of industries centered in the city provide numerous opportunities for professional development.
Mission
Responsible for overseeing the education of graduate students in the departments of the Faculty of Arts and Sciences, the Graduate School of Arts and Sciences is central to the larger Columbia University mission of advancing knowledge through research while providing a distinctive and distinguished learning environment. Accordingly, the Graduate School seeks to admit a diverse group of students capable of producing rigorous, innovative scholarship and to support all aspects of their educational experience.
The Graduate School's support in academic matters includes facilitating the integration of graduate students into the research and educational enterprises of the university, establishing standards and policies for best practices among graduate programs, and fostering an environment for collegial, fruitful interaction and collaboration across a range of disciplines. The Graduate School also endeavors to promote the interests of graduate students in nonacademic matters that constitute an important part of the educational experience, including financial aid, housing, health and well-being, and the cultivation of professional skills apposite to careers inside and outside academia.
Founding Years
1880: Faculty of Political Science
1890: Faculty of Philosophy
1892: Faculty of Pure Science
1979: Faculties officially merge as the Graduate School of Arts and Sciences
Dean of GSAS and Vice President for Graduate Education
Carlos J. Alonso, Morris A. and Alma Schapiro Professor in the Humanities
Degrees Offered
Doctor of Philosophy (PhD)
Doctor of Musical Arts (DMA)
Master of Philosophy (MPhil)
Master of Arts (MA)
Academic Programs
98 PhD programs

31 administered by GSAS
67 administered by other University schools

46 MA programs administered by GSAS
6 dual-degree programs (MA/MS, MA/MPA, MA/MIA, JD/PhD, MD/PhD, MA/MSc)
Demographic Information
3,580 students
1,598 PhD and DMA students
1,982 MA students
54.7% female, 45.2% male
59.7% of students are international students
15.7% of students who are US citizens or permanent residents are minorities
Locations
Administrative Offices

107 and 109 Low Memorial Library
Columbia University College of Physicians & Surgeons (biomedical programs)

Student Centers

301 Philosophy Hall (Graduate Student Center)
208B Butler Library (Center for Teaching and Learning)
University Information
Founded in 1754 (as King's College)
Campuses:

Morningside Heights  
Medical Center  
Lamont-Doherty Earth Observatory (Palisades, NY)
Manhattanville

Motto: In lumine Tuo videbimus lumen ("In Thy light shall we see light")
Schools
17 total schools

14 graduate
2 undergraduate
1 conferring both graduate and undergraduate degrees

4 affiliated institutions (Barnard College, The Jewish Theological Seminary, Teachers College, and Union Theological Seminary)
Students
36,649 total students

26.6% undergraduate
73.4% graduate
Faculty
About 4,500 full-time faculty

The Columbia faculty includes Nobel laureates, MacArthur Fellows, and members of the American Academy of Arts and Sciences and the National Academies, which include the National Academy of Sciences, the National Academy of Engineering, and the Institute of Medicine.
Research at Columbia
86 Nobel laureates—including alumni, faculty, researchers, and administrators—are affiliated with Columbia.
The Columbia University Libraries hold over 13 million volumes.
Columbia Technology Ventures currently holds 1,200+ patent assets available for licensing.
200+ centers and institutes are based at Columbia.
Pioneering discoveries made by Columbia faculty include FM radio, lasers, X-ray photography, atomic fission, global warming, and a long list of medical breakthroughs.