GSAS Fellowships in Academic Administration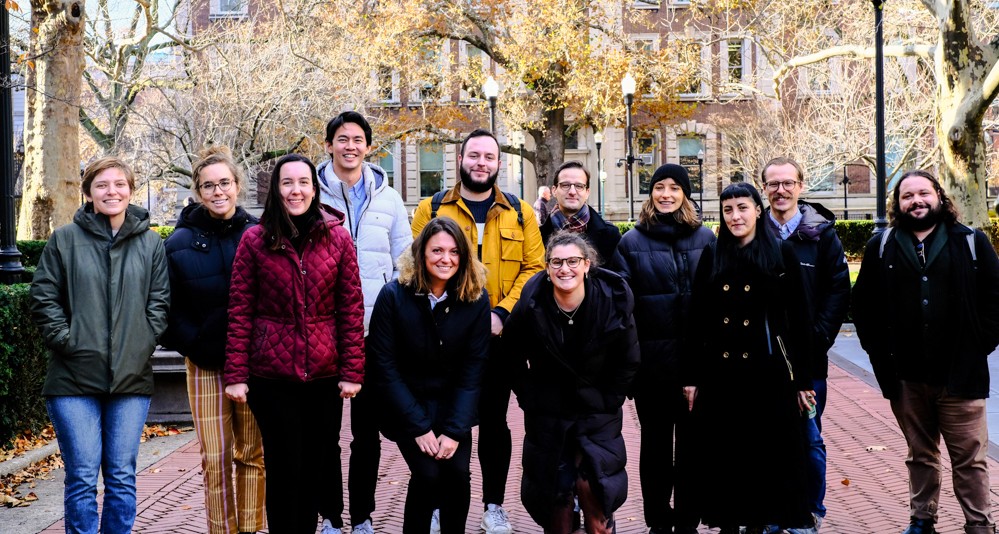 APPLY NOW FOR FALL 2023 FELLOWSHIPS! The application deadline has been extended to Thursday, September 7, 11:59pm EDT. See below for details.
The GSAS Fellowships in Academic Administration (FAA) program offers advanced doctoral students in Arts and Sciences departments the opportunity to gain experience in administrative offices across Columbia's campuses. This program enhances graduate student professional development by supplementing the training GSAS students receive in research and teaching with an introduction to the day-to-day operations of the University. The experience allows students to cultivate a stronger professional profile and develop administrative skills in preparation for any future career.
Students are eligible in years three through seven of an Arts and Sciences doctoral program. Each fellow is mentored by an experienced administrator in their host office and spends six to ten hours per week on their fellowship projects and mentorship and professional development activities. Fellows are expected to attend four professional development sessions with GSAS Compass staff over the course of the fellowship.
Have questions about the program? Attend an information session Tuesday, September 5, 4:30-5pm on Zoom. Register for the information session here.
Please email Rachel Bernard ([email protected]) with any questions about the program.
APPLICATION DEADLINE HAS BEEN EXTENDED TO THURSDAY, SEPTEMBER 7, 11:59PM EDT.
Program Details
Fellowship terms are for 1 or 2 semesters. The term length is indicated on each position description. The fall term is from September 11-December 15. The spring term is January 16-May 10. Fellows who stay on for a second term will have a break over winter break.
Most positions are hybrid, meaning they involve a mix of in-person and remote engagement. Depending on the position, it may be possible to participate fully remotely if you are not in NYC this term.
Fellows must attend all four professional development sessions, and make up any missed sessions.
GSAS will provide a $2,000 stipend to each fellow for their first term. If the fellowship is extended to a second term, the host office will pay the $2,000 stipend for the second term.
Eligibility
Applicants must be in years 3-7 of an Arts and Sciences doctoral program as of Fall 2023, and in good academic and administrative standing.
Fellows may stay with the same host office for up to two semesters and may participate in the program up to four semesters in total.
Students must be available for the duration of the term.
Fall 2023 Opportunities
Please see below for a list of the positions available for Fall 2023. Note that some positions are designed to be a single term, while others are designed to extend into the spring. You must be signed into LionMail to view the position descriptions. Click here for the folder with all of the positions.
Application Materials
The online application must include the following materials combined into one PDF attachment:
A cover sheet with your full name, UNI, department or program, first semester of enrollment in GSAS, anticipated graduation date, and your first- and second-choice offices to which you are applying.
A brief cover note (maximum of 350 words). The cover note should both express your interest in and qualifications for the position(s) to which you are applying as well as describe your professional goals and how participation in the program will help you to attain them. If you are listing a second choice, many applicants choose to include a couple of sentences about their second choice option, but focus the note on their first choice. Please also include any specific information that is requested in the position description (if applicable).
A 1-2-page résumé. Please note that a résumé differs from an academic CV. You may wish to consult the GSAS Compass guide to converting your CV to a résumé. You may also schedule an advising appointment with Compass.
Information Session
Have questions about the program? Attend an information session Tuesday, September 5, 4:30-5pm on Zoom. Register for the information session here.
APPLY HERE BY THURSDAY, SEPTEMBER 7, 11:59PM EDT.
Thank you for your interest in applying to host a Fellow in Academic Administration! In addition to providing graduate students with a high quality professional development experience, host offices benefit from the contributions of skilled, creative, thoughtful PhD students who bring diverse experiences and perspectives to their work.
Administrative offices interested in hosting a fellow in the 2023-24 academic year may now apply. Please email Rachel Bernard ([email protected]) if you have any questions or would like to participate in the future.
CLICK HERE to apply. The deadline to submit your application is Friday, August 4.
The strongest FAA positions have the following features:
The role balances independent work on a long-term project and shorter-term tasks and projects that might expose the fellow to the day-to-day work of the host office.
Mentors scaffold their supervision, with more involvement at the beginning of the fellowship, and less oversight over the course of the term.
Fellows are immersed in the office--they are included in staff meetings, introduced to colleagues, and receive appropriate communications.
The role includes opportunities for the fellow both to learn new skills, policies, and/or procedures, as well as to apply their existing skillset and knowledge in new ways.
Administrative details at-a-glance (please see below for details):
GSAS administers the application process, but host offices interview and select their fellows. 
Fall 2023 fellowships will begin in mid-September. Fellowships are for one or two academic terms.
Fellows earn a $2,000 stipend for each term. In the first term, the stipend is paid by GSAS; the host office is responsible for the stipend in the second term.
Host offices are expected to provide mentorship and networking opportunities for the fellow.
Goals for Fellows
Through a combination of project work and mentorship, FAAs:
Complete or contribute to a substantive and significant project or set of projects through their host office.
Gain an understanding of university administration from the vantage point of their host office and begin to understand the host office's role within the larger university.
Gain and/or develop professional competencies that complement—rather than replicate—those they receive through curricular doctoral training. Professional competencies include:

Leadership, teamwork, and collaboration;
Written and verbal communication through engagement with diverse audiences;
Teaching and mentoring;
Research and data analysis; and
Professionalism and project management.
Expectations for Fellows
Report to the host office according to the schedule agreed upon with their mentor (between 6-10 hours per week), and communicate regularly with their mentor and other colleagues.
Be proactive in asking questions and using the fellowship as a platform to understand university administration.
Participate in GSAS Compass professional development sessions during the fellowship period.
Fellows are to spend approximately 75 percent of their time on their assigned project(s) and 25 percent of their time engaged in mentorship activities (see below for examples).
Students who fail to complete the assignment or attend any required professional development events may forfeit a pro-rated portion of the semester stipend, and will no longer be in good administrative standing.
Expectations for Host Offices and Mentors
Mentorship, professional development, and immersion into the host office are key components of the FAA program. The following are expectations for the host offices and assigned mentors:
Host offices must assign project work that is both substantive and significant. Some of the responsibilities may overlap with those of full-time staff, but each position should include at least one large, long-term project.
 
Mentors are responsible for guiding the fellow over the course of the term and supervising their work. They are expected to provide introductions to office staff and invite the Fellow to relevant meetings. Ideally, the mentor will be a resource regarding the role of the host office within the University and, more broadly, careers in academic administration. Mentors will provide/facilitate the following kinds of opportunities for the fellow:

Shadowing and having informal conversations and informational interviews with other staff
Attending meetings, workshops, conferences, or professional development trainings
Learning new skills through self-study or tutoring
 

Mentors must attend a 30-minute introductory meeting and complete a survey/reflection at the end of the term.
 
Mentors must meet with the fellow at least once per week for 30 minutes. To the extent possible, fellows should be included in staff meetings to promote their immersion into the host office.
Fellowship Terms and Administrative Information
GSAS administers the application process. Once a fellow is selected, there are no forms for either the office or the fellow to submit. GSAS will provide a $2,000 stipend to all fellows for the first term. The fellowship term is for is for the duration of the academic term. Winter Recess should be observed for fellowships that span both the Fall and Spring terms. Fellows are expected to work in-person or remotely in accordance with the host office's policies and practices. 
For fellowships that span two terms, the host office must fund the $2,000 stipend for the fellow's second term. Fellows may participate in the program for a maximum of four terms, with no more than two terms spent in the same host office.
Summer 2023
Ramon Flores Pineda, Columbia College and Columbia Engineering Office of the Dean, Student and Family Support, Academic Integrity Fellow
Manuela Luenga Solano, Office of the Vice Provost for Faculty Advancement, Research Fellow
Louis Moffa, Institute for Comparative Literature and Society, Social Media/Copy Editor
Amogha Sahu, Columbia Climate School, Academic Affairs Fellow
Spring 2023
Gareth Cordery, Office of the Vice Provost for Academic Programs, Accreditation Fellow
Ramon Flores Pineda, Columbia College and Columbia Engineering Office of the Dean, Student and Family Support, Academic Integrity Fellow
Emily Hawk, Executive Vice President for Arts and Sciences, Faculty Development and Diversity Fellow
Emma Ianni, Society of Fellows/Heyman Center for the Humanities, Humanities in Practice Administrative Fellow
Javiera Irribarren Ortiz, Graduate School of Arts and Sciences, Professional Development Research and Planning Fellow
John Izzo, GSAS Alumni Relations, GSAS Advancement Fellow
Melissa Li, Center for Veteran Transition and Integration, Program Fellow
Cheng Wei Lim, Office of Postdoctoral Affairs, Postdoctoral Affairs Fellow
Manuela Luenga Solano, Office of the Vice Provost for Faculty Advancement, Research Fellow
Mateusz Mayer, GSAS Compass, Strategic Communications Fellow
Louis Moffa, Institute for Comparative Literature and Society, Social Media/Copy Editor
Lionel Ong, Office of Academic Diversity and Inclusion, Equity in Graduate Education Fellow 
Sarah Russell, Undergraduate Research and Fellowships, Fellowship Advisor and Mentor
Daniel Saenz, Dean of Students Office, School of General Studies, Coordinator for Academic Advising
Amogha Sahu, Columbia Climate School, Academic Affairs Fellow
Bonnie Siegler, GSAS Writing Studio, Program Administration Fellow
Alex Valin, GSAS Writing Studio, Program Administration Fellow
Fall 2022
Callum Blackmore, Office of the Vice Provost for Faculty Advancement, Research Fellow
Rachel Cohen, Center for Teaching & Learning, Teaching Development Program Consultant
Gareth Cordery, Office of the Vice Provost for Academic Programs, Accreditation Fellow
Emily Hawk, Executive Vice President for Arts and Sciences, Faculty Development and Diversity Fellow
Emma Ianni, Society of Fellows/Heyman Center for the Humanities, Humanities in Practice Administrative Fellow
Javiera Irribarren Ortiz, Graduate School of Arts and Sciences, Professional Development Research and Planning Fellow
John Izzo, GSAS Alumni Relations, GSAS Advancement Fellow
Cheng Wei Lim, Office of Postdoctoral Affairs, Postdoctoral Affairs Fellow
Cosima Mattner, Columbia College Academic Affairs, Columbia College Bulletin Feedback Project Fellow
Mateusz Mayer, GSAS Compass, Strategic Communications Fellow
Lionel Ong, Office of Academic Diversity and Inclusion, Equity in Graduate Education Fellow 
Sarah Russell, Undergraduate Research and Fellowships, Fellowship Advisor and Mentor
Daniel Saenz, Dean of Students Office, School of General Studies, Coordinator for Academic Advising
Bonnie Siegler, GSAS Writing Studio, Program Administration Fellow
Alex Valin, GSAS Writing Studio, Program Administration Fellow
Summer 2022
Laura Yan, School of General Studies Dean of Students Office, Coordinator for Academic Advising
Wenrui Zhao, GSAS Writing Studio, Program Administration Fellow
Spring 2022
Lauren Bernard, GSAS Compass, Graduate Career Development Fellow
Callum Blackmore, Office of the Vice Provost for Faculty Advancement, Research Fellow
Shilrey Chikukwa, GSAS, GSAS Office of Academic Diversity and Inclusion Fellow
Nile Davies, Center for Teaching and Learning, Teaching Development Program (TDP) Consultant
Chas East, Academic Affairs, Columbia College, Columbia College Bulletin Project
Chloe Faux, Public Books, Podcast Production Assistant
Virginia Girard, Office of the Vice Provost for Academic Affairs, Accreditation Fellow
Constantine Lignos, Society of Fellows/Heyman Center for the Humanities, New Books in the Arts and Sciences Series Assistant
Naomi Michaelowicz, Center for Veteran Transition and Integration, CVTI Program Fellow
Julian Sanchez Gonzalez, GSAS, GSAS Office of Academic Diversity and Inclusion Fellow
Anna Schirrer, GSAS Compass, Graduate Career Development Fellow
Lucy Turner, GSAS Writing Studio, Program Administration Fellow
Laura Yan, School of General Studies Dean of Students Office, Coordinator for Academic Advising
Wenrui Zhao, GSAS Writing Studio, Program Administration Fellow
Fall 2021
Lauren Bernard, GSAS Compass, Graduate Career Development Fellow
Sourav Chatterjee, Institute for Comparative Literature and Society, Synapsis Journal and ICLS Social Media Coordinator
Shilrey Chikukwa, GSAS, GSAS Office of Academic Diversity and Inclusion Fellow
Chas East, Academic Affairs, Columbia College, Columbia College Bulletin Project
Daria Franklin, Columbia University Press, Russian Library Fellow
Tianyuan Huang, Center for Teaching and Learning, Teaching Development Program (TDP) Consultant
Javierra Irribarren Ortiz, Center for Teaching and Learning, Teaching Development Program (TDP) Consultant
Chen Jiang, Columbia Engineering Graduate Placement Center, Program Assessment Fellow
Constantine Lignos, Society of Fellows/Heyman Center for the Humanities, New Books in the Arts and Sciences Series Assistant
Naomi Michaelowicz, Center for Veteran Transition and Integration, CVTI Program Fellow
Caroline Phillips, Dean of Students, School of General Studies, Coordinator for Academic Advising
Julian Sanchez Gonzalez, GSAS, GSAS Office of Academic Diversity and Inclusion Fellow
Anna Schirrer, GSAS Compass, Graduate Career Development Fellow
Niyati Shenoy, Undergraduate Research and Fellowships, Expanding and Developing Opportunities for Undergraduate Research Fellow
Emily Tiberi, Bridge to the PhD Program in STEM, Examining the Bridge to the Ph.D. Program in STEM as a Conduit for Promoting Diversity in STEM Graduate Education
Thomas Zuber, The Center for Justice, Justice Through Code Fellow
Summer 2021
Callum Blackmore, Office of Vice Provost for Academic Affairs, Accreditation Fellow
Niles Davies, Public Books, Publicity and Social Media Strategy
Claire Dillon, GSAS Alumni Relations, Alumni Relations Fellow
Caroline (Phillips) Smith, School of General Studies Dean of Students Office, Coordinator for Academic Advising
Abby Schroering, Earth Institute/Columbia Climate School, Climate School Educational Programs Implementation Fellow
Niyati Shenoy, Undergraduate Research and Fellowships, Expanding and Developing Opportunities for Undergraduate Research Fellow
Mary Catherine Stoumbos, Center for Teaching and Learning, Teaching Development Program (TDP) Consultant
Emily Tiberi, Bridge to the PhD Program in STEM, Examining the Bridge to the Ph.D. Program in STEM as a Conduit for Promoting Diversity in STEM Graduate Education
Spring 2021
Callum Blackmore, Office of Vice Provost for Academic Affairs, Accreditation Fellow
Qian Cao, Office of Public Affairs, Columbia Tutor Corps Operations Fellow
Claire Dillon, GSAS Alumni Relations, Alumni Relations Fellow
Chen Jiang, Columbia Engineering Graduate Placement Center, Program Assessment Fellow
Maryam Majeed, Bridge to the PhD Program in STEM, Program Evaluation and Best Practices in Promoting Diversity in STEM Graduate Education
Daniel Ralston, Undergraduate Research and Fellowships, Expanding and Developing Opportunities for Undergraduate Research Fellow
Niyati Shenoy, Center for Teaching and Learning, Teaching Development Program (TDP) Consultant
Abby Schroering, Earth Institute/Columbia Climate School, Climate School Educational Programs Implementation Fellow
Anayvelyse Allen-Mossman, Office of Academic Diversity and Inclusion, GSAS, GSAS Office of Academic Diversity and Inclusion Fellow
Elvira Blanco, Society of Fellows and The Heyman Center for the Humanities, Activating the Archives
Tiffany Huang, EVP Faculty for Arts and Sciences, Data Support for A&S Inclusion, Diversity, Equity, Access Strategies (IDEAS)
Annie Potter, Columbia Community Service, CCS 74th Annual Appeal - Donor Support
Lucy Turner, Society of Fellows and The Heyman Center for the Humanities, Activating the Archives
Lien Van Geel, Columbia College Academic Affairs, Curricular Committee Archival Fellow
Bailey Yellen, Office of Academic Diversity and Inclusion, GSAS, GSAS Office of Academic Diversity and Inclusion Fellow
Fall 2020
Anayvelyse Allen-Mossman, Office of Academic Diversity and Inclusion, OADI Research Collective
Elvira Blanco, The Society of Fellows and Heyman Center for the Humanities, Activating the Archives
Tiffany Huang, Executive Vice President of Arts and Sciences Office of Faculty Development and Diversity, Data Support for Inclusion, Diversity, Equity, Access Strategies
Annie Potter, Columbia Community Service, Columbia Community Service 74th Annual Appeal - Donor Support
Carly Quijano, Columbia University Libraries Digital Scholarship, Digital Publishing Fellow
Abby Schroering, Center for Teaching and Learning, Teaching Development Program Consultant
Lucy Turner, The Society of Fellows and Heyman Center for the Humanities, Activating the Archives
Lien Van Geel, Academic Affairs, Columbia College, Curricular Committee Archival Fellow
Bailey Yellen, Office of Academic Diversity and Inclusion, OADI Research Collective
Spring 2020
Elvira Blanco, Columbia University Libraries Digital Scholarship, Digital Publishing Fellow
Jessica Engebretson, Public Books, Publicity Strategy and Podcast Production Assistance
Michael Gluck, Columbia University Press, Literature in Translation: The Russian Library and Acquisitions
Timothy Lundy, The Society of Fellows and Heyman Center for the Humanities, NYC Humanities Calendar and Communications Assistant
Abigail MacBain, GSAS Office of the Dean, Student & Family Support Academic Administration Fellow
Jonathan Reeve, Columbia University Libraries Digital Scholarship, Foundations for Research Computing Technical Pedagogy Fellow
Dialika Sall, Columbia Community Service, Columbia Community Service 73rd Annual Appeal - Grantee Support
Jenna Schoen, Columbia Rare Book & Manuscript Library, Graduate Student Curatorial Fellow
Anna Waller, Center for Student Advising, Academic Support Fellow
Joseph Woldman, Academic Affairs, Columbia College, Curricular Committee Intern Fellow and Archiving Fellow
Fall 2019
Joseph Woldman, Academic Affairs, Columbia College, Curricular Committee Intern/Archiving Fellowship in Academic Administration
Taarini Mookherjee, Center for Teaching and Learning, Teaching Development Program Consultant
Umberto Mazzei, Columbia University Libraries Digital Scholarship, Digital Publishing Fellow
Timothy Lundy, The Society of Fellows and Heyman Center for the Humanities, NYC Humanities Calendar and Communications Assistant
Toru Momii, The Office of Academic Diversity and Inclusion, OADI Research Collective
Dominic Terrel Walker, The Office of Academic Diversity and Inclusion, OADI Research Collective
Neil Foegen, Columbia Engineering Professional Development and Leadership, Professional Development and Leadership Graduate Fellowship
Howard Taylor, Council for European Studies, Associate Editor/Europe and the Global South
Maria Dimitropoulos, GSAS Communications, Communications Fellow
Micah McElroy, Columbia Community Service, Columbia Community Service 73rd Annual Appeal Grantee Support
Spring 2019
Kevin Windhauser, Academic Affairs, Columbia College, Curricular Committee Fellow
Elizabeth McIntosh, Center for the Study of Social Difference, Developing CSSD Archive
Carina de Klerk, The Center for Teaching and Learning, Teaching Development Program Consultant
Dongxin Zou, Columbia University Press, Literature in Translation: Acquisitions and Marketing
Maria Dimitropoulos, Faculty Development & Diversity, Arts and Sciences, Annual Report
Nicole Kiviat, The Society of Fellows and Heyman Center for the Humanities, High School Scholarship Fellow
Olivia Rutigliano, The Society of Fellows and Heyman Center for the Humanities, High School Scholarship Fellow
Tomi Haxhi, Institute for Comparative Literature and Society, ICLS 20th Anniversary Archive Preparation
Liz Bowen, Public Books, Publicity and Social Media Strategy for Public Books
Danielle Drees, Academic Affairs, Undergraduate Research and Fellowships, Assessment and Enrichment
Fall 2018
Anayvelyse Allen-Mossman, Institute for Comparative Literature and Society, ICLS 20th Anniversary Archive Preparation
Nandini Banerjee, Office of Academic Diversity and Inclusion, Research Collective Co-Facilitator
Valerie Bondura, The Center for Teaching and Learning, Graduate Student Teaching Development Program Consultant
Sandra Chiritescu, Columbia University Press, Literature in Translation: Acquisitions and Marketing
Olivia Clemens, Columbia Community Service, Grantee Resources Liaison
Maria Dimitropoulos, Columbia Community Service, Grantee Resources Liaison
Brittany Fox-Williams, Office of Academic Diversity and Inclusion, Research Collective Co-Facilitator
Blasé Provitola, Academic Planning and Administration, Columbia College, Curricular Committee Intern/Archiving Fellowship in Academic Administration
Dialika Sall, Center for the Study of Ethnicity and Race, Media and Idea Lab
Summer 2018
Rex Barnes, Academic Planning and Administration, Columbia College, Curricular Committee Intern/Archiving Fellowship in Academic Administration
Xiaohan Du, The Society of Fellows and Heyman Center for the Humanities, Publications Editor
Adrianna Munson, Center for Teaching and Learning, Graduate Student Teaching Development Resources Coordination
Christina McGrath, Heyman Center for the Humanities and the Society of Fellows, Publications Editor
Tiana Reid, Columbia University Press, Literature in Translation: Acquisitions and Marketing
Bernadette Myers, The Earth Institute, Director's Office, Research Programming
Beatriz Groubert, Faculty Development & Diversity, Arts and Sciences, Benefits of Diversity in Arts and Sciences Booklet
Matthew Teti, Institute for Comparative Literature and Society, ICLS 20th Anniversary Archive Preparation
Spring 2018
Anayvelyse Allen-Mossman, Public Books, Editorial Internship
Matan Cohen, The Society of Fellows and Heyman Center for the Humanities, Publications Editor
Melissa Constantine, The Society of Fellows and Heyman Center for the Humanities,       Justice-in-Education Digital Editor
Emma de Beus, Office of the Executive Vice President, Arts & Sciences, Planning, Analysis, and Curricular Coordination
Xiaohan Du, Columbia University Press, Literature in Translation: Acquisitions and Marketing
Inna Kapilevich, Office of the Executive Vice President, Arts & Sciences, Planning, Analysis, and Curricular Coordination
Youngah Kwon, Executive Vice President of Arts and Sciences Office of Faulty Development and Diversity, Department Climate Toolkit
Alyssa Manz, Columbia Engineering, Professional Development and Leadership Fellow
Brian van Oppen, Office of the Executive Vice President for Arts and Sciences, Planning, Analysis, and Curricular Coordination
Fall 2017
Zachary Ugolnik, Public Books, Editorial Internship
Maryam Majeed, Mailman School of Public Health, Researching and Designing New Educational Offerings
Ani Kodzhabasheva, Columbia University Press, Literature in Translation: Acquisitions and Marketing
Akua Banful, Institute for Comparative Literature and Society, Global Language Justice, Medical Humanities, and Other Interdisciplinary Programming
Matan Cohen, Columbia Community Service, Community Outreach Coordinator
Summer 2017
Huizhong Feng, School of Professional Studies, Employer-Based Market Research
Yuchao (Chloe) Gao, Office of the Executive Vice President for Research, STEM Research Advancement
Michael Hammett, The Society of Fellows and the Heyman Center for the Humanities, Summer High School and Rikers Education Programs
Lei Lei, Weatherhead East Asian Institute, Communications, Outreach, and Donor Development
Spring 2017
Joseph Fisher, Center for Science and Society
Sedef Tinaztepe, Center for Science and Society
Matan Cohen, Columbia Community Service
Marta Ferrer Gomez, Columbia Community Service
Caroline Marris, Columbia University Press
Foad Torshizi, Educational Policy and Planning Committee
Brittany Fox-Williams, GSAS, Office of Academic Diversity
Allison Bernard, Heyman Center and Society of Fellows
Fall 2016
Atefeh Akbari Shahmirzadi, Institute for Comparative Literature and Society
Adham Azab, Columbia University Press
Dominic Vendell, Executive Vice President for Research
Sahar Ullah, Columbia University Press
Matan Cohen, Institute for the Study of Human Rights
Anne Levitsky, Heyman Center for the Humanities and the Society of Fellows
Julian Jürgenmeyer, Public Books
Logan Brenner, Center for Student Advising, Academic Resources in
Support of Excellence
Bailey Brown, Work/Life
Daniella Wurst, Graduate School of Arts and Sciences, Institute of Latin American Studies
Holly Myers, Undergraduate Student Life, Office of Multicultural Affairs
César Colón-Montijo, Office of Academic Diversity - Graduate School of Arts and Sciences
Summer 2016
Briana Nofil, Center for Student Advising - First-in-Family
Adham Azab, Columbia University Press
Kate Jackson, Columbia University Real Estate
Andrew Jungclaus, Executive Vice President for Research, Research Initiatives
Shuaiwen Wang, FAS - Education Policy and Planning Committee
Bailey Brown, GSAS - Office of Academic Diversity
Aditi Surie von Czechowski, Heyman Center for the Humanities and the Society of Fellows
Anne Freeland, Heyman Center for the Humanities and the Society of Fellows
Inna Kapilevich, Institute for Comparative Literature and Society
Victoria Wiet, Institute for Comparative Literature and Society
Nicole Gervasio, Public Books
Alexandra Mendez, Public Books
Courtney Singleton, School of Professional Studies, Division of Lifelong
Learning
Meiping Sun, Vice Provost for Academic Programs
Rui Hu, Vice Provost for Faculty Affairs
Almudena Marin-Cobos, Work/Life
Yayun Hsu, Work/Life
Spring 2016
Sarah Arkebauer, Public Books
Bailey Brown, Undergraduate Student Life Office of Multicultural Affairs
Rachel Dunn, Center for Student Advising, First-in-Family
Alex Fabrizio, Work/Life
Marta Ferrer, Miriam and Ira D. Wallach Art Gallery
Nicole Gervasio, Public Books
Victoria Gross, Columbia Community Service
Katharine Jackson, Columbia University Real Estate
Inna Kapilevich, Institute for Comparative Literature and Society
Chinweike Okegbe, GSAS - Communications
Gabriella Sanguineti, Postdoctoral Affairs
Aditi Surie von Czechowski, Heyman Center for the Humanities and the Society of Fellows
Didier Sylvain, GSAS Office of Academic Diversity
Ben VanWagoner, GSAS Office of Academic Diversity
Foad Torshizi, FAS - Educational Policy and Planning Committee
Benjamin VanWagoner, GSAS
Fang Xu, Executive Vice President for Research
Emily Yao, Columbia University Press
Sophonie Joseph, GSAS - Summer Research Program
Fall 2015
Sarah Arkebauer, Public Books
Victoria Gross, Columbia Community Service
Caroline Marvin, Center for Student Advising - ARISE
Tianhao Ren, Postdoctoral Affairs
Didier M. Sylvain, GSAS Academic Diversity
Benjamin VanWagoner, GSAS Academic Diversity
Foad Torshizi, FAS - Educational Policy and Planning Committee
Ju Yang, Executive Vice President for Research
Spring 2014
Alexander Rocca, Public Books
Jacqueline Lerescu, Office of Student and Administrative Services / Registrar
Philip Rodenbough, Office of Government and Community Affairs
Tracy Wang, Columbia Alumni Association
Christopher Crew, School of General Studies
Jie Zhou, Office of the President
John Straussberger, Columbia College
Zachary Stewart, Columbia College
Carolyn Pang, Office of the Executive Vice President for Research
Andrey Vlasov, Office of the Executive Vice President for Research
Caroline Marvin, Office of Communications and Public Affairs