Summer Research Program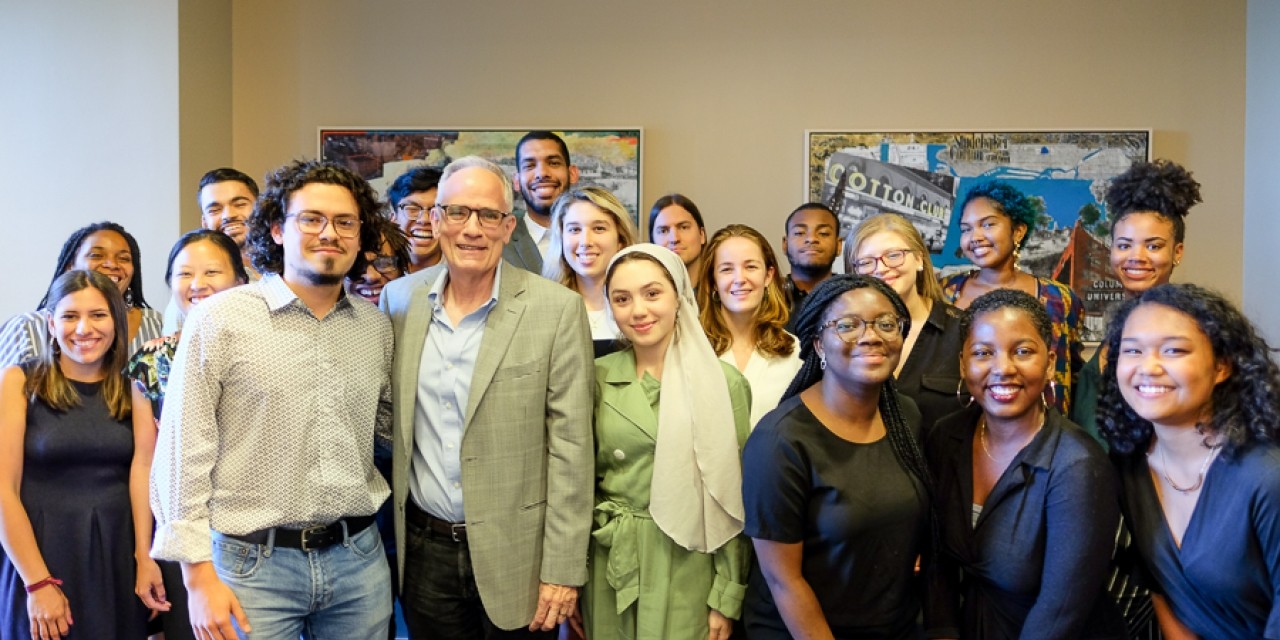 GSAS-Leadership Alliance Summer Research Program
The Graduate School of Arts and Sciences hosts the eight- to ten-week Summer Research Program (SRP) for undergraduates with a demonstrated commitment to diversity and inclusion. Participants conduct graduate-level research under the supervision of a Columbia faculty mentor, approximating the graduate experience through exposure to the mentor/advisee relationship, scholarly research opportunities, and independent living. This year the SRP program will run from June 3 - August 2. 
The aim of the program is to foster a deeper knowledge of the field in question, hone skills that are necessary for success in doctoral study, and encourage students to pursue academic careers. SRP does not offer preparation for the professional schools (e.g., business, education, engineering, journalism, medical, law, and social work).
The Summer Research Program began at Columbia in 1989 and is hosted in conjunction with The Leadership Alliance, a consortium of thirty-two institutions of higher learning that has a mission to "develop underrepresented students develop into outstanding leaders and role models in academia, business, and the public sector."
"SRP is important because it provides promising undergraduates from underrepresented backgrounds with real exposure to the world of research and academia. Participation in the program demystifies the research process, opens their minds to new horizons of knowledge, and prepares them for the challenges of graduate school. SRP nurtures their intellectual interests and provides a structure to help them succeed in the pursuit of academia because it connects them with faculty who take an interest in their research and their success."
—Van C. Tran (2017 Faculty Mentor)
Faculty and Research
Columbia does not publish in advance a list of faculty members who are participating in the Summer Research Program. Students are admitted to SRP based on the strength of the research proposal submitted with the program application, and are then matched with the faculty member who is most appropriate for their research subject.
Weekly Seminars and Workshops
Beyond research, SRP students take part in a number of other professional activities, including weekly seminars and workshops, symposia, and a number of group events both on and off campus. These include tutorials on academic writing, the graduate school application process, and oral presentation for conferences. During the weekly seminars, students have ample opportunity to discuss their research projects.
Meetings
Meetings with staff and mentors provide an informal setting for discussions of varied topics such as the nature, rewards, and challenges of a research career inside or outside of academia.
Symposia
Students present their research to faculty, graduate students, and administrators at the Columbia Summer Research Program Symposium. Students also attend the annual National Leadership Alliance Summer Symposium.
Programs from past SRP Symposia:
In recent years, research internships have been available in the following departments or disciplines of the Graduate School of Arts and Sciences:
Humanities
Social Sciences
Natural Sciences
Biomedical Sciences
See the Biomedical Sciences website for an overview of biomedical programs and more information on departments, PhD programs, and subfields.
---
*History Summer Institute: HSI is a collaborative effort with the Department of History. It comprises thematic history seminars (led by faculty such as Frank Guridy, Gregory Mann, Manan Ahmed, Lien-Hang T. Nguyen and Adam Kosto) whose aim would be to introduce students to the experience of a rigorous graduate level training. Sample seminars would be on history of decolonization, US foreign policy, sports and race, medieval world, histories of Africa and South Asia, history in the public sphere. HSI also includes a series of workshops focusing on pathways to PhD applications in the Social Sciences (esp. History program): it will cover  application materials (writing sample, statement etc).  Each of the student participants in the HSI will be paired with faculty who can provide direct mentorship on their research interest as well as pathways through the admission processes.
There is no charge for the program, and no application fee. Students accepted for the Summer Research Program will receive the following:
Stipend: Students receive a stipend of $5,000 to cover living expenses. Students entering into the program with an existing fellowship (MMUF, McNair, MARC, etc.) will have their stipend payments capped at $5,000. Students will receive $5,000 less the amount of confirmed summer funding allotted by their home program.
The GSAS-Leadership Alliance Summer Research Program (SRP) seeks talented undergraduate students who have a passion for scholarly or scientific research and demonstrate academic promise in research and/or teaching in the natural sciences, the humanities, and the social sciences.
Applicants must apply for the Summer Research Program using the Leadership Alliance application. Students will apply to the Leadership Alliance and designate Columbia as a top choice for their summer campus.
Click here to access the application.
All SRP participants are expected to observe Columbia's Covid-19 policies and guidelines. See the Columbia Covid Resource Guide for more information on Columbia's protocols.
Eligibility Requirements
The program seeks college students who have a passion for scholarly or scientific research and demonstrate academic promise in research and/or teaching in the sciences and selected disciplines in the humanities and social sciences. Applicants must:
Be a current sophomore (second year) or junior (third year)
Be at least 18 years old by the start date of the program
Be a US citizen or permanent resident
Have a 3.0 grade-point average (GPA) or higher
Show potential for doctoral study in proposed field; transcript should demonstrate course work in proposed area of research
Demonstrate a commitment to increasing diversity in academia
If you have any questions about the Summer Research Program, please contact the GSAS Office of Academic Diversity at [email protected].