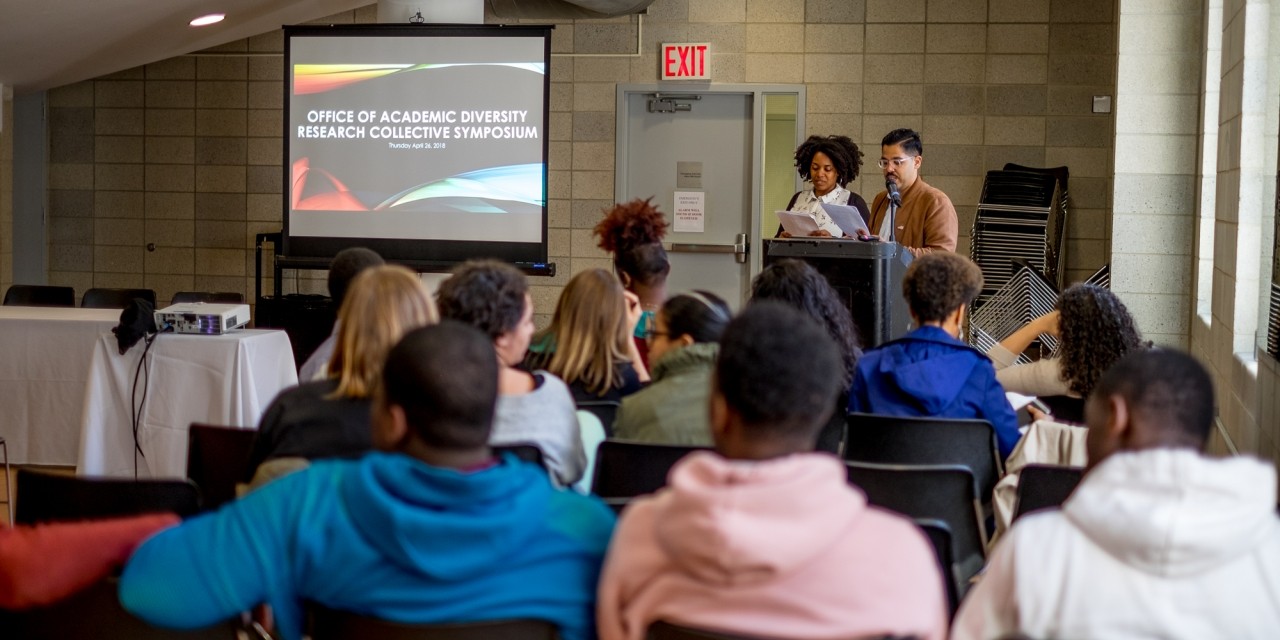 The OADI Research Collective is a cohort-based, year-long program comprising GSAS and other Columbia graduate students across multiple disciplines. All participants must be actively conducting research on topics that have particular relevance for communities affected by persistent marginalization and exclusion. This work might include an explicit focus on the social, educational, economic, health, environmental, and other inequities that derive from marginalization and exclusion, but can also focus on these communities in and of themselves. Often, research and scholarship in these areas is itself marginalized, limiting the possibilities for the creation of new knowledge.
This year, the Collective will focus on the intersections between race, labor and capitalism. We invite Columbia graduate students working on scholarly, activist, or artistic projects that intersect with any or all of these themes to apply.
The Research Collective provides a space for emerging scholars to explore and refine their ideas among a supportive, collaborative, and affirming community. It is designed to be an incubator for interdisciplinary thought and an exercise in public scholarship. Originally conceived by graduate students serving as OADI Fellows in Academic Administration, the Collective engages critical conversations about the impact that research and scholarship on, about, and implicating marginalized groups can have on the members of those communities as well as the broader academic enterprise. Importantly, it seeks to bridge these two constituencies in the knowledge-making process. 
Program Components
Monthly cohort meetings throughout the fall and spring semesters where participants present their ideas and receive feedback from their peers
Occasional readings and workshops on public scholarship and applications to participants' work
Regular practice in horizontal leadership and development of relevant skills
Spring semester capstone project and presentation (e.g., op-ed, TED-style talk, public exhibition) engaging both academic and public audiences
Who Should Apply
All master's and doctoral students at any level are welcome to apply, but priority will be given to doctoral students in Arts and Sciences degree programs. Selected participants must be actively working on an independent scholarly, activist, or artistic project (e.g., thesis, dissertation, conference paper or publication, exhibition) on which they have made significant conceptual progress and that could benefit from perspectives outside of their disciplines. Participants should have some interest in learning more about public scholarship and incorporating it in their work. For scientists, this can be helpful in developing activities to actualize the broader impacts (now required for grant proposals to the National Science Foundation) of your research. 
Please read the application carefully for additional details about the types of projects that are appropriate for the current year's thematic focus.
Application for 2023-2024 is NOW LIVE!
Apply here by November 20, 11:59pm 
QUESTIONS? Email us at [email protected].
2023-2024 Cohort
Gabriel Solis (co-facilitator)
Gabriel Solis is a PhD Candidate in History studying labor and social reproduction in Taiwan's Export Processing Zones and Mexico's maquiladoras. He is originally from the U.S.-Mexico border and frequently writes on border politics.
Nikita Shepherd (co-facilitator)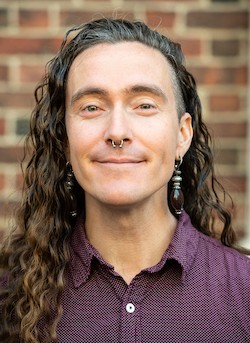 Nikita Shepard (they/them) is a PhD Candidate in the Department of History studying gender, sexuality, race, and social movements in the twentieth century US and beyond. They serve as a Graduate Fellow for the Institute for the Study of Sexuality and Gender, a graduate affiliate of the Columbia Research Institute for the Global History of Sexualities, and an MA Thesis Advisor for the Committee on Global Thought. Their dissertation explores the history of public bathrooms and political struggles around them across the modern United States.
2021-2022 Cohort
Julián Sánchez González
Julián Sánchez González joined the PhD program in Art History at Columbia University in 2018. He holds an M.A. in Art History (Honors Thesis) from New York University's Institute of Fine Arts (2018), and a double B.A. in History and Political Science from the Universidad de los Andes in Bogotá (2012-13). His broader academic interests investigate the relation between art making and spiritual practices throughout the twentieth century. His current research project analyzes the influence of non-monotheistic spiritualities in the arts of the 1970s and 1980s in the Americas and the Caribbean (Colombia, United States-California, and Trinidad and Tobago). Previously, Mr. Sánchez worked with the Museos de Arte y Numismática del Banco de la República in Bogotá and the Art Museum of the Americas, Organization of American States in Washington, D.C. His thinking has been published by the Museum of Modern Art, the Pérez Art Museum Miami, Pace Gallery, the Patricia Phelps de Cisneros Collection, Oxford Art Online, Artsy, Alice Yard, the Universidad Jorge Tadeo Lozano, and the Universidad Tres de Febrero, among others. His work has been generously supported by the Fulbright Program, the Ministerio de Cultura de Colombia, and the Fundación Colfuturo, as well as by the Heyman Center for the Public Humanities and the Institute for Religion, Culture and Public Life at Columbia University.
Shirley Chikukwa
2020-2021 Cohort
Anayvelyse Allen-Mossman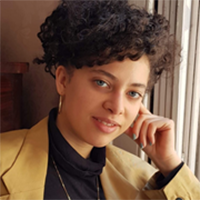 Anayvelyse received her BA in Comparative Literature from Barnard College, and is a doctoral candidate in the Department of Latin American and Iberian Cultures and the Institute for Comparative Literature and Society. Her dissertation explores late-nineteenth- and early-twentieth-century cultural production in Argentina and in the Southern Cone more broadly. She examines photographic records and textual accounts of state building, with a focus on labor and race in the context of industrialization. She has won numerous grants and fellowships for her academic work, including a Fulbright-Hays Doctoral Dissertation Abroad Fellowship and an Institute for Latin American Studies Pre-Dissertation Research Grant. Anayvelyse was born and raised in New York. In addition to her research and teaching work, she is a freelance writer and translator.
Brianna Barrett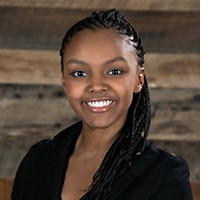 Brianna is a second-year master's students in the African American and African Diaspora Studies Department at Columbia University. Originally from Central New Jersey, she graduated from Smith College in 2019, where she earned her BA in the Study of Women and Gender with a minor in African Studies. At Columbia, her master's thesis explores the explores the exclusion of Black dancers from classical ballet and classical ballet's relationship with race and white supremacy. Focusing on classical ballet as an institution in the United States, her research draws form dance studies, Black studies, and critical race theory to examine the racialization of classical ballet and how the art form is shaped by and assimilates into the United States' imaginative geographies and systems of white supremacy.
Eric Mazariegos, Jr.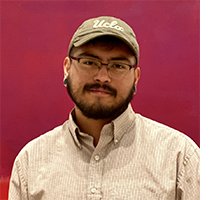 Eric is a second-year student in the Art History and Archaeology PhD program. He focuses on pre-Columbian art, or arts of the Indigenous Americas broadly, with an interest in process, technology, and materiality. Eric's work on Olmec jade figurines was published in the Mellon-Mays Undergraduate Fellowship journal in 2018. His dissertation will examine goldwork from ancient Colombia. In the OADI Research Collective, and for his master's paper, Eric is interested in West Coast muralism, particularly works created during the Chicano Movement in Los Angeles. He is working with artists and independent scholars to ask questions of how artistic tools like paint, medium, and scale can be mobilized politically. Working with artists and independent scholars, Eric hopes to reinscribe contemporary meaning on historicized sites.
Althea SullyCole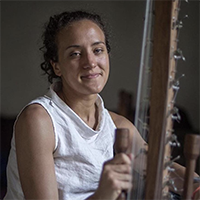 Althea is a multi-instrumentalist and ethnomusicologist from New York City. She received a BA in Ethnomusicology from Barnard College in 2012; an MA with Distinction in Music in Development from the School of Oriental and African Studies, University of London, in 2016; and an MA in Ethnomusicology from Columbia University in 2018. She is currently a doctoral candidate in the Music Department at Columbia University and a fellow at the Metropolitan Museum of Art, where she is studying the museum's collection of musical instruments from the Mandé region of West Africa. Her primary instrument is the kora, a 21-stringed West African harp. She has given performances at Royal Albert Hall (London), The Kennedy Center (Washington, DC), Teatro Manzoni (Milan), and The Apollo Theatre (New York), among other venues. Althea is currently the co-chair of the Organology Special Interest Group at the Society for Ethnomusicology (SEM). At Columbia, she has served as a Diversity Fellow (2017-18), Teaching Observation Fellow (2018) and Research Assistant in the African Languages Studies Department (2018-20). She was the Associate Editor of Current Musicology from 2019-20 and a contributing editor for AnthroPod, the podcast of the Society for Cultural Anthropology, from 2018-2020. Althea has delivered talks and facilitated panels at the Society for Studies in Africana Philosophy, CUNY Graduate Center, the People's Forum, SEM, the Left Forum, the Society for the Advancement of American Philosophy, and the African Studies Association. Her writing has been published by the American Musical Instrument Society.
Ashley Wells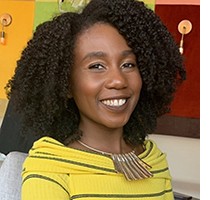 Ashley is a first-year MA student in American Studies at Columbia University's Center for Ethnicity and Race (CSER) and a research assistant for Columbia University's History Department. She is also the Chief Development Officer and a co-founder of a non-profit called The Prosp(a)rity Project, which is dedicated to advancing Black American women financially, professionally, and holistically.
At Columbia, Ashley is studying the intersections of race and gender within American and African American literature. She is focusing specifically on Black American women and the mental health crisis currently taking place in the nation. She is examining how these different identities make it much more difficult for Black women to both be diagnosed with and receive comprehensive treatment for mental health disorders.
In her spare time, Ashley interacts with her campus community by serving as the Communications Chair of Columbia University's Arts & Sciences Graduate Council (ASGC). Before arriving at Columbia, she received her MA in Creative Writing from Dartmouth College in August 2020 and her BA in English Literature from Binghamton University in 2018. Ashley hopes to combine both her research interests and her literary pursuits to one day become a college professor and impact the lives of her students.
Bailey Yellen
Bailey is a third-year doctoral student at Columbia University. In 2016, Bailey graduated cum laude and with departmental honors from Claremont McKenna College with a dual degree in History and Literature. Her interdisciplinary undergraduate thesis examined 19th-century slave narratives to understand how, through authorship, formerly enslaved men and women corrected misunderstandings about Black activism and subverted white expectations about race and gender in their texts. She received the award for Best History Thesis for her work. Bailey's research interests include Black resistance in the Atlantic World and the movement of people, ideas, and abolitionist literature between the United States and Great Britain during the 19th century.