2019 GSAS Alumni Awardees Announced
The Graduate School of Arts and Sciences is pleased to announce the recipients of its 2019 Alumni Awards, which celebrate the superior achievements of GSAS master's and doctoral graduates.
George D. Yancopoulos ('86PhD, Biochemistry and Molecular Biophysics) and John A. Glusman ('80MA, English and Comparative Literature) will receive the Dean's Award for Distinguished Achievement. Matthew Salganik ('07PhD, Sociology) and Amanda Seales ('05MA, American Studies) will be honored with the Outstanding Recent Alumni Award.
"The Graduate School of Arts and Sciences holds in highest regard intellectual inquiry that exerts a profound impact not only in academia, but in the larger world as well," said Carlos J. Alonso, Dean of GSAS. "These four graduates represent the very best in our alumni body, and serve as an example to all who aspire to have a lasting impact on the world."
The honorees will receive their awards at a ceremony to be held on June 19, 2019.
About the Honorees
George D. Yancopoulos ('86PhD, Biochemistry and Molecular Biophysics)
Dean's Award for Distinguished Achievement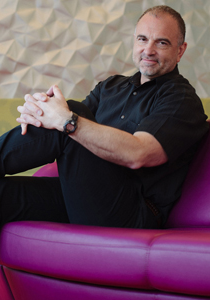 George D. Yancopoulos is cofounder, President, and Chief Scientific Officer of Regeneron. Over the last thirty years, Dr. Yancopoulos has worked with his longtime partner, Dr. Leonard S. Schleifer, to build Regeneron into a leading science-driven biotech company, which has invented and developed seven FDA-approved medicines for serious diseases including cancer, vision-threatening eye diseases, heart disease, atopic dermatitis, asthma, and rheumatoid arthritis. His team continues to lead biotech innovation, including through the Regeneron Genetics Center, a world-leading effort that has already sequenced the DNA of over 500,000 people. Dr. Yancopoulos has authored more than 300 papers, holds over 100 patents, and was among the world's ten most highly cited scientific authors during the 1990s (and the only one in industry). He was elected to the National Academy of Sciences in 2004, was inducted into the Biotech Hall of Fame in 2014, and was named (along with Dr. Schleifer) Ernst & Young's 2016 Entrepreneur of the Year. He is also passionate about inspiring young talent through STEM and internship programs, and under his leadership Regeneron has assumed sponsorship of the nation's oldest and most prestigious high school science competition, formerly sponsored by Westinghouse and Intel, and now known as the Regeneron Science Talent Search.
John A. Glusman ('80MA, English and Comparative Literature)
Dean's Award for Distinguished Achievement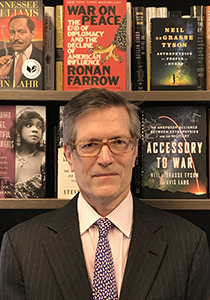 John A. Glusman is Vice President and Editor-in-Chief of W.W. Norton's trade department. A publishing veteran of nearly forty years, he has worked with Nobel Prize winners Czesław Miłosz and Orhan Pamuk; National Book Award winner Richard Powers; National Book Critics Circle Award winners John Lahr and Jim Crace; Pulitzer Prize winners Ronan Farrow, David Rohde, and Laurie Garrett; New York Times bestselling authors Neil deGrasse Tyson, Frans de Waal, Erik Larson, Ben Macintyre, David E. Sanger, Alice Hoffman, Rosellen Brown; and edited E. Annie Proulx's fiction debut, Heart Songs and Other Stories. He has taught at Columbia University, The New School for Social Research, and the Squaw Valley writers conference. His book, Conduct Under Fire: Four American Doctors and their Fight for Life as Prisoners of the Japanese, 1941–1945 (Viking/Penguin, 2006), based on his father's experiences as a Navy doctor and prisoner of war in the Philippines and Japan, won the Colby Award for the best work of military nonfiction by a first-time author. Mr. Glusman is also the recipient of a John Simon Guggenheim Memorial Foundation Fellowship in nonfiction.
Matthew Salganik ('07PhD, Sociology)
Outstanding Recent Alumni Award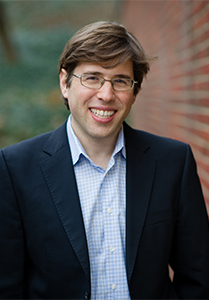 Matthew Salganik is Professor of Sociology at Princeton University, where he is affiliated with several interdisciplinary research centers, including the Center for Information Technology Policy and the Center for Statistics and Machine Learning. His research interests include social networks and computational social science. He is the author of Bit by Bit: Social Research in the Digital Age (Princeton University Press, 2018). Dr. Salganik's papers have won the Outstanding Article Award from the Mathematical Sociology Section of the American Sociological Association, and the Outstanding Statistical Application Award from the American Statistical Association. Popular accounts of his work have appeared in The New York Times, The Wall Street Journal, The Economist, and The New Yorker. Dr. Salganik's research has been funded by the National Science Foundation, the National Institutes of Health, the Joint United Nations Program for HIV/AIDS (UNAIDS), the Russell Sage Foundation, the Alfred P. Sloan Foundation, Facebook, and Google. During sabbaticals from Princeton, Dr. Salganik has served as a Visiting Professor at Cornell Tech and as a Senior Researcher at Microsoft Research. During the 2018-19 academic year, he is a Professor-in-Residence at The New York Times.
Amanda Seales ('05MA, American Studies)
Outstanding Recent Alumni Award
A comedian, actress, writer, recording artist, producer, and activist, Amanda Seales takes on serious topics—including racism, rape culture, sexism, and police brutality—using humor as an engine for vital social change. In addition to performing stand-up comedy across the world, and touring colleges to deliver comedic lectures, Ms. Seales has an active career on television as a series regular on HBO's Insecure; guest-starred on ABC's Black-ish; released her debut stand-up special, I Be Knowin', on HBO in January 2019; and created and hosts the hit live comedy game show Smart Funny & Black. She was an MTV video jockey, a member of the R&B group Floetry, and hosted Hip-Hop Nation on Sirius Radio. Ms. Seales also has published a book of poetry (young skin/Wise Mind/Old Soul), and speaks truth to change through her popular Instagram channel and weekly podcast Small Doses, an accompanying book for which will be released in fall 2019 (Abrams Books).