2021 Dr. Devon T. Wade Mentorship, Service, and Advocacy Award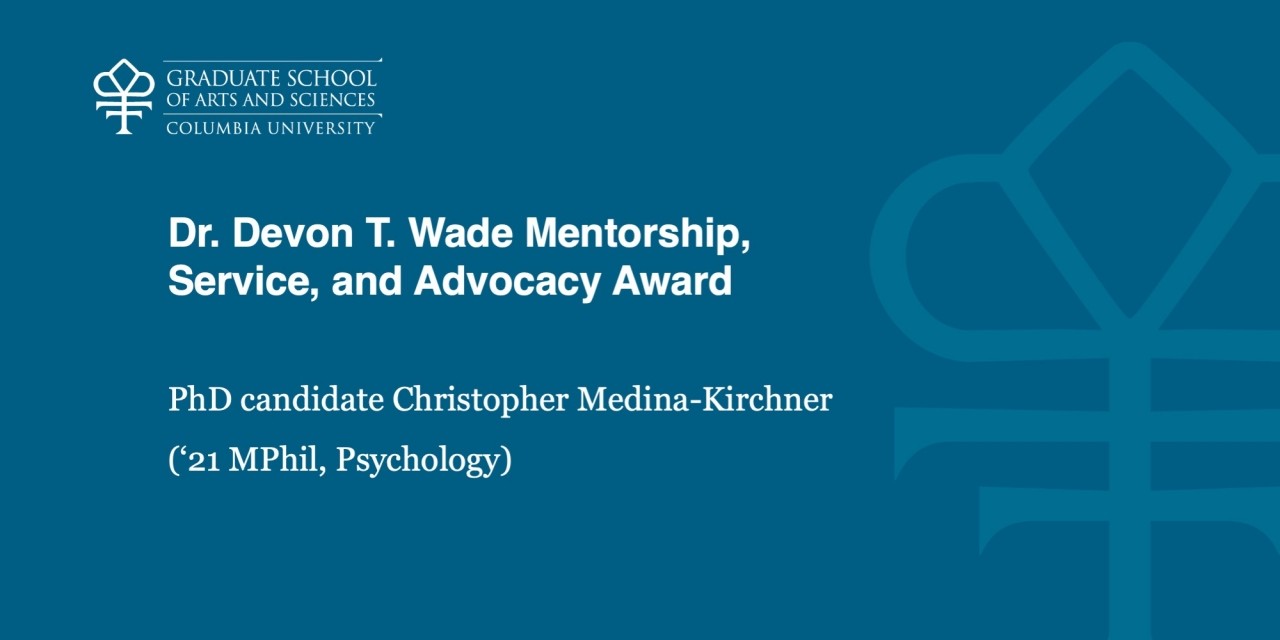 2021 Dr. Devon T. Wade Mentorship, Service, and Advocacy Award:
Christopher Medina-Kirchner
The Dr. Devon T. Wade Mentorship, Service, and Advocacy Award recognizes an Arts and Sciences master's or doctoral student whose work reflects the late Dr. Wade's exceptional commitment to meaningful scholarship, teaching and mentorship, and service and advocacy on behalf of vulnerable communities. This year we received nominations for 19 exceptional students who demonstrate excellence in these areas, and a persisting dedication to serving and elevating the needs of others.
Psychology doctoral student Christopher Medina-Kirchner ('21 MPhil; '17 Columbia Bridge to PhD) has been selected as this year's recipient because of his consistent accomplishments in and across all of the areas recognized by this award. According to the nearly one dozen Columbia students, faculty, and staff who submitted and endorsed Mr. Medina-Kirchner's nomination, he is "extraordinary," and his "achievements both within and outside of Columbia truly capture the spirit in which this award was created, in honor of Dr. Wade."
The committee also recognizes with Honorable Mention three additional nominees consistently and meaningfully intertwine their scholarship, teaching and mentoring, and service and advocacy in building community with and among vulnerable populations:
Ivón Padilla-Rodríguez (PhD, History)
Elise Myers (PhD, Earth and Environmental Sciences)
Shakti Castro (PhD, History)
Among Mr. Medina-Kirchner's many accomplishments, he is credited with co-founding Columbia's Formerly Incarcerated Research and Science Training—or FIRST—program to mentor and train individuals who were previously incarcerated to address social justice issues through scientific research. He was awarded two successive grants from the Center for Science and Society to support FIRST and its activities. Still not satisfied that he was doing all that he could to enhance the educational experience of those whose interests he served, Medina-Kirchner co-founded the Directly Impacted Group—or DIG—which provides support and advocates for students, staff, faculty and family members who are contending with the effects of incarceration as they navigate school, work, and life experiences. Through these efforts, he effectively worked to "create a space on campus for those who may have struggled to find community," and helped others "to cultivate an expansive view of what that community could be." Many of the students whom Mr. Medina-Kirchner has taught and mentored have gone on to graduate study or launched a career in scientific research and policy. These comprise both those with whom he connected via FIRST and DIG as well as those whom he taught more formally in classes and whose research he supervised as an advanced doctoral student.
The Graduate School of Arts & Sciences is proud to honor all of the nominees for the 2021 Dr. Devon T. Wade Mentorship, Service, and Advocacy Award. Your commitment to improving others' lives and circumstances through your scholarship, teaching, advocacy, and community-building are remarkable, and we look forward to seeing all that you are certain to accomplish in the years to come.