Abbe Schriber, PhD Candidate in Art History and Archaeology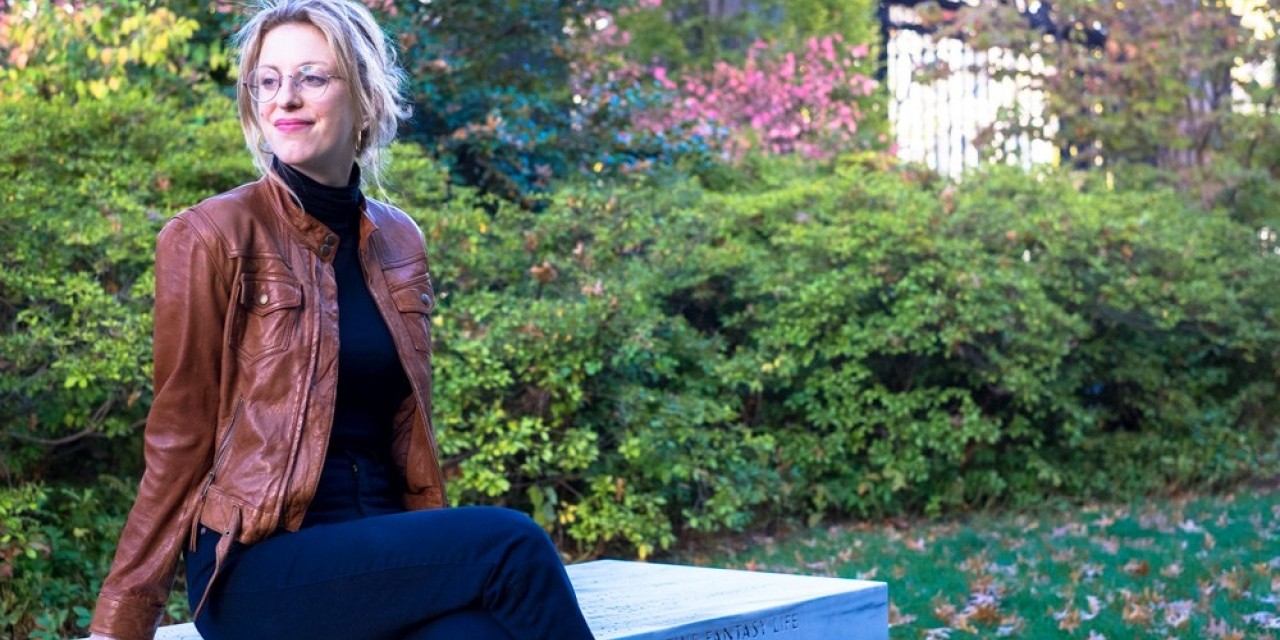 Where did you grow up?
Cincinnati.
What drew you to your field?
Since college, I've been interested in the specificities of subjectivity, and how "identity" is signaled or deferred in visual art. How do we read with and against biography, and how do these reading practices manifest in particular for artists of color, especially those who are women?
How would you explain your current research subject to a high school student?
I study the experimental practices of African-American visual artists in the twentieth century, primarily in the 1970s and 1980s, and their relation to the social and artistic conditions of urban public space, especially in New York and Los Angeles.
What is your favorite thing about being a student at Columbia GSAS?
I love that GSAS encourages interdisciplinary work, through the multitude of talks, conferences, concerts, and readings that are a key feature of life on campus.
What resources or opportunities that Columbia provides are most important to you?
Columbia's varied institutes, where students from different fields can collectively think through problems or theory from separate yet intersecting spaces, are really important to me. Engaging with the Institute for Research on Women, Gender and Sexuality has been crucial to my research and commitment to feminist pedagogy, as has the Barnard Center for Research on Women. Perhaps this goes without saying when you're a doctoral student, but the library system at Columbia is not only important, but special. The Rare Books and Manuscripts Library, and of course my home turf of Avery Architectural & Fine Arts Library, are unique resources. Next semester I plan to take my Art Humanities students to see the Goya prints in the collection of the RBML.
Is there a common misconception about a topic in your field that you wish you could correct?
There has been much ink spilled over the concept of "black abstraction" of late in my field of African-American art and art of the African diaspora. I think people have often taken blackness extremely literally, dealing only with the material hues of the color black to examine its metaphorical resonance. This is an important path of inquiry, but it also perhaps overlooks what "abstraction" means for black artists who work in a wide range of strategies apart from literalizing blackness as a color. Abstraction, and its relation to figuration for artists of color, is one problem that I will take up in my dissertation.
Who are your favorite writers?
This list is unending, but those whom I constantly carry with me are Edouard Glissant, Toni Morrison, Walter Benjamin, Amiri Baraka, Maggie Nelson, Zora Neale Hurston, Robert Smithson, Elena Ferrante, Lydia Davis, Anne Carson, Ralph Ellison, Robert Creeley, Jamaica Kincaid, Stuart Hall, and Frank O'Hara.
What music have you been listening to lately?
Solange's album A Seat at the Table has been on repeat for quite some time, with no sign of slowing. I'm never not listening to John Coltrane and Charlie Parker. Oddly, Steely Dan's Aja has been a frequent traveler, as has the Nina Simone album Wild is the Wind.
Where is your favorite place to eat on or around campus?
Across Morningside Park I've always been a fan of an espresso and croissant at Patisserie Des Ambassades, one of the many awesome black-owned businesses in Harlem. Another place that's dear to me is Le Monde, on Broadway, because I associate it with a friend, the late, great Alison R. Bernstein, who was one of the first people to introduce me to the local treasures of Morningside Heights.