Amanda Platek, MA Candidate in Religion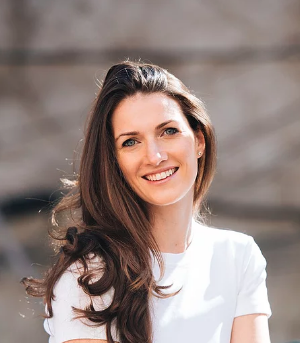 Where did you grow up?
White Plains, NY.
What drew you to your field?
A lifelong love of theatre.
How would you explain your current research subject to a high school student?
I am writing a performance history of a fifth-century Sanskrit play, as it has been performed in India, Europe, and the U.S. since the nineteenth century. Through this work, I am asking questions about the strengths and limits of intercultural theatre—theatre that integrates performance styles and dramatic texts from around the world. I want to understand how the local and the global can come together in theatrical performance.
What resources or opportunities provided by Columbia have been most important to you?
That Columbia provides me with NYC has been an enormous boon, and seeing theatre regularly has become part of my education here. The faculty is extraordinary. And Butler ranks high among not just the greatest resources at Columbia, but the greatest libraries I've had the chance to work in.
Is there a common misconception about a topic in your field that you wish you could correct?
Sanskrit theatre is still performed all the time, inside and outside of India!
What do you consider your greatest achievement?
Two years ago, I had the incredible opportunity to teach at my alma mater, Vassar College. The course I taught, Sources of World Drama, is the one that first introduced me to the play that is now the subject of my dissertation. To return to that community and introduce a new generation of students to the plays that will end up changing their lives was just … beyond words.
Who are your favorite writers?
The playwrights Thornton Wilder, Caryl Churchill, and Suzan-Lori Parks, and the novelists Salman Rushdie, J.D. Salinger, and Amitav Ghosh. For poems and essays, Anne Carson.
Who is your hero of fiction?
Franny Glass.
Who are your heroes in real life?
My friends. I once heard Richard Schechner speak, and someone asked him how he happened to know all of the celebrated artists and thinkers that he knows. His answer was simply "be friends with interesting people who inspire you." That is how I feel about my friends. They are artists, making work that challenges our conceptions of what theatre and performance can do. They are scholars expanding the disciplinary limits of their fields. They are doctors dedicating their time to healing bodies and minds. They are great thinkers, game changers, and model humans. I hold myself to a higher standard by being in their company.
Who in your field do you consider to be a role model?
Elinor Fuchs.
If you were to die and come back as a person or a thing, what would it be?
Sutton Foster. Or a person who can sing and dance like Sutton Foster.
What is your favorite blog or website?
BonAppetit.com. Cooking is a great way to decompress after a long day, and stress baking has gotten me through years of graduate school!