Brennan McDaniel, MA Candidate in American Studies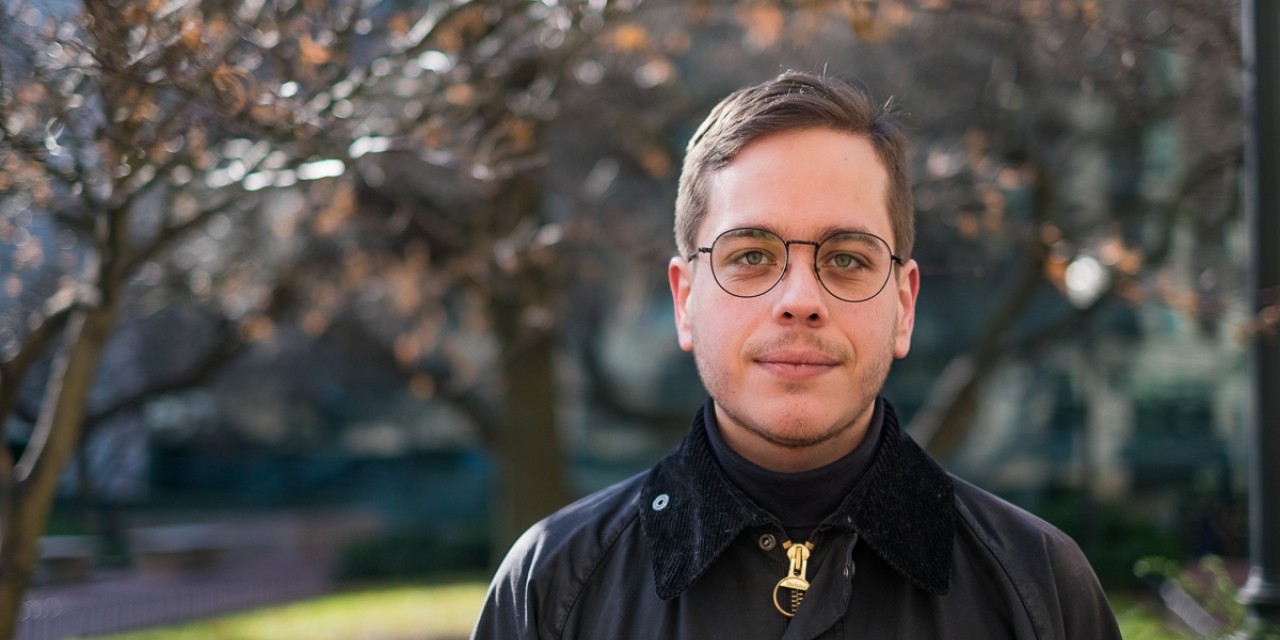 Where did you grow up? 
I grew up in South Florida, but East Tennessee is home.
What drew you to your field? 
I fell into it naturally. As an emergent field, American studies harmonizes research from several different perspectives that pertain to the issues I'm most concerned about. The field's interdisciplinary scope allows me to engage knowledge produced in specific rural, local, and community-bound contexts alongside a broader inquiry into American life. I love it.
How would you explain your current research to someone outside of your field? 
For most, Native American identity is firmly rooted in kinship-oriented social structures, especially membership in a federally recognized tribe, band, or First Nation. Yet there remains a population of American citizens who have Native American ancestry belonging to communities with a longstanding sense of cultural separateness, but who do not have this federal recognition. I'm examining one such community, the Melungeons, and thinking about how they and other closely related groups are organizing themselves in the present while reckoning with entangled histories of displacement, eugenics, poverty, and racial liminality. This is particularly important to me as a Melungeon. Some of these communities have actually received limited recognition by state and federal governments. Others are negotiating their identity outside of the acknowledgment process. The interplay between these forms of collective self-description and different movements for self-determination in an increasingly globalized time raises many questions about race and ethnicity, indigeneity, and national belonging in the US and elsewhere.
What is your favorite thing about being a student at Columbia GSAS?
Being able to take classes taught by such esteemed faculty. My program also allowed me to cross-register at the School of International and Public Affairs (SIPA), which gave me an opportunity to think about what I was studying at GSAS in more immediate terms of policy and practice.
What resources or opportunities that Columbia provides have been most valuable to you?
The sheer amount of love and support that I've received from the Center for the Study of Ethnicity and Race (CSER) and from members of the Native American Council (NAC) have been invaluable.
Is there a common misconception about a topic in your field that you wish you could correct?
It's a point that many have already made, but I've observed firsthand that direct-to-consumer DNA tests should be used cautiously as determiners of race and ethnicity. Although the language of DNA and blood is powerful and compelling, the presence (or absence) of certain genetic markers is not an adequate measure of one's belonging to a particular group, nor does it substitute for things like shared experience and community involvement. Some would say the tests don't tell you anything reliable at all. I think we need to be more steadfast in our approach to DNA tests as their use becomes more widespread, because they have been shown to be useful tools in other areas—for example, in solving violent crimes or in proving close family relationships.
Who are your favorite writers?
This is hard! Joy Harjo, Anne Carson, and Maggie Nelson, but also Ibn Arabi, Rumi, and Hafiz. Right now I'm entranced by Hamza Yusuf's translation of and commentary on Imam Mawlud's Purification of the Heart.
Who in your field do you consider to be a role model?
I look up to quite a few people, including Malinda Maynor Lowery, Robert Jarvenpa, Kim TallBear, Chris Andersen, Tiya Miles, Kathleen Stewart, Lauret Sivoy, and Anna Tsing.
What music have you been listening to lately?
Tinariwen, Alabama Shakes, and Future Islands.
What is your favorite blog or website?
The New Centre for Research and Practice.