GSAS Announces Recipients of 2020 Alumni Awards
The Graduate School of Arts and Sciences is pleased to announce the recipients of its 2020 Alumni Awards, which celebrate the superior achievements of GSAS master's and doctoral graduates.
Caroline Alexander ('91PhD, Classics) and Camilo José Vergara ('77MA, Sociology) have received the Dean's Award for Distinguished Achievement. Nina Ansary ('13PhD, History) and Andrew Freedman ('09MA, Climate and Society) have been honored with the Outstanding Recent Alumni Award.
"Through our annual Alumni Awards, GSAS celebrates graduates who have advanced not only their academic fields, but the larger world as well," said Carlos J. Alonso, Dean of GSAS. "These alumni serve as exemplars to all who aim to have a lasting impact on society."
Dean Alonso also presented the first-ever Dean's Award for Lifetime Achievement to General Brent Scowcroft ('67PhD, International Relations) in recognition of his decades of dedication to the national security of the United States.
"Surely few alumni of the university once led by Dwight Eisenhower have put their scholarly training to such profoundly important real-world application," Dean Alonso wrote in General Snowcoft's citation. "Our pride in your career has been undimmed as you rose from assistant air attaché in Embassy Belgrade into an extraordinary 29-year military career, becoming a lieutenant general and serving twice in the White House as assistant to the president for national security affairs."
Due to the uncertain and evolving conditions of COVID-19, the GSAS Annual Awards Dinner has been postponed from its originally scheduled date of May 28, 2020. The Graduate School cherishes this annual opportunity to celebrate our alumni, and intends to hold the dinner at a later date when we can safely gather together again.
About the Honorees
Caroline Alexander ('91PhD, Classics)
Dean's Award for Distinguished Achievement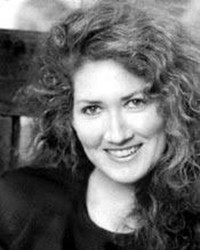 Dr. Alexander is an author and journalist. She attended Somerville College, Oxford, as a member of the first class of female Rhodes Scholars and subsequently established a small department of classics at the University of Malawi. She then obtained a PhD in Classics at Columbia as a Mellon Fellow in the Humanities. In 2015, she became the first woman to publish a full-length English translation of Homer's Iliad. She is the author of the bestselling book The Endurance: Shackleton's Legendary Antarctic Expedition, which has been translated into thirteen languages. Dr. Alexander was a contributing writer for National Geographic Magazine for many years, and has also written for The New Yorker, Outside, and Smithsonian, among other publications; this work has appeared in a number of anthologies of literary non-fiction. Her National Geographic Magazine cover story "The Invisible War on The Brain" was praised for exploring the effects of blast-induced trauma on modern soldiers and was nominated for a Kavli Science Journalism Award. Dr. Alexander is a member of the American Philological Association, the Royal Geographical Society, the Explorer's Club, and the Directors Guild of America. She currently lives in Holderness, New Hampshire.
Camilo José Vergara ('77MA, Sociology)
Dean's Award for Distinguished Achievement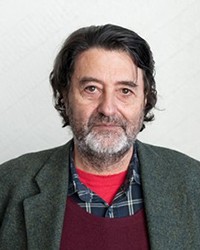 Mr. Vergara—a New York-based writer, photographer, and documentarian—earned his MA in Sociology at Columbia. He cites his sociology training as critical to the development of his approach to photographing urban landscapes. Mr. Vergara uses photography to "track time," and makes us look closely at how the urban decay of America's inner cities changes in small and large ways. He also documents the creativity of people residing in ruined neighborhoods as they indicate what matters to them by creating powerful murals and by adapting old buildings to new purposes. Other themes in his work include the presence of churches and religion, and the dramatic desolation and beauty of an almost-empty city at night. He has won a MacArthur Fellowship winner and a National Humanities Medal. Mr. Vergara has written eight books, the most recent of which is Harlem: The Unmaking of a Ghetto. The Library of Congress in Washington, DC, is the permanent home of his photographic archive.
Nina Ansary ('13PhD, History)
Outstanding Recent Alumni Award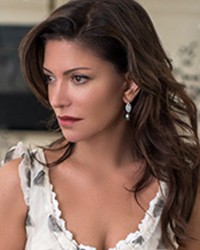 Dr. Ansary, an Iranian-American historian, award-winning author, and women's rights advocate, holds an MA in Middle Eastern, South Asian, and African Studies, and a PhD in History, from Columbia. As a UN Women Global Champion for Innovation and Visiting Fellow at The London School of Economics Centre for Women, Peace & Security, she regularly presents her work on women's rights and the impact of institutionalized gender discrimination at major universities and conferences in the US and UK. She is the author of two books: Anonymous Is a Woman: A Global Chronicle of Gender Inequality (Revela Press/March 2020), included in Smithsonian magazine's "Books of the Week," and Jewels of Allah: The Untold Story of Women in Iran (Revela Press/2015), which won the 2016 International Book Award in "Women's Issues." Dr. Ansary is an alumna of Barnard College, as well as a member of the Board of Trustees of Barnard. She also serves on the International Advisory Board of The Cambridge Middle East and North Africa Forum, the Board of Directors of the Diplomacy Center Foundation and the New York-based organization The Center for Human Rights in Iran (CHRI), and the Board of Trustees of the Iranian American Women Foundation (IAWF). She received The Joan Rivers '54 Trailblazer Award from Barnard in 2018 and is the recipient of the 2019 Ellis Island Medal of Honor and the 2019 Iranian American Women Foundation (IAWF) Women of Influence Award.
Andrew Freedman ('09MA, Climate and Society)
Outstanding Recent Alumni Award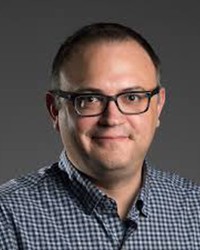 Mr. Freedman, a graduate of the MA program in Climate and Society, is an editor for the Capital Weather Gang at The Washington Post, where he focuses on climate change, extreme weather, and the environment. In 2018, he was a recipient of an award from the Society of Environmental Journalists for Outstanding Explanatory Reporting.
Viviana Rivera-Burgos ('20PhD, Political Science)
Campbell Award
Ms. Rivera-Burgos specializes in American public opinion and political behavior, particularly as they relate to ethnoracial minorities. She has served as co-chair of the Students of Color Alliance, graduate student mentor to undergraduate students from underrepresented backgrounds in the Leadership Alliance Summer Research Program, and graduate student representative in the Political Science Diversity and Equity Committee. She was born and raised in Mayagüez, Puerto Rico.