The GSAS Writing Studio: Writing in a Shared Community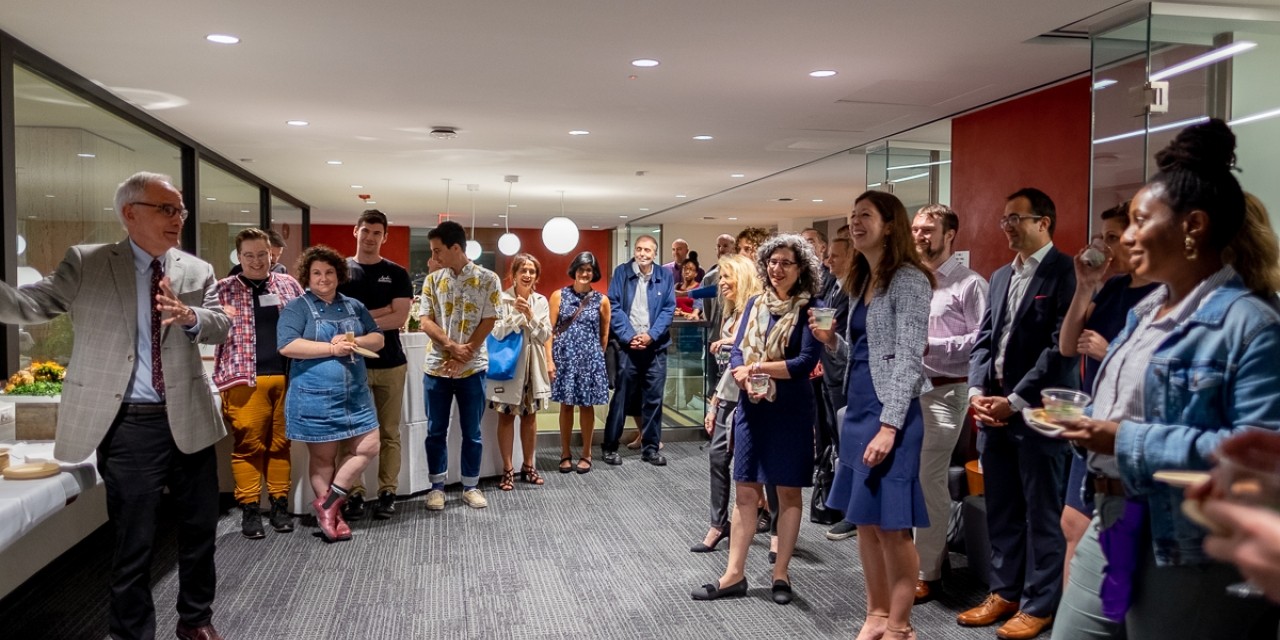 On September 12, the Graduate School of Arts and Sciences celebrated the official opening of the GSAS Writing Studio, a new space dedicated to supporting Arts and Sciences doctoral students in the process of writing the dissertation. Invited students and faculty joined those who made the Studio possible, from alumni donors to architects and contractors, University librarians and facilities staff, student consultants, and the inaugural Director of the Studio, Kate Daloz.  
The GSAS Writing Studio is more than a gleaming, renovated space on the third floor of Lehman Library. It is a hub of facilitated writing groups, workshops, retreats, drop-in hours, and one-on-one consultations offered so that students do not have to write their dissertation alone and without support.  
In his welcoming remarks, Dean Carlos J. Alonso explained, "When you look at the typical experience of doctoral students, particularly in the humanities and the social sciences, you realize that they come in as a cohort, take classes and comprehensive exams together, and prepare their prospectuses at around the same time. But then, they are all expected to go their separate ways to work on their dissertations. Students in the natural sciences, on the other hand, are more likely to continue their work as part of a shared collective." 
The GSAS Writing Studio was created specifically to provide an opportunity for students writing their dissertation to connect with one another, within and across the disciplines.
"It's fabulous to see this space and programming come to fruition," said Lindsay Leard-Coolidge '87, '92GSAS, President of the GSAS Alumni Association Board of Directors. "I'm envious because this didn't exist when I was a student!"
Kate Daloz, inaugural Director of the Studio, added, "The insight to renovate this space with such care and attention means that it can now serve many more students and can also host a range of programs. It is now a really lovely place to sit and write."
Valerie Bondura, a doctoral Candidate in Archaeology, herself in the final stages of her PhD, is the inaugural GSAS Writing Studio Fellow responsible for co-designing many of the Studio's most successful writing-support programs. In her view, the GSAS Writing Studio helps dissertation writers approach their writing as a collaborative effort and as a process. "In doing so," she said, "the Studio represents a critical piece of graduate professional development, helping students develop meaningful writing practices that will sustain them throughout their intellectual lives."
The GSAS Writing Studio provides an environment that enhances not only the working conditions of dissertation writers, but also intellectual work itself.