Mary Kouyoumdjian, DMA Candidate in Music Composition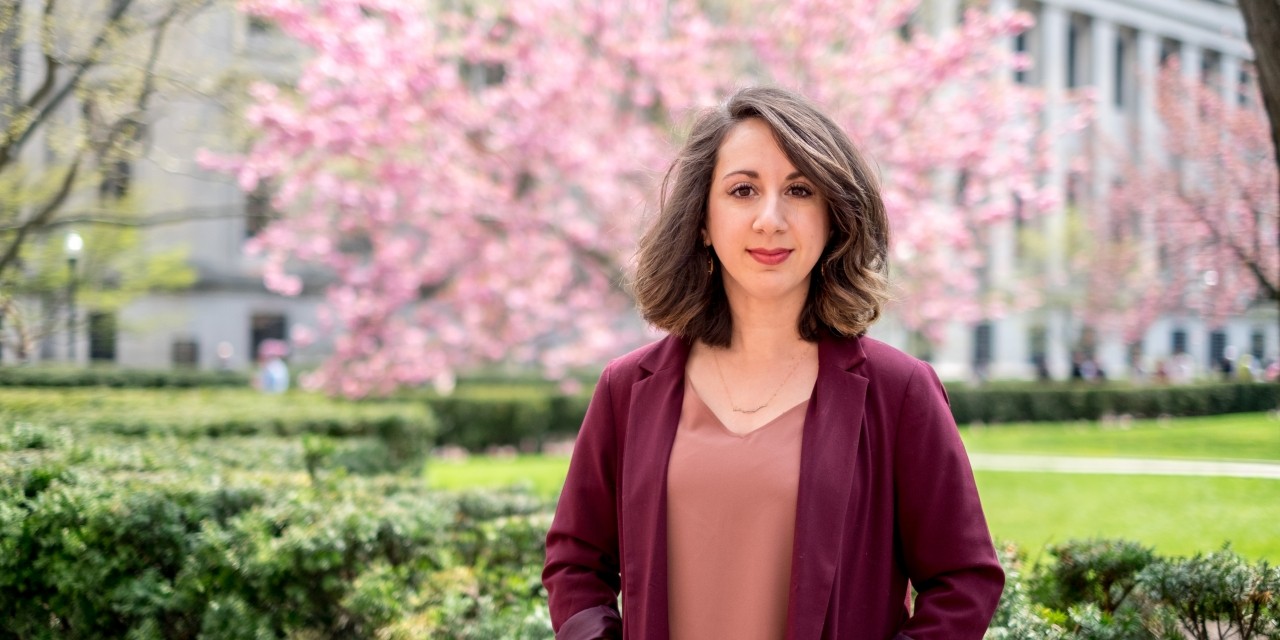 Where did you grow up? 
Pleasant Hill, CA.
What drew you to your field? 
I'm a composer of musical documentary, and connecting with people has—and I hope will always be—the primary reason why I write. From the humbling experience of interviewing and listening to those who have lived through so much to collaborating with artists and engaging with audiences, human connection, to me, is the most beautiful thing about music.
How would you explain your current research to someone outside of your field? 
I'm interested in composing music as a form of documentary, particularly exploring social/political issues in Eastern Europe, the Middle East, and the US. My parents and brother are refugees of the Lebanese Civil War, and my grandparents were refugees of the Armenian genocide, so topics of war, genocide, and displaced peoples have played a large role in my music from the very beginning. Integrating interviews, field recordings, and folk music with contemporary music practices, I write music that aims to present seemingly distant stories as relatable.
What is your favorite thing about being a student at Columbia GSAS?
It has been an incredible experience to be at Columbia after having several years between degrees. When I was younger and in music school, my goals were simply to soak in as much as possible and to somewhat blindly imitate all of the great composers. Being a little older now and knowing who I am artistically means that I'm not just absorbing information and filing it away, but that I'm exposed to a lot of great influences that I can now apply to my own creative voice. The composition faculty here are extraordinary, and it's truly a gift to workshop projects and ideas with them.
Is there a common misconception about a topic in your field that you wish you could correct?
Women are great composers, too! I think the unfortunate and common statement that we don't see a lot of women in the composition field because women choose not to be composers (or because they're less capable than men—yuck!) is grossly out of touch with reality. There are countless women composers who are creating incredible work to have an impact in music and in our society, and their voices should be celebrated. The world is a much more beautiful place when we have diversity of perspective in it. For anyone interested in exploring the works of women composers, I would recommend this website, which is just the tip of the women composer iceberg. You can also explore the works of the women composers in Columbia's own composition program here.
What do you consider your greatest achievement?
My proudest achievement was the experience of bringing my multimedia work Silent Cranes to my ancestral homeland of Armenia during the centennial of the Armenian genocide. The work was commissioned by the Kronos Quartet and integrates testimonies by genocide survivors, folk song recordings from the turn of the twentieth century, and a poem by investigative journalist David Barsamian. The premiere felt significant to me because the genocide continues to be unrecognized by the US government and modern-day Turkey, and it was personally meaningful because I presented a work as a female composer in a nation that traditionally celebrates its male composers much more. I hope for some progress soon on both fronts.
Who are your favorite writers?
I'm going to twist this question, because film directors have been inspiring me a lot recently. My current favorites are Béla Tarr, Julie Taymor, Guillermo del Toro, and Jean-Luc Godard. They have vastly different and lovely ways of exploring narrative through the imagination and experimentations with time.
Who are your heroes in real life?
Milad Yousufi, a dear friend, extraordinary pianist/composer, and refugee from Afghanistan. Milad fled Kabul because he was being persecuted by the Taliban for pursuing music. Despite the violence he witnessed and his sacrifices of home and family, he is one of the most optimistic and kindhearted people I have ever had the honor of knowing, and he is a huge inspiration.
If you were to die and come back as a person or a thing, what would it be?
My dream has always been to come back as a really old Romani violinist who lives on top of a beautiful wildflower-filled mountain and plays soulful folk melodies to my herd of cheerful goats all day. What could be better than that?
What music have you been listening to lately?
To gain balance in my career as a contemporary classical musician, I try to listen to music as far on the other end of the spectrum as possible. For me, this has meant cleansing my ears with a lot of super fun bubblegum pop and the sweet songs of Dolly Parton, whom I adore immensely. I'm also working on a piece for pianist Sugar Vendil that mixes a Bach fugue with an epically dated Christian pop song from the eighties, so I've been listening non-ironically to a lot of Amy Grant for research.
What is your favorite blog or website?
I'm on The New York Times website every day, but really all of the news outlets that are doing everything they possibly can to cover our current government win a "favorite" title from me. I have only the utmost respect and gratitude for these journalists and the work they are doing. My online candy/comic relief has been Reddit's Animals Being Derps, because the pure joy of ridiculous animals can make some of these scarier days feel just a little bit better.