Master's SynThesis Competition Celebrates MA Students' Culminating Work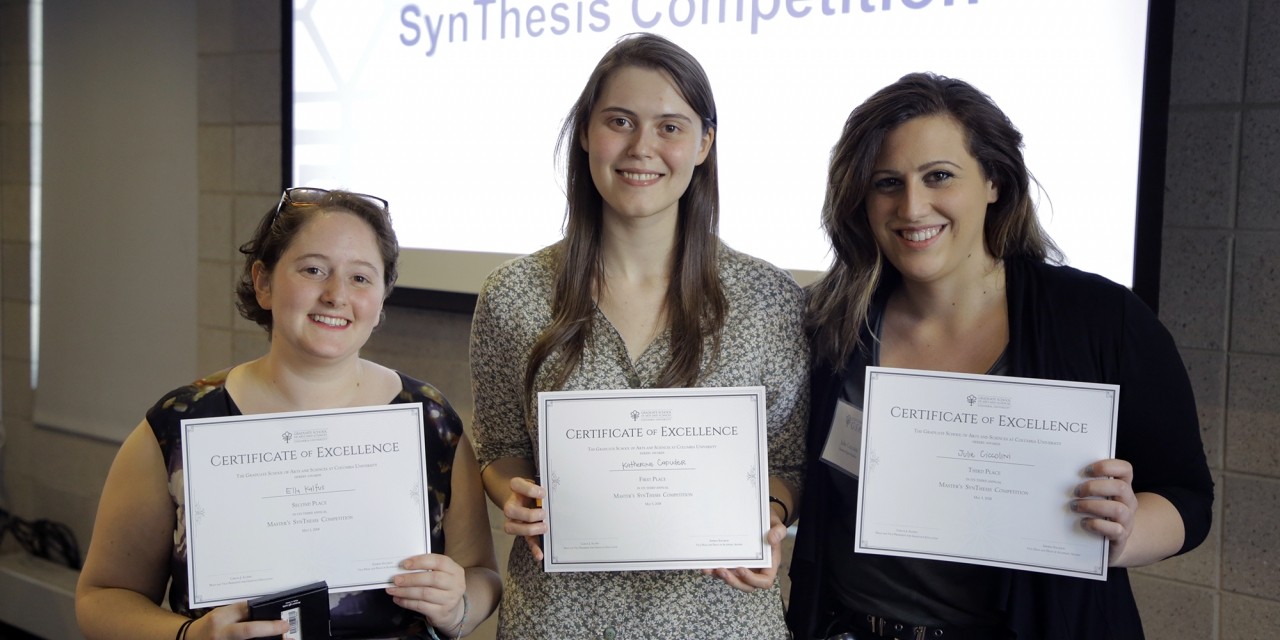 At the 2018 GSAS Master's SynThesis Competition, thirteen MA candidates showcased their expertise in a diverse array of subjects, including Asian immigrant labor in New York, the applications of machine learning to financial markets, print propaganda campaigns in Hungary, and secularism and identity in contemporary India. The students' challenge: to distill their thesis research into just five minutes, and to make a compelling presentation to an audience composed of fellow students, faculty, and alumni.
"This competition celebrates our MA students and their excellent work," Richard Slusarczyk, GSAS Associate Dean of Academic and Student Affairs, said of the event, which was held on May 3 in the Satow Room of Lerner Hall. "It also helps our master's students to hone their presentation and persuasion skills, which will serve them in any profession."
First prize was awarded to Katherine Capuder, from the MA program in East Asian Languages and Cultures, for her presentation "I wonder if Marx is crying in his grave": An Exploration of the Marx Boy in Prewar Japan. Elly Kalfus (Oral History) earned second place for Ballots Over Bars: Incarcerated Peoples Fight for the Right to Vote in Massachusetts, and Julie Ciccolini (Human Rights Studies) took third place for Actuarial Injustice: Discrimination in Crime Prediction Software.
An interdisciplinary faculty panel judged the presentations for both content and style. The judges were Frédérique Baumgartner, lecturer and director of the MA program in Art History; Mary Marshall Clark, codirector and cofounder of the MA program in Oral History; Josh Drew, lecturer in Ecology, Evolution, and Environmental Biology and advisor for the MA program in Ecology, Evolution, and Conservation Biology; and Line Lillevik, director of the MA/MSc program in International and World History.
Winning Presentations
Participants
Shafat Alam
Quantitative Methods in the Social Sciences
Katherine Capuder
East Asian Languages and Cultures
Julie Ciccolini
Human Rights Studies
Charlie Espinosa
Latin America and the Caribbean: Regional Studies
Bud Gankhuyag
American Studies
Alejandro Garcia Diaz
Biotechnology
Elly Kalfus
Oral History
Lauren Naylor
Ecology, Evolution, and Conservation Biology
Charlie Price
South Asian Studies
Nikhil Ramachandran
Middle Eastern, South Asian, and African Studies
Sam Rosenthal
Sociology
Sarah Roth
European History, Politics, and Society
Jack Stein
Russia, Eurasia, and Europe: Regional Studies