Student Spotlight: Alexander Pietro Ferrena, MA Candidate in Biotechnology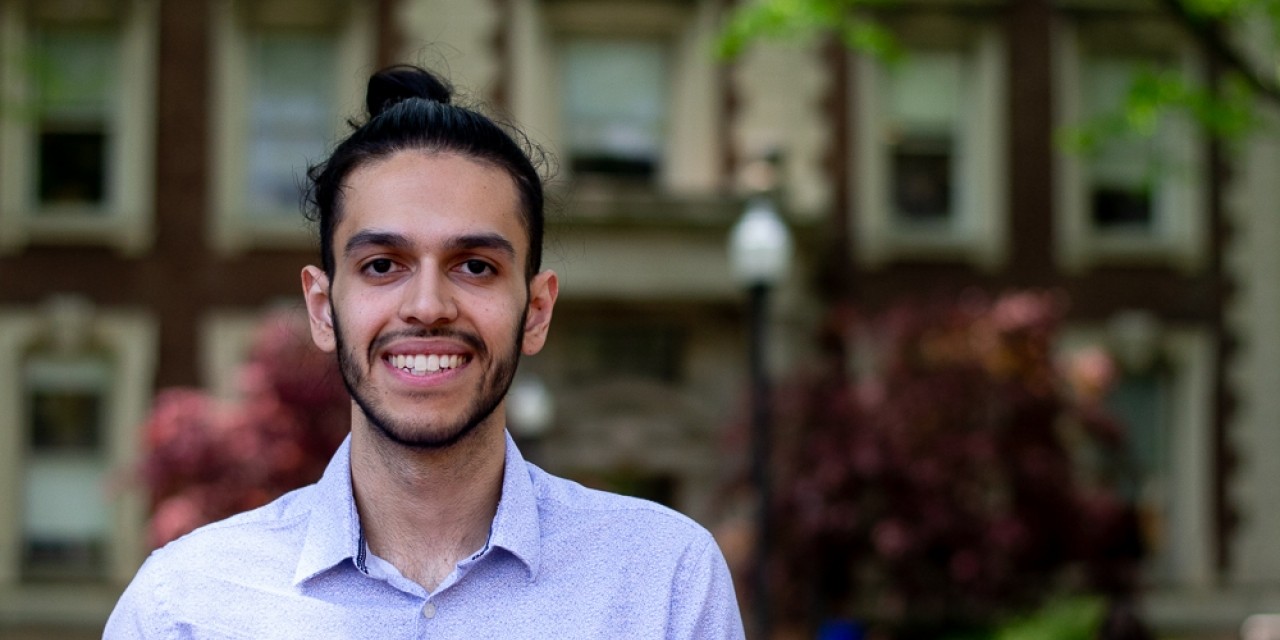 Where did you grow up? 
Palm Coast, Florida.
What drew you to your field? 
Having three family members, including my dad, all diagnosed with cancer in a short window several years ago drew me to oncology research right at a time when I was deciding which direction I wanted to pursue in biology.
How would you explain your current research to someone outside of your field? 
My research involves using genomics to study the heterogeneity and microenvironment of tumors. In other words, I use big data-approaches to understand how cancer cells form remarkably complex "communities" within a tumor and how the tumor interacts and is shaped by the body, such as with creation of defenses of the immune system.
What resources or opportunities that Columbia provides have been most valuable to you?
Without a doubt, the most valuable resource here has been the people I've had the opportunity to meet: from our amazing MA program director Dr. Lili Yamasaki to the wonderful faculty, research assistants, professors, TAs, and other students I've had the opportunity to engage in research with and take classes with. That said, the access to scientific papers and high-performance computing resources hasn't hurt either!
Is there a common misconception about a topic in your field that you wish you could correct?
A cancer diagnosis is always serious, but thanks to the work of innumerable, incredible researchers, clinicians, and volunteers, there really is hope for fighting and even curing the disease. We are increasingly moving in a direction in which it would be a misconception to say that a cancer diagnosis is "the end of the line." By continuing to study how the disease works, we can understand how to better combat it, and I hope to continue to contribute to this process in any way I can. Additionally, it is my hope that the cutting-edge treatments available now or soon on the horizon become accessible to all patients based on medical need, rather than societal privilege.
Who are your favorite writers?
The work of authors like Stephen Jay Gould and Columbia alumnus Richard Lewontin '1954PhD really fascinate me. Their contributions to evolutionary theory and population genetics have been critical, and their courage and reasoning countering some of the thinly veiled scientific perspectives regarding race and human genetics of their day have been very influential for me. Other writers I've learned from and look up to include John Bellamy Foster and Adam Hanieh; still others that I've really enjoyed more for fun reading include Gore Vidal, Frank Herbert, and Louis L'Amour.
Who is your hero of fiction?
I think Gendry Baratheon from Game of Thrones would make a fine king. Yeah, you read that right!
Who are your heroes in real life?
My mom and dad. They've been through so much adversity: from being immigrants from very different cultures, to dealing with economic hardships of all kinds, to handling my dad's diagnosis, to supporting my younger brother and me. I guess in light of this, they deserve a pass for their perpetual reminders to keep the sink free of dishes!
Who in your field do you consider to be a role model?
One role model I'm really glad to have actually met is Carol Prives, Da Costa Professor in the Department of Biological Sciences. She is an incredible teacher and her contributions to studying the biological and genetic defenses the body has against tumorigenesis, and what happens when those defenses don't work properly, are amazing.
What music have you been listening to lately?
I'm a fan of vaporwave music, it's a nice subtle background for studying and programming. Telepath is one of my favorite artists.
What is your favorite blog or website?
Lior Pachter's blog is always interesting.
Where is your favorite place to eat on or around campus?
Oaxaca on Amsterdam and 123rd is great!