Student Spotlight: Gihyen (Jason) Eom, MA Candidate in Mathematics of Finance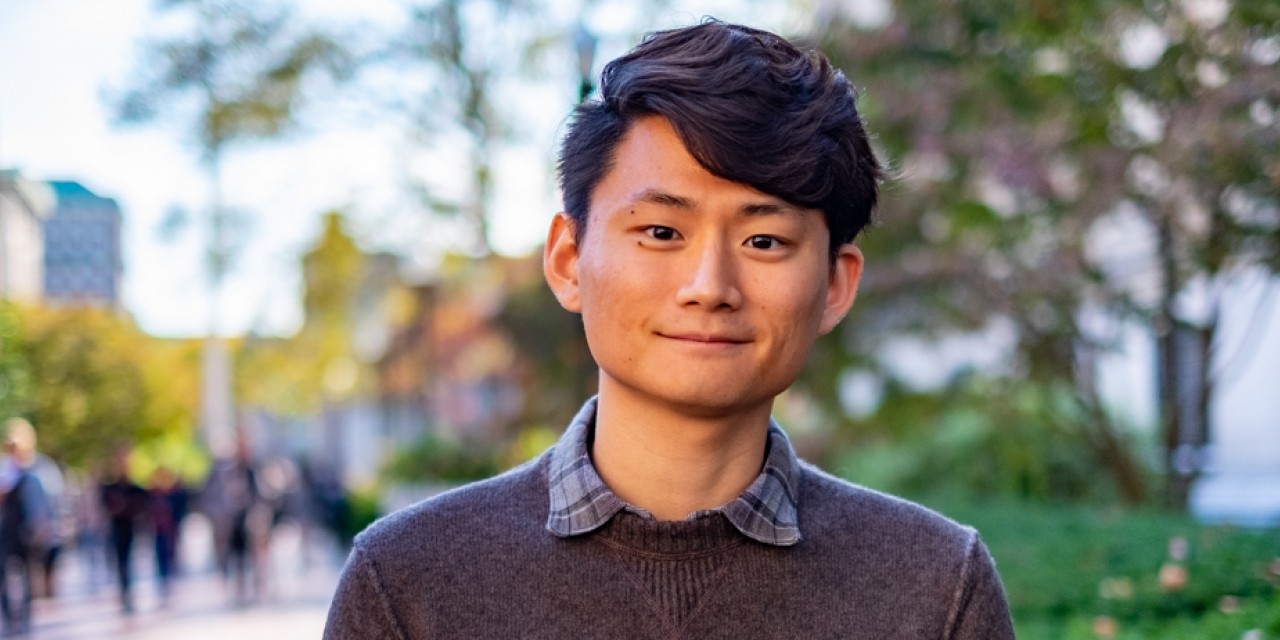 Where did you grow up? 
When I was five, I emigrated from South Korea to the US. I grew up in Bergen County, NJ, next to the Koreatown in Palisades Park. Since I spent the majority of my childhood here, I culturally and socially feel closer to America than I do to Korea.
What drew you to your field? 
I began my undergraduate career with the intention to double-major in physics and mathematics. I realized quickly that physics wasn't for me, so I explored. I took a course on probability and enjoyed the material. Of all the fields I dabbled in, nothing resonated more strongly with me than mathematical finance. There's a real beauty in describing randomness mathematically: discovering patterns in what seems patternless, and giving order to disorder. Interestingly, this was what drew me to physics; it gave meaning to what I didn't understand. (But honestly, who understands physics?)
How would you explain your current research to someone outside of your field?
I'm not currently researching anything, but I've been interested in quantum finance, an interdisciplinary field that involves the application of quantum theories and methods to finance. It is becoming exceedingly important to be faster than ever, and we are nearing the upper limit of our current computational speeds. Applying quantum theories to solve our modern financial problems allows us to overcome current computational obstacles.
What is your favorite thing about being a student at Columbia GSAS?
Although I am a new student, my experience at Columbia thus far has been overwhelmingly positive. I am grateful to be a part of a diverse, welcoming community of amazing students, researchers, and faculty. Every time I come across a paper published by a member of the faculty, or see Columbia headlined on the news, I can proudly say that I am and always will be a part of this community.
Who is your hero of fiction?
Lelouch from Code Geass is probably my hero of fiction for his spirit of self-sacrifice. Or maybe Aang from Avatar.
If you were to die and come back as a person or a thing, what would it be?
I've always dreamed about being able to fly. I like to ask my friends whether they would rather have the ability to run 100 mph or to fly at walking speed. If I were to die and be reincarnated, I would like to be a bird. Ironically, I'm a bit scared of heights.
What music have you been listening to lately?
As a pianist, I used to listen almost exclusively to classical music — Mozart, Beethoven, Tchaikovsky, Rachmaninoff, etc. Lately, however, I've been trying to listen to and study jazz and more modern genres, which has led me to Jacob Collier. His song "In the Bleak Midwinter" is groundbreaking and is currently one of my favorites.
What is your favorite blog or website?
Reddit for current events and memes. YouTube for relaxing and procrastinating.
Where is your favorite place to eat on or around campus?
One of my favorite activities when I visit a new area is to explore the gastronomic community and culture. I love visiting new restaurants, and I would honestly try every restaurant nearby if I had the time and resources. That being said, one of my favorite places to eat on campus is Nous Espresso Bar: its location is unbeatable, and it offers some really great food at reasonable prices. By the time I graduate, I want to visit Sylvia's, Red Rooster, and Levain, and my list is constantly expanding!