Students Showcase Research at Second Annual Master's SynThesis Competition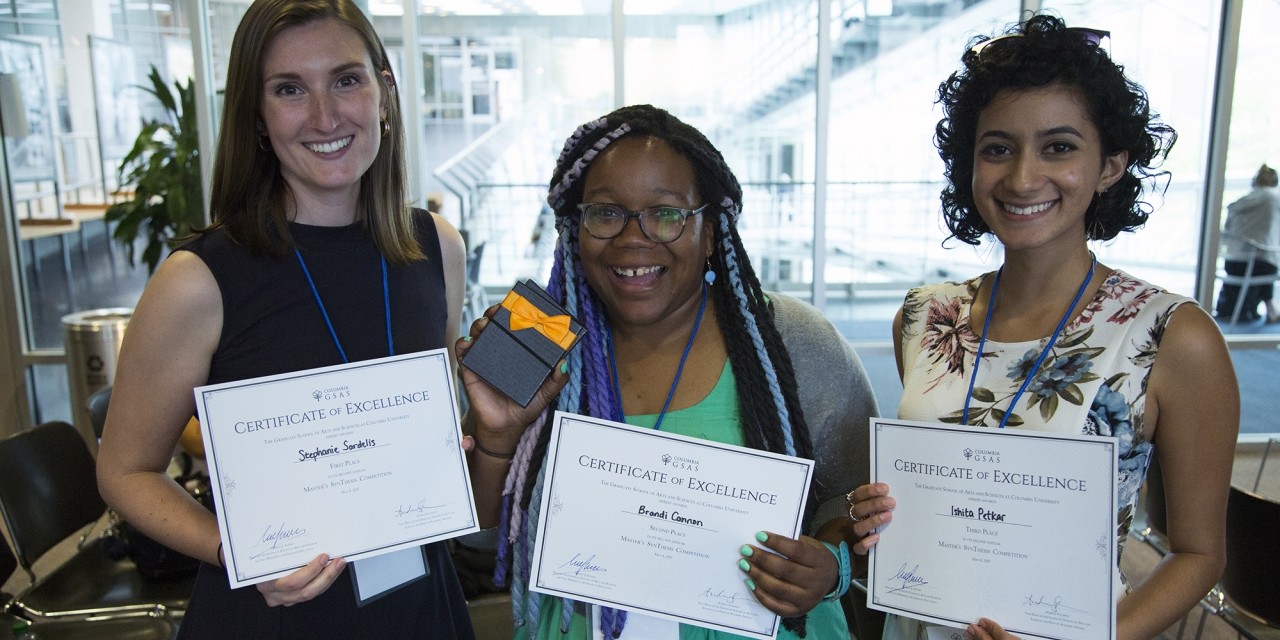 Grassroots feminism in China. Nineteenth-century royal portraiture. The direction of time in electromagnetic radiation. MA students presented on these varied subjects—and many others—at the second annual GSAS Master's Synthesis Competition, held on May 4, 2017, in the Satow Room of Lerner Hall. At the event, fifteen master's candidates met the challenge of sharing their thesis research in no more than five minutes and four slides, without the use of notes, in front of an audience of students, alumni, and faculty.
"This is a celebration of our master's candidates and their outstanding culminating work, as well as an invaluable opportunity for these students to develop stronger presentation and persuasion skills, which will serve them well in any career," said Carlos J. Alonso, dean of GSAS.
The top prize went to Stephanie Sardelis, from the Conservation Biology program, for her presentation Quantifying the Influence of Daylight on Marine Mammal Vocalizations in the North Bering Sea. Brandi Cannon, another Conservation Biology student, earned second place for Conservation of Endangered American Chaffseed, and Ishita Pektar, a recent graduate of the Human Rights Studies program, came in third for Conceptualizing Free, Prior and Informed Consent: Interpreting Interpretations of FPIC.
"The event was a great segue from academic life into the job market, because it taught us how to condense the main points of our theses down to an elevator pitch that was accessible and interesting," said Sardelis. "Amid the stress of finishing my thesis and final exams, the competition allowed me to 'zoom out' on my project, and reminded me why our work is important."
A judging panel composed of interdisciplinary faculty evaluated the presentations for both content and style. The judges were Frédérique Baumgartner, lecturer and director of the MA program in Art History; Mary Marshall Clark, codirector and cofounder of the MA program in Oral History; Josh Drew, lecturer in Ecology, Evolution, and Environmental Biology and advisor for the MA program in Conservation Biology; and Line Lillevik, director of the MA/MSc program in International and World History.
Winning Presentations
Participants
Sarah Bruner
Conservation Biology
Brandi Cannon
Conservation Biology
Salwa Hoque
South Asian Studies
Jaime (Feng-Yuan) Hsu
Sociology
Elizabeth Kim
Modern European Studies
Grace Musser
Conservation Biology
Ediz Ozelkan
American Studies
Miriam McKinney
Quantitative Methods in the Social Sciences
Shriya Patnaik
International and World History
Ishita Petkar
Human Rights Studies
Yi Qie
Anthropology
Stephanie Sardelis
Conservation Biology
Cristie Strongman
Regional Studies: Latin America and the Caribbean
Kathleen Tatem
Philosophical Foundations of Physics
John Webley
Art History