Therese Cox, PhD Candidate in English and Comparative Literature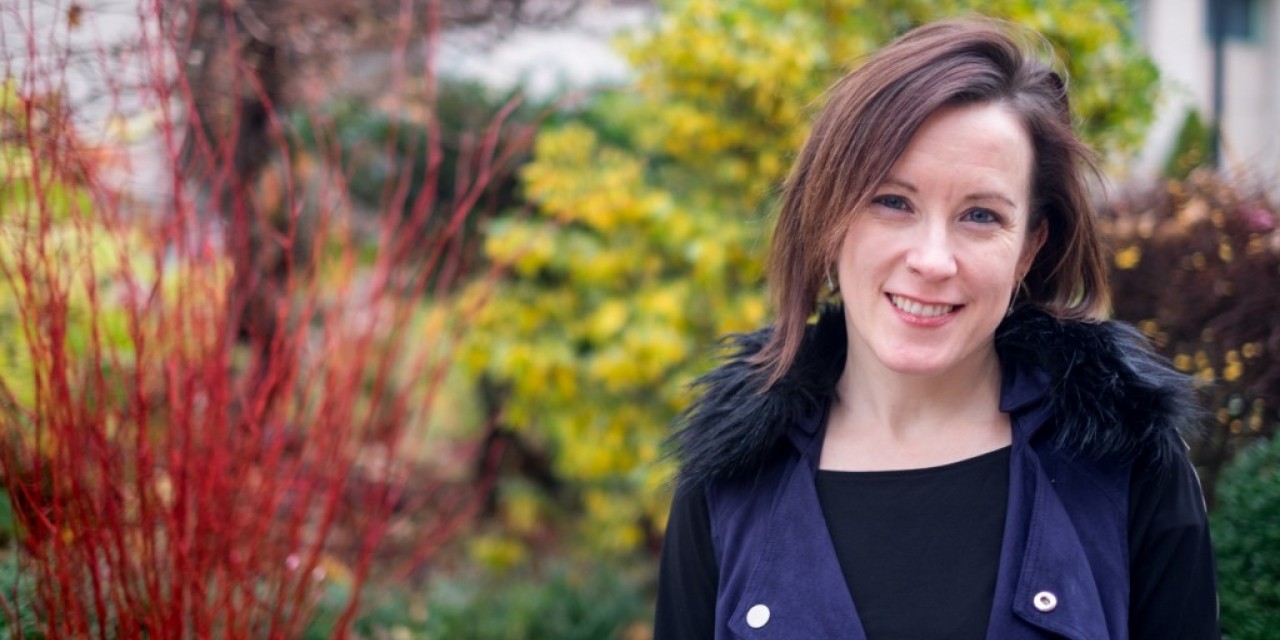 Where did you grow up?
Chicago.
What drew you to your field?
I'm a writer and reader for life. After getting an MA in Educational Theater and English Education from NYU, I taught college-level English composition as an adjunct for many years. I found that in addition to reading novels nonstop in my spare time, I was also reading pretty heavily about art and architecture. I wanted to challenge myself to bring these different fields together within the structure of a rigorous literature PhD.
How would you explain your current research to someone outside of your field?
I study contemporary British and Irish literature about places—poems, novels, and criticism about the city, the suburbs, and sprawl. My main project looks at how writers have reacted to architectural developments after World War II. I also want to show people how writers and poets, in turn, have helped influence architecture, or at the very least have helped shape how we think about and interact with the places where we live.
What is your favorite thing about being a student at Columbia GSAS?
I'm so fortunate to have had the chance to take classes and work closely with my amazing professors: stalwart supporters of my work who teach by example, push me to do my best work, and who have become the best advisors and mentors.
What resources or opportunities that Columbia provides are most valuable to you?
The libraries. At Butler, I spend a lot of time camped out in the reading rooms. Avery Architectural & Fine Arts Library has been a great resource for allowing me to explore outside of my field. As a result, my work in literature has become more interdisciplinary.
Professional development. In the spring, I'll be teaching a seminar on dystopian postwar fiction, a subject which grew out of research for my dissertation. The Teaching Scholars Program allowed me to design my own course.
Club sports. Joining the Columbia Women's Ice Hockey Club has been a highlight for sure. The team welcomes graduate students, and it has been a great place to learn a new sport and grow as a player. I'm always so proud to wear my blue jersey and rep Columbia!
What do you consider your greatest achievement?
The slow, stubborn, everyday act of persistence in my work. I'm tenacious. I do not give up.
Who are your favorite writers?
To relax? Give me a quiet corner in a well-lit café with a cup of strong coffee and the latest Kevin Barry, and I'm all set. I'm also a sucker for short stories by Lydia Davis, Amy Hempel, or of course anything by Beckett.
Who are your heroes in real life?
Teachers and activists.
What music have you been listening to lately?
Lots of David Bowie. When I write, I like to listen to the Icelandic band Sigur Rós. They sing in an imaginary language called "Hopelandish," so the words don't distract me—at least until I decide to learn Hopelandish as another of my languages.
What is your favorite blog or website?
Geoff Manaugh's BLDGBLOG is a perennial favorite. I also love Lit Hub, Guernica, and anything that Darran Anderson (author of Imaginary Cities) or gorse(an Irish literary magazine) is tweeting about.