Rachel Bernard
PhD, Director of GSAS Compass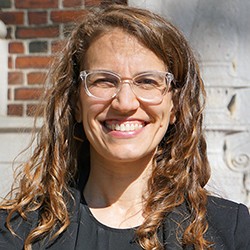 After earning her PhD in history at the University of California, Berkeley, Rachel began at Columbia's Center for Career Education as Assistant Director of Graduate Career Development. She later joined American Council of Learned Societies (ACLS) to manage fellowship and grant programs for humanities and social science scholars at every stage of their career—from graduate students to senior academics. Rachel helped run the Mellon/ACLS Public Fellows program, which offers positions in nonprofit organizations and government agencies to recent PhDs in the humanities and social sciences. When she is not on campus, you might find Rachel jogging around the reservoir in Central Park, enjoying a croissant and coffee at Hungarian Pastry Shop, or chasing her two young kids at a playground in Morningside Park. Contact Rachel at [email protected].
Francesca Fanelli
EdM, Senior Associate Director of GSAS Compass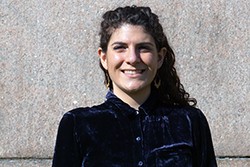 Francesca comes to GSAS after five years at Columbia's Graduate School of Architecture, Planning, and Preservation (GSAPP), where she founded and developed the GSAPP office of Career Services. She instituted a career advising program and a robust suite of workshops and events, including a mentorship program and career fair. Francesca received her Master's of Education in Psychological Counseling with a focus on mental health from Teachers College; she has a particular interest in the intersection of gender, race, and career development. When not helping students explore their career interests, Francesca can be found cooking elaborate meals or running in Van Cortland Park. Contact Francesca at [email protected].
Nicole DeLeon
MS, Assistant Director of Employer Engagement
Nicole is a Southern California native who moved to New York in 2021. After completing her Master of Science in College Counseling, she worked at Marymount Manhattan College in the Career and Professional Development Office. Nicole is a dedicated employer engagement professional and strives to create meaningful connections with employers and alumni. When she is not in the office, you might find Nicole taking a stroll through Central Park or traveling to a new destination. Contact Nicole at [email protected].