The OADI Student Delegation comprises MA and PhD students who share an expressed interest in supporting diversity, inclusion, and equity within GSAS. Serving year-long appointments, delegates represent the Office of Academic Diversity and Inclusion by participating on student panels, speaking at admissions and recruitment events, promoting student activities, and leading discussions about topics related to diversity, inclusion, and equity.
Below are the delegates for the 2020-2021 academic year. Applications for 2021-2022 will be available in September 2021. Please write to us at [email protected] with any questions.
2021-2022 Delegates
Renyu Rao
Renyu is a Master's student from the Statistics Department. He graduated from Stony Brook University in 2021 with degrees in both mathematics and Applied Math & Statistics. Before college, he was a member of the NYC Math Team and still remains active in the community by serving as a grader and organizer for high school math contests. At Columbia, he is focusing on the theoretical probability theory and planning to get a more rigorous understanding of statistics and machine learning. He also serves as a student representative of the MA program in the Statistics Department at Columbia. He had gained lots of help from GSAS and the Statistics Department which eventually help him to make his mind here and he would like to give back to the community by also becoming a useful resource for other prospective students.
Ella Grace Abdel-Khalek
Ella is pursuing the Masters in Global Thought at the Graduate School of Arts and Sciences. She completed her undergraduate degree in History at the University of Edinburgh. Whilst there, she worked as a Peer Support Volunteer assisting non-native English speakers with their academic writing. At Columbia, she is passionate about continuing to ensure that the school community is inclusive and values diversity. With a dual Lebanese and British heritage, Ella is interested in exploring the creation of binary East vs West narratives through her academic work. Her thesis will focus on Lebanese national identity in relation to the country's current crisis.
Demi Geneva Fortson
Demi is a PhD student in the Biological Sciences department who's research focus is on molecular neuroscience and health disparities when it comes to genomic and neuroscience research. A Baltimore, Maryland native, she holds BS and MS degrees from the University of Maryland College Park and Baltimore campuses. Seeing first hand how severely underserved and misunderstood mental health in the black community is, compelled her to research the neuropathology of mood and neurodegenerative diseases. While in the field, she became shocked to know how little research is focused on black minds. She uses this knowledge as her motivation to continue research, advocacy, and education through her academic work, non-profit organizations, and social media.


Prior to Columbia, she was performing research under the African American Neuroscience Initiative, adopted at her Johns Hopkins University affiliate lab. She was (and is) an avid mental health advocate and educator in her community. She hopes her work will make not only mental health tools and knowledge more accessible to minority communities but also highlight the need for diversity in neuroscience research.
Aissa Rose Gueye (Fall 2021)
Aissa is a master's student in the Human Rights Studies program. Her research focuses on racial and gendered stereotypes and how they are used to castrate communities of color and maintain white patriarchal structures today. She is also interested in gender-based violence and how it intersects with Black maternal death globally. Outside of her studies, Aissa is a tv writer and filmmaker who splits her time between LA and NYC. She hopes to bring her research onto the big screen in an effort to spread awareness and build on her activism.
Madison Maeve Ogletree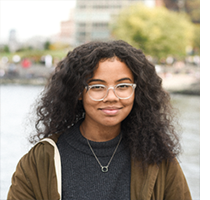 Born and raised in small-town Alabama, Madison completed her undergraduate education in her home state at Auburn University. There, she received a BA in History and a BA in English-Literature (2019). During her time at Auburn, Madison also worked as a freelance photojournalist, covering local and national news as well as sporting events. In her research, Madison examines the history of race in the nineteenth-century American South with a focus on persons of mixed ancestry. Her work foregrounds the intersections of Black, white, and Native American in the Southern Black Belt region through a legal perspective.
Isadora Costa Cardoso
Isadora Costa Cardoso is a MA Political Science student focusing on International Relations and Latin America. Isadora was born and raised in Brazil, and received a BA in Political Science from Oregon State University, with a year at Universität Mannheim in Germany, where she worked with refugee children at a Red Cross Refugee Camp. Most of her job experiences have been related to educational equity for low income communities of color, LGBTQ+ rights, migrant and refugee advocacy, and building an intersectional pathway for social change. Isadora's research focuses on the lack of political representation of Black and Indigenous women in Latin America, and she hopes to support the local grassroots movements that are pushing for this institutional change.
Lucas Ramos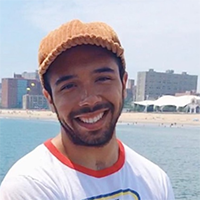 Lucas is a PhD student in the History Department who writes on gender, sexuality, and neofascism in Europe. He focuses on French, British, and especially the Italian homophile and liberation movements. He is interested in respectability politics in and beyond queer communities, masculinity, transnational activism, faith, sex education, and psychoanalysis. Originally from South Florida, Lucas received his AB in History from Princeton University, where he studied Creole separatist literature in Puerto Rico, city planning in Rome, and fascist propaganda in Milan. He is a graduate affiliate of the Columbia Research Initiative on Global Sexualities and president of the History Department's Graduate History Association (2020-2021). He also assisted in the development of the ongoing Guide to Best Practices in Fostering a LGBTQ+ Affirming Climate at Columbia. He has been awarded fellowships from the Ford Foundation (pre-doctoral), Mellon Mays, and the University of Notre Dame's Rome Seminar to conduct archival work in Italy and Britain. One of his translation works will appear in Figurative Fulminations: Pier Paolo Pasolini's Writing on Art and Art History (2022, Verso). He hopes that his work can make intellectual and social history accessible, intersectionalize European studies, and foster an empathetic community of diverse individuals in and out of the academy.
Varsha Vijayakumar
Varsha (she/they) is an MA student in Human Rights Studies at Columbia University, exploring the intersections between gender-based violence nonprofit work, prison/police abolition, and LGBTQ+ rights. While pursuing her undergraduate degree in Political Science and Religion from Middlebury College, Varsha served as the college's Student Body President, was published in Journalism Studies for her research on newspaper portrayals of Africa, and studied human rights abroad in Santiago, Chile. Varsha is currently a Digital Communications Associate at Sakhi for South Asian Women, a gender-justice nonprofit serving survivors of sexual and domestic violence in New York City.
Samuel Joe-Guan Niu
Sam Niu is a Ph.D. student in the History Department, where he studies race, labor, and emancipation. Prior to coming to Columbia, he received his undergraduate degree from Princeton University in history and East Asian studies, and taught English and writing at Hong Kong Shue Yan University as a Princeton in Asia fellow. Sam's research focuses on the transition from slavery to free labor in the nineteenth-century United States South and wider Atlantic World, with special emphasis on the place of immigration in that history.
Aneka Kazlyna
Aneka Kazlyna studies the history of science, philosophy, and technology in Islamic societies. Currently, she is working on a master's in the history of science and Arabic in the Columbia MESAAS Department. Aneka's graduate work at Columbia University has been supported by numerous fellowships, including multiple Foreign Language and Area Studies Fellowships and a Columbia GSAS Fellowship. Aneka is passionate about advocating for students of color and hopes to inspire more students from diverse backgrounds to pursue academia. Outside of university, she spends her time reading novels, learning languages, and volunteering for the common good.