2020 Dr. Devon T. Wade Mentorship, Service, and Advocacy Award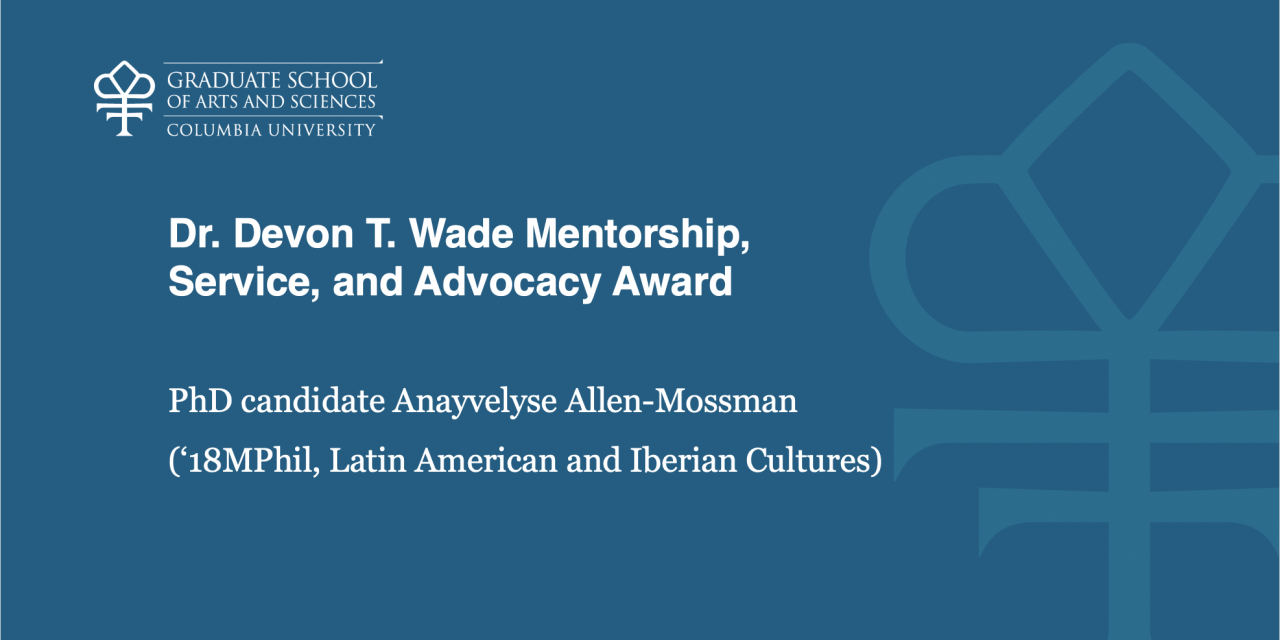 PhD candidate Anayvelyse Allen-Mossman ('18MPhil, Latin American and Iberian Cultures)
The Dr. Devon T. Wade Mentorship, Service, and Advocacy Award recognizes a master's or doctoral student whose work reflects the late Dr. Wade's exceptional commitment to scholarship, teaching and mentorship, and service.
The committee selected Anayvelyse Allen-Mossman as this year's recipient because of her demonstrated and consistent accomplishments in all the areas recognized by this award: research and scholarship, teaching and mentoring, professional and community service, and community-building.
According to the mentees, peers, and faculty who endorsed her nomination for this award, Ms. Allen-Mossman has been "a transformative influence on the lives of those around her" because of her "unerring sense of justice and unflagging commitment to enriching the intellectual lives and improving the material conditions of [her] community." Through her multi-year commitments to the Mellon Mays Undergraduate Fellowship and The Leadership Alliance/GSAS Summer Research Program, and her active and persistent service through organizations such as the GSAS Students of Color Alliance and the Graduate Workers of Columbia University, Allen-Mossman has endeavored "to create a better world, inside and outside of academia, for marginalized people." She has pushed her "students and colleagues to think beyond the rarefied academic world and reflect critically on our position and role within the larger community," both within her home department of Latin American and Iberian Cultures and outside of it, across disciplinary boundaries. And of Allen-Mossman's scholarship, a faculty member notes that she is one among an "exceptional few in whom [they] have witnessed a firm balance between an energetic and disciplined intellectual drive, a genuine literary and critical sensibility, and remarkable dedication." All of these instances embody the spirit in which this award was established.
The Graduate School of Arts & Sciences is proud to honor Anayvelyse Allen-Mossman ('18MPhil, Latin American and Iberian Cultures) with the 2020 Dr. Devon T. Wade Mentorship, Service, and Advocacy Award.