Alumni Profile: Robert Richter ('64MA, Political Science)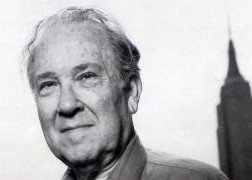 What is your current role/job title?
Independent documentary producer.
What are you working on now?
Two projects: my free online film festival (running through mid-October 2020) and a fictional screenplay adaptation of a documentary that I produced.
What drew you to your field?
I found a professional outlet for my passion for seeking truth and exposing injustice after I saw the 1954 CBS telecast featuring Edward R. Murrow's exposé of Sen. Joseph McCarthy. I had been enrolled at the University of Iowa's Writers Workshop, but that broadcast transformed my novelist/author career aspirations into dreaming of producing documentaries for Murrow. After years of doing everything I could to make that dream a reality, and a CBS News fellowship at Columbia University GSAS, in 1964 I became a staff producer at the CBS unit originated by Murrow and Fred Friendly.
What lessons from graduate school have you found useful in your professional life?
The courses I enrolled in at GSAS helped to organize my thinking about how the federal government works, and how to most effectively communicate to the public through my documentaries. At CBS, that led to my producing a documentary about Robert Kennedy's first campaign for political office and another about how "hawks and doves" were dividing American politics during the Vietnam War. And my experience at CBS later led me to independently produce several documentaries investigating controversial global policies and practices, ranging from the exportation of dangerous products to World Bank and IMF austerity measures for indebted nations.
What skill has unexpectedly helped you in your career?
Being able to take advantage of the many instances of serendipity that led me from one documentary to the next. For example, I once walked out of my office (a block from Times Square) and ran into an acquaintance who led me in a month to film a documentary, Eating the Scorpion, in China and Japan.
What is your favorite memory from your graduate years?
I was in a group of eight CBS News fellowship recipients who met monthly with a CBS executive to discuss a pre-assigned topic, such as how to improve the Evening News or CBS Reports documentaries. My favorite academic memories are the "aha" moments when Professors Richard Neustadt, Wallace Sayre, and William Leuchtenburg would teach me something new and important.
What are your passions outside of your work?
Evaluating new films that I am invited to screen as a member of the Academy of Motion Picture Arts and Sciences. As a Manhattan resident, I greatly enjoy discovering wonderful cuisines in new restaurants. Having lived happily in Stuyvesant Town for over thirty-five years, I enjoy admiring the natural beauty in its unique serene, park-like oval in the middle of crowded urban life.
What is your advice for current GSAS students?
Persist. Never stop striving to make your dreams a reality.