Awards Dinner Celebrates Contributions of GSAS Alumni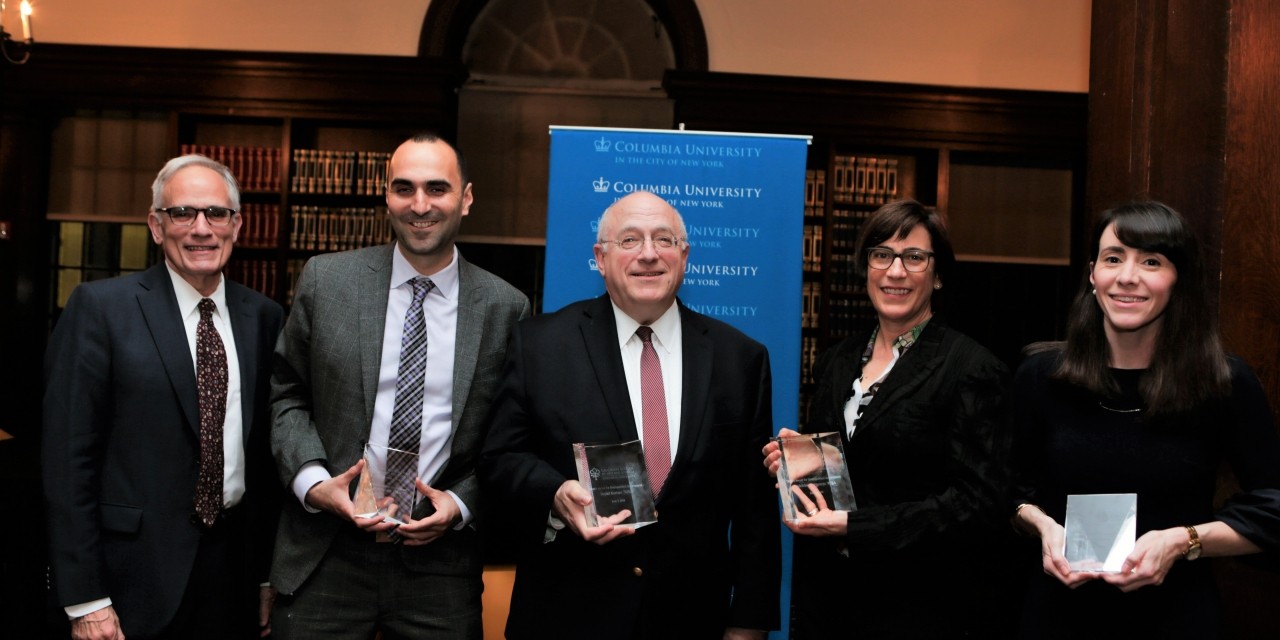 The Graduate School of Arts and Sciences celebrated the outstanding achievements of five of its graduates at the 2018 Alumni Awards Dinner, an intimate gathering of alumni, faculty, and students. The event was held on June 5, 2018, in the library of Columbia University's Italian Academy.
In his opening remarks, GSAS Dean Carlos J. Alonso noted that the event, which marks the end of the academic year, was one of his favorite annual occasions. "In many ways, the potential of the school—the social role of the school—is determined by the achievements of our former students," he said.
The first prize presented was the Campbell Award, which the Columbia Alumni Association gives annually to a graduating student in each school who demonstrates exceptional leadership qualities. The 2018 award for GSAS was given posthumously to Devon T. Wade ('18PhD, Sociology), who was killed in a tragic act of violence in November 2017. Dr. Wade had dedicated himself to researching inequality along racial and class lines, and was a passionate activist at Columbia and beyond its gates.
The Dean's Award for Distinguished Achievement was bestowed upon Daniel Kurtzer ('76PhD, Political Science) and Madeleine Grynsztejn ('85MA, Art History). Dr. Kurtzer serves as the S. Daniel Abraham Professor of Middle East Policy Studies at Princeton University's Woodrow Wilson School of Public and International Affairs, and retired from the US Foreign Service in 2005 following a twenty-nine-year tenure. He served from 1997 to 2001 as the US Ambassador to Egypt, and from 2001 to 2005 as the US Ambassador to Israel.
"When I completed my PhD, I left almost immediately after my doctoral defense to enter the Foreign Service, and in a sense I left without saying both goodbye and thank you," Dr. Kurtzer said before formally thanking his former professors.
Ms. Grynsztejn is Pritzker Director of the Museum of Contemporary Art Chicago (MCA), which under her leadership has redefined the potential of the twenty-first-century museum. She recently was elected President of the Association of Art Museum Directors. In her acceptance remarks, Ms. Grynsztejn reflected on a Columbia course on nineteenth-century American landscape painting taught by Professor Barbara Novak that forever changed her approach to art.
"The way she used paintings as a window onto an entire culture blew me away," Ms. Grynsztejn said. "I realized, right there and then, that that was how I wanted to use art: as a prism to understand the whole world around me, and I wanted everyone else to use it like that, too. That is what I have committed myself to over the course of some thirty years."
Christine Ann Denny ('12PhD, Biological Sciences)—an award-winning scientist in the areas of learning, memory, and behavior—received the Outstanding Recent Alumni Award. She is an Assistant Professor of Clinical Neurobiology in Psychiatry at Columbia University, and a Research Scientist in the Division of Integrative Neuroscience at the New York State Psychiatric Institute.
"It was truly a life-changing experience coming to Columbia," Dr. Denny said. "I am the first person in my family to go to college, let alone get a doctorate. I have really been blessed by the education that I got here."
The master's recipient of the Outstanding Recent Alumni Award was Elan Kriegel ('06MA, Quantitative Methods in the Social Sciences), a data scientist and the cofounder of BlueLabs, an analytics and technology company based in Washington, DC. Before joining BlueLabs, Mr. Kriegel was the Battleground States Analytics Director for Obama for America.
Mr. Kriegel, who also was celebrating his birthday, confessed to thinking initially that Dean Alonso's letter informing him of the award was spam. He went on to describe his time at GSAS as transformative: "When I got to Columbia, I was a TV producer at Fox News, and when I left Columbia, I was helping to run strategy for President Obama."
Candidates for the Dean's Award for Outstanding Achievement and the Outstanding Recent Alumni Award are recommended to the Dean by the Awards Committee of the GSAS Alumni Association Board of Directors. The committee chair for 2017-2018 was Tracy Zwick ('11MA, Modern Art: Critical and Curatorial Studies), and the committee's members were Jillisa Brittan ('86MA, English and Comparative Literature), Sylvan Feldstein ('76PhD, Political Science), Erin Thompson ('10PhD, Art History and Archaeology), Hua Eleanor Yu ('89PhD, Biological Sciences), and Harriet Zuckerman ('65PhD, Sociology).