Biology PhD Student Brings His Love for the Lab to the Stage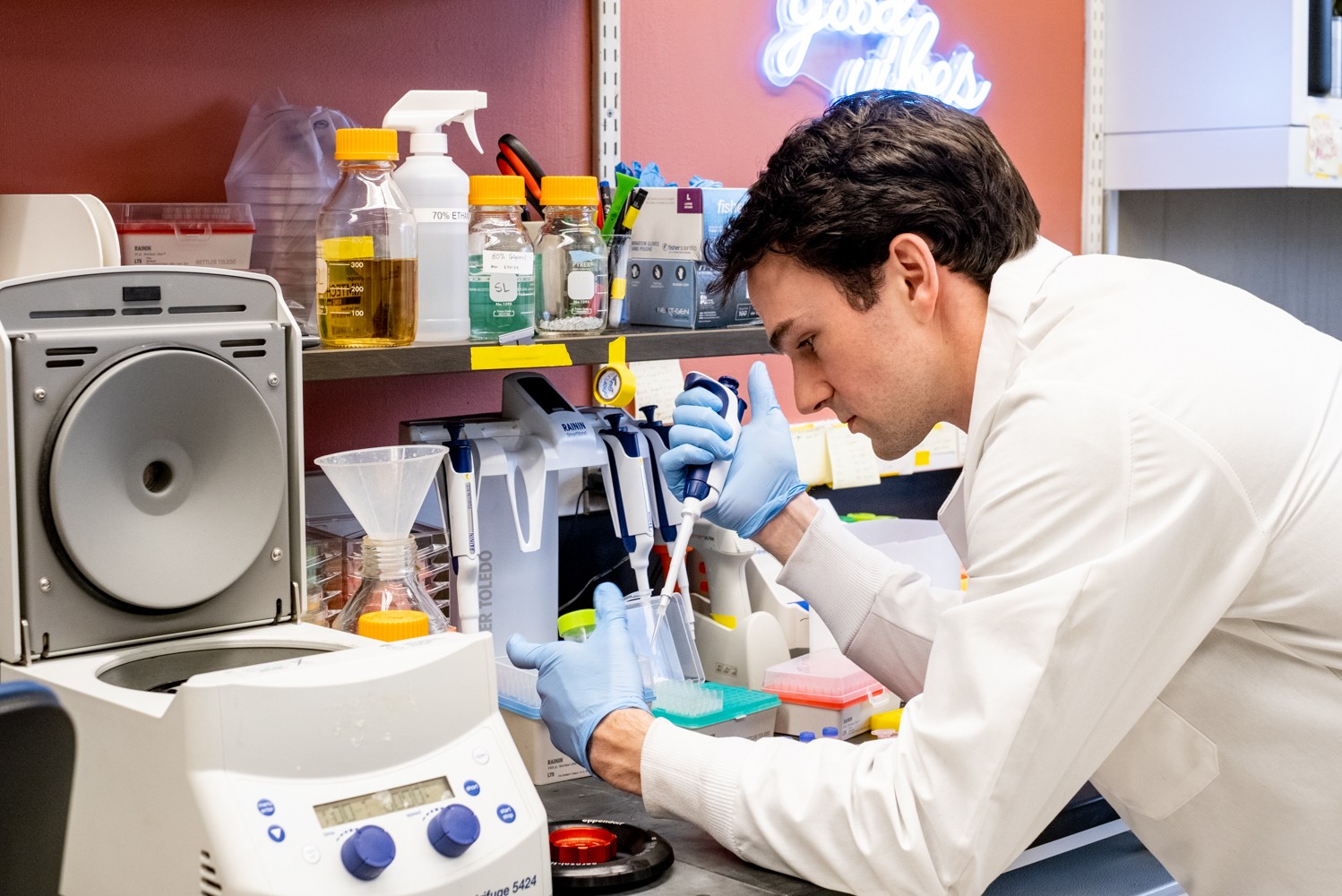 Third-year doctoral biology student Matt Walker has paused his work in genetic editing so he can rehearse for a new off-Broadway play called Love + Science, which opens May 26, 2023. Walker helped develop the drama about two gay scientists working to understand retroviruses in the early days of HIV / AIDS research. He is also playing the starring role. 
When applying for a graduate fellowship from the National Science Foundation, Walker included Love + Science in his proposal. He explained the connection: "One of the components of this fellowship is outreach—showing what it means to be a scientist, what it takes to do research." Walker has been working in the field of microbiology with Columbia professors Laura Landweber and Samuel Sternberg. When Love + Science was booked to begin production, Walker's professors did not hesitate to support his plan to trade temporarily the lab for the stage. These mentors were not surprised either. In 2019, while working as a neurobiology research technician at Columbia, Walker had a role in an off-Broadway production of The Play That Goes Wrong, a farcical comedy; and before getting his undergraduate degree at Harvard, Walker spent a year studying acting at the Juilliard school.
Love + Science began as a collaboration with writer David J. Glass, an adjunct Professor at Columbia and a Senior Lecturer at Harvard Medical School, where he teaches about the history and philosophy of experimentation. Walker recalled, "I met David at a reading of one of his plays. We bonded over our shared interest of science and theater." Then, early in the COVID pandemic, Glass reached out to Walker, who explained, "David told me about this idea for the play based on his experience. He worked in the Hammer building the '80s, in virology-adjacent studies." Walker, who also works in Columbia's Hammer Building, liked the idea. "It's meant to appeal to both scientists and people who know nothing about science. This was during COVID, and there was so much skepticism about science. I wanted to help people understand how science and research really work."
Over the next two years, Walker read Glass's drafts and helped with table reads and workshops. As Love + Science took shape, it became clear that Matt Walker would play the lead role. "David wrote it with me in mind. The character's name is Matt. He's a grad student at Columbia. It feels similar to my own life in many ways. My life is very intense, but it's nowhere near what this character was going through in the '80s. He's dealing with his sexuality at a time when it was deadly to be gay. I have no experience of friends dying of HIV / AIDS. The stakes of their research were incredibly high: life and death."
Matt Walker's current research in genetics may give doctors new tools to fight disease and help improve lives. Walker just co-wrote and published his first scientific paper on organisms that have a CRISPR system. "That's a bacterial defense system. When bacteria are invaded by viruses, they cut up the virus DNA to protect themselves." Walker is writing his dissertation on a niche single-celled organism called Oxytricha. "It's fascinating," said Walker, "During development Oxytricha cuts up and rearranges its own DNA. People don't realize where we get gene editing tools. We look to nature and organisms."
Taking a break from his Oxytricha specimens, Walker is eager to get to the theater and dig into rehearsals. "I have spent the past two years really buried in labs. I've been living in my head, and at a bench. I'm excited to see how it feels to be back on my feet on a stage." Walker is learning his lines, ("It's 130 pages.") as he prepares to portray a virologist from the past. "My favorite thing about acting is heading into a story and building a world."
Matt Walker wants to inspire other graduate students to follow more than one passion—especially students at Columbia. "If students have interests they want to pursue, we live in New York where the city is so alive with arts. Even if it's the level of spectator—that's impactful."
Once the play opens, Walker will be back in the microbiology lab by day and on stage at night. Which career does he see in his future: science or the theater? "I hope to be able to pursue both these worlds," said Walker. "I think there's this idea you have to do just one thing to be good at it. But it's valuable to have something else, so you can feel refreshed. One interest gives you perspective on the other."
Love + Science premieres May 26, and runs through July 6, 2023, at New York City Center Stage II (131 W 55th St., Manhattan). Tickets, starting at $25, are on sale at www.loveandscienceplay.com .