GSAS Celebrates Student Research at Fifth Annual Master's SynThesis Competition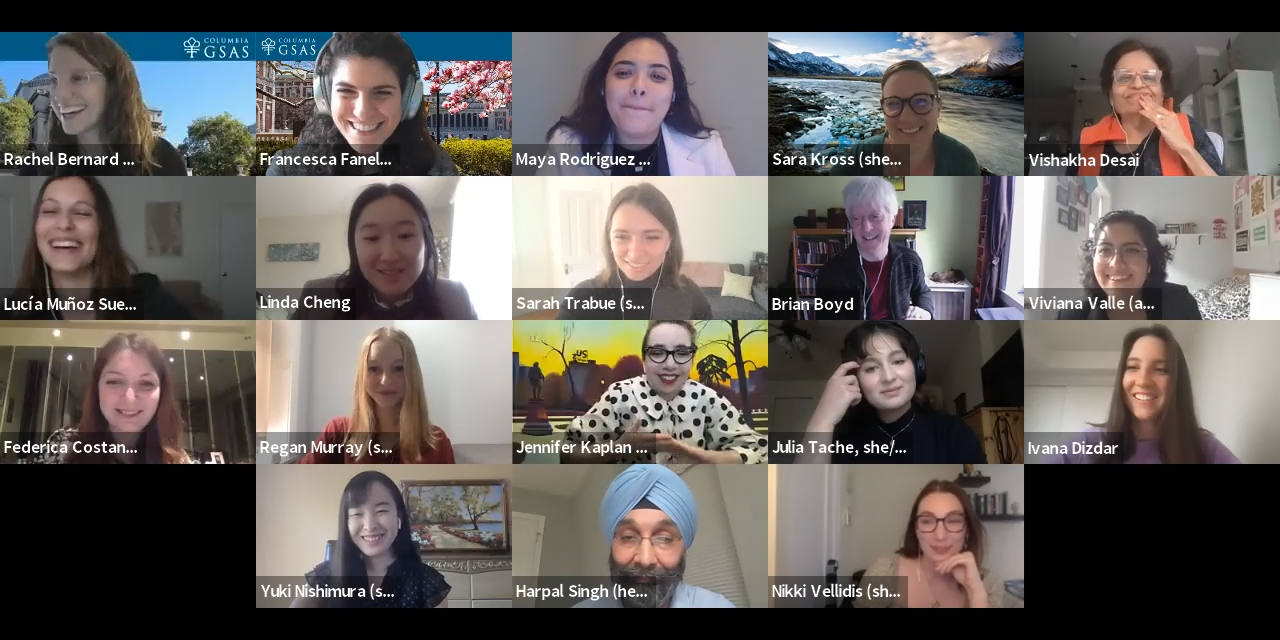 Students and recent graduates of GSAS master's programs showcased their research at the fifth annual Master's SynThesis Competition on April 16, 2021. In three minutes, using only one slide and no notes, twelve students from as many master's programs presented their thesis research to a Zoom audience of more than 100 students, alumni, faculty, staff, friends, and family, as well as a multidisciplinary panel of faculty and alumni judges. The research topics ranged from dolphins in New York's East River to ancient Roman mosaics, from community fridges in California to a love affair between a Japanese noblewoman and an Ethiopian prince.
The competition was hosted for the first time by GSAS Compass, the Graduate School's new career development office. Rachel Bernard, Director of Graduate Career Development, observed that "it was an inspiration to witness firsthand the range and depth of master's student research at Columbia. We are especially proud of what our master's students accomplished this year, despite the challenges of conducting their research in a virtual environment."
Lucía Muñoz Sueiro, an MA candidate in Global Thought, was awarded first place for her presentation Traditional Seeds, Modern Seeds: The Global Seed Biocultural Diversity Loss and the Case of Informal Seedsavers in Rural Spain. Her advisor is Dr. Rebecca Feinberg, Academic Coordinator of the Global Thought program.
"I participated in SynThesis because it provided an opportunity to communicate to a broader public, beyond my specific field, and even beyond academia," Muñoz Sueiro said. She saw the competition as a "challenge and a training for the future, where I had to summarize my whole thesis in three minutes and make it interesting for all audiences by using my voice and body language, and conveying my enthusiasm."
Sarah Trabue, an MA candidate in Ecology, Evolution, and Conservation Biology, won second place for her presentation Environmental Drivers of Bottlenose Dolphin Foraging Behavior in an Urbanized Estuary. Her advisors are Howard Rosenbaum, Affiliated Faculty Member and Director of the Ocean Giants Program at the Wildlife Conservation Society; Mindy Rekdahl, scientist at the Wildlife Conservation Society; and Dr. Sara Kross, Director of the Ecology, Evolution, and Conservation Biology MA Program.
Linda Cheng, MA candidate in East Asia: Regional Studies, won third place for her presentation Gender Dynamics of Protest and Visibility in China: Biased Erasure and Manufactured Passivity. Her advisor is Yao Lu, Associate Professor in the Sociology Department.
"The Master's SynThesis Competition not only celebrates the outstanding work of our MA students, but helps our master's students to hone their presentation and persuasion skills, which will serve them in any profession," GSAS Dean Carlos J. Alonso said in his opening remarks.
GSAS congratulates all of the competition's twelve finalists. Click here to view recordings of each presentation on the GSAS YouTube channel.
Finalists
Linda Cheng, East Asia: Regional Studies
Frederica Costantino, East Asian Languages and Cultures
Jennifer Kaplan, English and Comparative Literature
Lucía Muñoz Sueiro, Global Thought
Regan Murray, European History, Politics, and Society
Yuki Nishimura, Human Rights Studies
Maya Rodriguez, Sociology
Harpal Singh, Oral History
Julia Tache, Quantitative Methods in the Social Sciences
Sarah Trabue, Ecology, Evolution, and Conservation Biology
Viviana Valle, American Studies
Nikki Vellidis, Classical Studies